Ad Disclosure: This article contains references to products from our partners. We may receive compensation if you apply or shop through links in our content. You help support CreditDonkey by using our links.
(read more)
Whether you own crypto or you're looking to buy it for the first time, storing it safely is a major concern. But where is the best place to store crypto?
Buying crypto is one thing. But storing it is another thing entirely.
Hardware wallets are widely regarded to be the safest way to store your cryptocurrency. But the truth is, the safest storage method might not necessarily be the best.
With this breakdown, you'll know which storage option is best for your crypto and how to choose.
How Should You Store Your Crypto?
You have several options for storing your crypto. While most experts say a hardware wallet (offline storage) is the safest option, it may not always be practical.
Your choices vary in terms of security, ease of use, and convenience. Consider how much you've invested, how frequently you trade, and your concerns about hacking.
Let's take a look at your options.
1. On the Exchange
Conventional wisdom has long held that you should not keep your cryptocurrency on the exchange any longer than necessary.
It's understandable, given the fame of the Mt. Gox hack in 2011, where traders lost around $450 million in Bitcoin.[1]
There have been at least 5 incidents where exchanges lost upwards of $100 million of users' crypto.
That said, exchanges can usually offer a reasonable guarantee of safety. Plus, keeping your coins on an exchange is likely going to be the most convenient option if you're trading on anything like a regular basis.
If you do choose to keep your coins on an exchange, look for ones that:

Keep most of their holdings in cold storage

Have some form of insurance against security breaches, and

Employ security features like 2FA and address allow-listing
Of course, there will be plenty of other factors to consider when choosing an exchange as well. Gemini is our recommendation for the safest cryptocurrency exchange.
If safety isn't your only concern, you can review our guide of the
best crypto exchanges
to see which suits your trading style.
2. Hot Wallets
The next step up from keeping your coins on the exchange is to use a hot (a.k.a. digital) wallet.
A hot wallet is actually a program or app that you can use to store your cryptocurrency.
You can find desktop and mobile versions, and many are made by or in partnership with major exchanges. For example, Coinbase has the Coinbase Wallet, and Binance promotes the Trust Wallet as their hot wallet of choice.
Since hot wallets store cryptocurrency online, they are more vulnerable to being hacked than cold wallets. For this reason, the companies that run them employ a wide range of security measures to keep them safe.
Because hot wallets are more easily accessible than cold wallets, they're considered to be a decent compromise between security and convenience.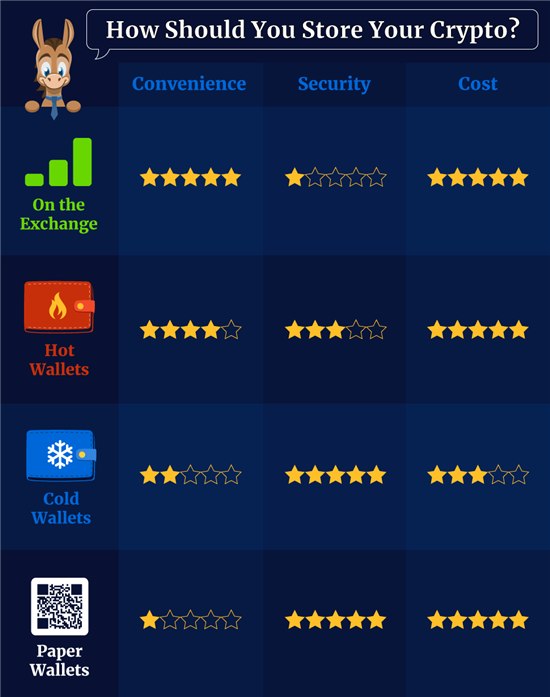 © CreditDonkey
3. Cold Wallets
For the security-minded, especially those who have large amounts of crypto or trade infrequently, cold wallets are considered the best choice.
They offer increased security by taking your crypto entirely offline.
Cold wallets typically come in the form of devices similar to USB drives, small enough to fit in your pocket.
When you want to make a transaction, you'll need to connect your cold wallet to your PC or mobile device and enter a pin or password to unlock it. After you've done that, you'll be able to send and receive crypto as you wish.
However, some may feel that the added security isn't worth the extra steps required to use it. Plus, cold wallets typically cost more than other forms of storage. If you're only investing small amounts, it may not be worth it to buy a device worth a sizable fraction of your investment.
Many popular exchanges promote the fact that they keep 97% (or more) of their crypto in cold storage at any given time, which should give you an indication as to how secure it is.
4. Paper Wallets
Paper wallets are probably more secure than they sound if you've never heard of one. They are likely the least used option on this list.
A paper wallet can refer to either a physical copy of your public and private keys, or software used to generate keys to be printed.
You can receive funds to your paper wallet by using the public key, just as you would with any other wallet, and spend or withdraw them by transferring them to a software wallet, in a process called "sweeping."
Best Crypto Wallets
If you do choose to store your crypto in a wallet rather than an exchange, you still need to pick which one is right for you.
Remember, cold wallets are generally more secure, but less convenient and more expensive. Using a hot wallet is slightly riskier, but they're easier to use and are often free or inexpensive.
Best Cold Crypto Wallets
The most popular cold wallets are largely made by two companies: Ledger and Trezor. Which you choose may depend on your personal preferences, so take a look at each to see how they differ.
1. Trezor Model T
| Features | Trezor Model T |
| --- | --- |
| Purchase Price | $190 |
| Connected Exchange | Yes |
The Trezor Model T is the priciest model on this list.
This hardware wallet, which supports over 1,200 coins, has a full-color touchscreen display and beginner-friendly interface which allows you to enter your PIN and passphrase directly.
You can get started in as little as 10 minutes, but it supports advanced features for expert users as well.
Use your computer or phone to connect to the Trezor Suite via an included USB-C cable. There, you can check your balances, market rates on coins, and send or receive crypto.
The wallet comes with an added password manager with encrypted storage on the cloud, plus a microSD card. Its security features are audited by independent researchers, and they have customer support ready to help if you have any questions.
You can recover your coins through an offline backup even if you lose your device.
2. Ledger Nano X
| Features | Ledger Nano X |
| --- | --- |
| Purchase Price | $119 |
| Connected Exchange | Yes |
Ledger's Nano X costs a fair bit less than Trezor's Model T. It's known for its capacity, with the ability to have 100 apps installed at once, and supports over 1,800 coins.
At about the size of an average USB, it's small enough to fit in your pocket. Despite its small size, it has a fairly large screen, making it easy to use.
The Nano X can connect to mobile and desktop devices through an included USB Type-C to USB Type-A cable or via Bluetooth.
It works with the Ledger Live app, available for your phone or computer, granting easy access to your crypto and current prices. The app lets you buy crypto, and exchange for other cryptocurrencies.
It's compatible with Windows 8+, macOS 10.10+, and Linux, as well as iOS 9+ and Android 7+ on mobile.
3. Ledger Nano S
| Features | Ledger Nano S |
| --- | --- |
| Purchase Price | $59 |
| Connected Exchange | Yes |
The Ledger Nano S is the most affordable option on this list, priced at less than half the cost of the Nano X.
That said, it is quite a bit more limited in what it can do. You should only consider this model if you're trying to store a small number of cryptocurrencies.
The Nano S is able to install up to 3 applications, depending on size. It supports Bitcoin, Ethereum, Ripple, Bitcoin Cash, EOS, and Stellar, in addition a variety of other coins.
This device also connects to Ledger Live, a useful app that enables users to track their crypto, manage their balance, and features an exchange.
It includes a USB Type Micro-B cable, and is compatible with Windows 8+, macOS 10.10+, and Linux, and with Android 7+ smartphones.
To connect your Nano S to your desktop or smartphone, you'll need an OTG kit.
© CreditDonkey
Best Hot Crypto Wallets
For hot wallets, we're highlighting ones that are free to use, come with a connected exchange, with optional compatible hardware.
You may also consider wallets recommended by your chosen trading platform, like the Coinbase Wallet if you use Coinbase, or the Trust Wallet if you use Binance.
1. Guarda Wallet
| Features | Guarda Wallet |
| --- | --- |
| Purchase Price | Free |
| Connected Exchange | Yes |
| Compatible Hardware | Ledger Nano S, Ledger Nano X |
The Guarda Wallet supports the ability to send, buy, and exchange thousands of cryptocurrencies on over 45 major blockchains as well as store it.
It's highly accessible through desktop, mobile, web, and even a Google Chrome extension.
It's free to download, but the connected exchange does have a 3.5% fee if you decide to use it for trading. You can make crypto purchases via Mastercard or Visa credit card.
The desktop version works on Windows, macOS, and Ubuntu. The mobile version works on Google, Apple, and Huawei devices.
With the Google Chrome extension, Guarda lets you interact with Dapps, and can be used for things like social media, gaming, and DeFi.
2. Exodus Wallet
| Features | Exodus Wallet |
| --- | --- |
| Purchase Price | Free |
| Connected Exchange | Yes |
| Compatible Hardware | Trezor Model T, Trezor Model One |
Exodus is an easy-to-use, beginner-friendly option with simple solutions for storing your cryptocurrency as well as trading it.
You can manage your coins at home or out in the world through Exodus's mobile and desktop wallet apps.
Their wallets work with a growing list of over 140 different coins. You can send and receive crypto using either an address or QR code, and Exodus checks addresses for errors every time to prevent you from sending your coins to the wrong person.
For added security, they also support biometric login with face or fingerprint scanning.
There's no registration or account setup required, meaning your data is private, and they encrypt private keys and transaction data.
They offer 24/7 live support in case any problems arise.
Bottom Line
How you store your crypto is an important decision, and one that may have a big impact on your trading experience over the long term.
Keeping your coins on the exchange is the least secure option, but exchanges are trying to improve their security. Hot wallets provide a mix of security and convenience, while cold wallets provide the most security at the cost of ease of use.
When deciding which method is best for you, consider how often you'll be trading, and how much it would affect you financially if the exchange or wallet you were using got hacked.
Remember, just because you make one decision now doesn't mean you can't change your mind later. Consider starting out with a hot wallet and upgrading to a cold one if you feel the need.

References
Jeremy Harshman is a creative assistant at CreditDonkey, a crypto comparison and reviews website. Write to Jeremy Harshman at jeremy.harshman@creditdonkey.com. Follow us on Twitter and Facebook for our latest posts.
Note: This website is made possible through financial relationships with some of the products and services mentioned on this site. We may receive compensation if you shop through links in our content. You do not have to use our links, but you help support CreditDonkey if you do.