The Best Trekking Poles
This article contains references to products from our partners. We may receive compensation if you apply or shop through links in our content. You help support CreditDonkey by reading our website and using our links.
(read more)
Find the best trekking poles. Read reviews from our gear experts.

Best Trekking Poles

© CreditDonkey
The biggest game changer in long distance hiking is a solid trekking pole that takes the constant impact of uphill and downhill climbs off your knees, ankles and joints. The difference at the end of a long hike is astounding. If you're moving for tens or hundreds of thousands of steps, having a strong and lightweight trekking pole absorb some of that impact can save your lower body from days of recovery.
The best thing you can do is learn the proper way to use the pole. Placing your hands up and through the strap ensures your hands will be free in case you slip or need them for stability over boulders. Using poles the wrong way means your hands can get tangled when you need them most.
Factors to Consider When Shopping for Trekking Poles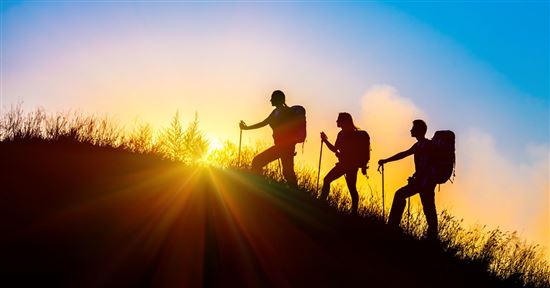 Weight
If you're counting every ounce that goes into your pack, you're going to want to consider a carbon fiber trekking pole and foam grip. Compared to aluminum, rubber and cork, this will shave a few ounces from your pack if that's what matters most.
Comfort
Cork and foam grips are usually the most comfortable and can wick away moisture if your hands are sweating or you're hiking in the rain. Rubber grips don't always feel the best over time but can provide the strongest grip in cold weather. Trekking poles, on the more expensive end, offer padded straps that don't chafe throughout the hike.
Toughness
If you have a more rugged adventure coming up, opting for an aluminum trekking pole offers more durability than carbon fiber and does so at a lower price. It won't be as light in your pack as the carbon option, but it'll withstand any test.
Cost
The most expensive hiking poles on the market are constructed from lightweight carbon fiber and cork or foam grips with padded straps. You can get amazing value if you're not as concerned with pack weight. If you use trekking poles for day hikes and weekend adventures, consider saving money by losing some of the trekking pole's frills that aren't needed for non-trekking hikes.
Best Men's Hiking Poles
LEKI Carbon Ti
Offering the toughness of the best aluminum poles with the weight, versatility and portability of the best carbon poles, the LEKI Carbon Ti is one of the most all-around, overall trekking poles for any sort of hike. That's thanks to the aluminum upper shaft to ensure it won't bend or snap combined with the ultralight carbon lower shaft, resulting in a barely noticeable addition to a pack that's concentrated on reducing weight.
In addition to the durability of the pole itself is an Aergon Thermo grip to keep your hands warm and prevent against blistering and chaffing on long hikes. The carbide tip ensures stability over the roughest terrain and the SpeedLock 2 system keeps the pole locked in place, whether it's keeping you balanced through a fast-moving river or being stowed within a packed bag.
Not only is it one of the best trekking poles on the market, but the Ti offers a comfortable strap that you'll barely notice on the longest hikes. Your hands will have easy access in case you need to scurry up a boulder. And the baskets will let you take this through snowy weather if your hikes reach higher altitudes. They come at a price but will be sure to last for years of adventures.
Best Women's Hiking Poles
Black Diamond Trail Pro Shock Women's
Coming in at a lower price than the competition, specifically designed with female hikers in mind, and offering some of the best comfort and grip on the market, the Black Diamond Trail Pro Shock puts itself above the rest. That's thanks to the control shock technology and insulated grips that takes some of the lower body pain out of long-distance hiking.
Whether you're bouldering over rocks or climbing dirt trails, these will work their hardest to take the strain off knees, ankles and joints so that you can enjoy the adventure. They have a simple FlickLock Pro mechanism that makes them easy to open, stow and adjust throughout the hike without having to sacrifice stoppage time.
The foam grips are designed to comfortably mold around your hands while providing insulation during cold weather hikes. The 360-degree webbed straps won't chafe throughout the day, making these perfect for rugged day hikes as well as longer backpacking adventures. They come at a good price and will last you for years, if not a lifetime.
Best Alpine Trekking Poles
LEKI Micro Vario Carbon
Offered in both men's and women's, the LEKI Micro Vario Carbon offers the strongest features for cold weather hiking in addition to being a solid, all-around trekking pole for adventures big and small. These poles pack into the most compact sizes on the market, making them easy to store. They weigh less than 16 ounces per pair and are simple to adjust and lock into place.
What makes them excellent for cold weather hikes starts with the included nylon bag to keep them warm when they're not in use. The handle is really what separates these from the rest. They feature a lightweight Aergon grip with a foam surface that provides an extra layer of warmth and comfort so you can get the best grip possible. These are the perfect poles if you find yourself hiking in cold weather or wearing gloves.
They are also especially strong and durable if you trek with lots of gear. These can be stored in almost any bag plus they have a simple push-button release mechanism so that you can put them away with ease. You don't have to stop and stow several layers of a pole like it's a Russian doll. For people who like easy access, carry lots of gear and hike in the cold, you can't go wrong with this excellent addition.
Best Bang for the Buck
Cascade Mountain Tech Carbon Fiber Quick Lock
If you love going on long day hikes, the Cascade Mountain Carbon Fiber Quick Lock trekking poles make an excellent addition for hikes that travel over rougher terrain, providing extra balance and cutting down on pain from hiking. Whether you want to take stress off your knees, joints and ankles, or you're just looking for additional stability, these are the best way to make that happen on a budget.
Even if they didn't cost less than $50, they would make for terrific hiking poles in almost any terrain. That's thanks to the quick lock system for adjusting height while you're on the move and ensuring they will stay in place. The poles as a pair weigh only 16 ounces and come with a comfortable cork grip that won't chafe on your hands while you move.
While there are tougher poles on the market that make for easier storage, it's difficult to beat the value that comes with Cascade Mountain's carbon poles. What they lack in durability, they make up for the litany of accessories that you can attach if you're hiking on pavement, mud or snow. For people who love to store lots of camping gear in a garage, you can't go wrong with adding Cascade Mountain's poles to the collection.
Most Versatile Trekking Pole and Best Cork Trekking Pole
Black Diamond Alpine Carbon Cork
Standing out from the pack when it comes to versatility and a comfortable cork handle that molds to your grip over time is the Black Diamond Alpine Carbon Cork trekking pole. Weighing at only 17 ounces for the pair and featuring one of the strongest locking mechanisms on the market, it's an ultra-lightweight addition to any backpacking expedition.
Where it really sets itself apart is the comfortable cork handle. You can hike for months with this pole and not feel the kind of chaffing, fatigue, blisters or moisture that can build up with foam or rubber handles. The moisture-wicking cork grips will keep your hands and gloves drier even through wet-weather adventures, and the padded wrist straps won't strain against your skin if you need to free up your hands in case of a fall.
These poles were built for a variety of terrain. You can easily switch between the carbide and rubber tips in case the surface of a trail shifts. That makes it great for long adventures that involve hiking on pavement, grass, and dirt and bouldering over rocks. There are trekking and powder baskets for snow hiking, and they have all the toughness of aluminum poles combined with the lightweight feature of their carbon construction.
Best Foam Grip Trekking Pole
LEKI CarbonLite XL
Opting for a foam grip is excellent for hikers who care most about weight and traveling over the longest distances. While not always offering the same level of comfort as cork or warmth as rubber (although every hiker has their own opinion), a foam handle is usually the lightest and softest material for hiking. If you find your hands chafing while you hike, then the LEKI CarbonLite XL is the best option for a trekking pole with a foam grip.
That's thanks to innovations in comfort and design to ensure the pole will stay locked and provide maximum anti-shock technology on any kind of terrain. Using a 15-degree angle, this pole is designed to have the least amount of swing while you hike, cutting down on any excess strain on your upper body. The rubber gripping points extend down the pole so you don't have to adjust the height as you hike up or downhill. And on top of that, one of the poles features a small camera mount on top. You can remove the cap and screw in a camera or phone holder and have a monopod for photo stability.
While the CarbonLite XL is one of the best all-around trekking poles for weight, durability and comfort, its super lightweight frame doesn't have the same toughness as an aluminum pole. LEKI only offers a one-year warranty on the CarbonLite XL, but in terms of almost all sorts of hikes and trekking, it's one of the lightest that you could pack.
Best Camera Mount Trekking Pole
LEKI Photosystem Carbon Speedlock
With a range in height between 69cm all the way up to 170cm, not only does the Photosystem Carbon Speedlock from LEKI include the greatest features that make them one of the best brands in trekking poles, they also put a camera mount on top.
Constructed from 100% lightweight carbon and weighing only 324 grams, this would be one of the highest-end trekking poles on its own. The carbon tip ensures stability on the most rugged adventures. The speedlock system allows you to adjust the poles to the perfect height and they hold in place for the longest trips. What really separates it from the pack is that you can remove the Aergon photo-grip head to reveal a camera mount.
It is easy to adjust and lock into place with a camera screw that fits just about any device. This is great for almost any high-end camera in addition to phones, so you'll have stable pictures on the go. The only downside is that the pole is a monopod, so it won't have the same stability as a tripod. And the purchase only comes with one pole, so if you need a second then you'll need to supplement.
When it comes to a high-end trekking pole that features an excellent locking camera mount, you can't beat LEKI's offering. It's perfect for people who like to hike with one trekking pole and take high-quality pictures in the backcountry without worrying about stability for either themselves or their camera.
Best Walking Pole
Kelty Range 2.0
When it comes to a simple, effective, lightweight and comfortable trekking pole at an affordable price, we went with the Kelty Range 2.0. This is an upgrade from their super popular Kelty Upslope, and it's a great addition for neighborhood walks and short hikes over a variety of surfaces.
This is the perfect trekking pole if you're looking to provide a gift for a parent, especially if you or someone you know has suffered from knee pain and loves going for walks in nature. You can use the rubber cap for hikes and walks on concrete around the neighborhood. The spring-loaded shock absorbers work overtime to keep pressure and strain off your lower body. Or you can remove the caps and use the carbon tips if your hike takes you into the woods over uncertain terrain.
They come at a competitive cost and feature a textured foam and cork grip for comfort and handling in all sorts of weather. It has the same twist-lock mechanism as on the highest end hiking poles, so you can be sure it will stay in place.
Where to Buy Trekking Poles
Backcountry: Current Promotions
Note: This website is made possible through financial relationships with some of the products and services mentioned on this site. We may receive compensation if you shop through links in our content. You do not have to use our links, but you help support CreditDonkey if you do.
More from CreditDonkey: