The Best Handheld GPS
This article contains references to products from our partners. We may receive compensation if you apply or shop through links in our content. You help support CreditDonkey by reading our website and using our links.
(read more)
---
Don't get lost again. Find the top handheld GPS units. Read this before you shop for a GPS device.

Best Handheld GPS

© CreditDonkey
The idea of unfurling a bulky paper map to find your way on a hike is put to shame by the quality of handheld GPS products on the market. No longer requiring a compass, positioning of the sun, knowledge of the stars or leaving breadcrumbs on a trail, the best GPS devices offer pinpoint accuracy and the memory to store hundreds of thousands of maps of the entire world, and they weigh just a couple of ounces hooked to your pack.
They are great ways to geocache with a community of millions online. They let you know where you're been, where you're going and where you are. They allow you to compile tremendous data on your adventures. And they keep you safe on a long-distance hike or leading a group. We'll break down the different considerations for a GPS along with the best device in each class.
Factors to Consider When Shopping for a Handheld GPS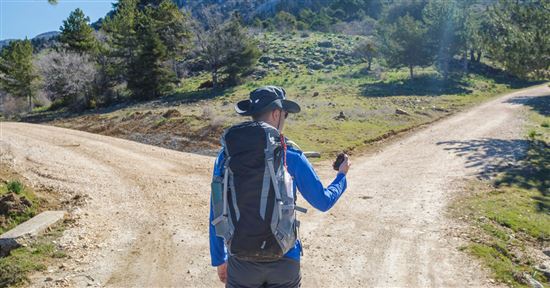 Purpose
Choosing the right GPS can depend on how you're going to get the most use out of it. If you're looking to upgrade your phone while you make some income as a rideshare driver, consider a device with a car mount and 3D city mapping. If you want an altimeter while skydiving and hunting, strap a tactical GPS watch to your wrist. If you're out to geocache, you can save a lot of money by going with a no-frills option that gets the job done.
Features
The price goes up with the number of features your GPS offers. You can find a GPS for less than $100 that tells your spot on the map. Consider if you need a waterproof device for any underwater use. If you're hunting or organizing camping trips, opt for a two-way radio feature. If you're all about hiking all over the world, you want a device loaded with a camera and with tens of thousands of maps, plus room to upload more maps with paperless geocaching.
Screen
Screen sizes for handheld GPS devices vary from a screen on your wrist up to a small tablet. Some are monochromatic, others are in full color. The price goes up with the clarity of the screen. The size of the screen doesn't change the accuracy of the GPS. It can make a difference when it comes to pack weight if every ounce counts or if you need a clear, colorful glare-proof screen for backcountry skiing.
Cost
The price of the GPS device doesn't always mean it'll do a better job at finding your location on the map. You can save a lot of money by opting for a monochromatic handheld with thousands of maps installed that gets the job done. A higher price can means a color screen, car mount, altimeter, waterproofing or radio.
Best GPS Watch
Garmin Tactix Bravo
If you're looking for the most rugged, tactical, all-around GPS watch on the market, you won't beat the Tactix Bravo. This watch will serve any need you throw at it. Whether it's GPS navigation that weighs a few ounces while strapped to your wrist, jumpmaster activity if you have an upcoming skydive, breadcrumb feature that tracks your movement on a trail, and night vision mode that doesn't interfere with tactical goggles, the Tactix Bravo can handle it.
This is the kind of watch that would get you through basic training just as much as any outdoor activity. The stainless steel construction with reinforced housing means that it will never crack under pressure. The Bravo watch is water-rated up to 100 meters, which is almost unmatched by smart watches. And the battery life lasts up to 50 hours in battery saver mode and a remarkable 20 hours while using the GPS.
Whether you're on a trail run, hunt, hike or backpacking adventure, this is the best way you can have directions on your wrist. No matter how rugged an adventure might get, you'll know exactly where you've been and where you're going while having some of the best metrics for any GPS (let alone one you can comfortably strap to your wrist). There are varieties of stylish bands sold separately and it pares well with Garmin's apps to download all the details of your fitness activities to share with friends or challengers.
Best Car Mount GPS
TomTom Go 600 GPS Navigator
Whether you're a rideshare driver, road trip lover, explorer or just get lost all the time, TomTom's latest high-end navigation system is one of the best ways to navigate on any drive. The included car mount, USB cable and car charger ensure that you'll always find your way, no matter where your road trips take you.
What separates TomTom's newest GPS navigator from the pack are the 3D building maps, interactive 6" color screen, lifetime North America map updates and TomTom updating traffic so you'll always have the quickest route on any trip.
Long gone are the days of confusing and dark car GPS screens with a simple arrow telling you which way to go. This unit feels like you're exploring a video games while you drive. The 3D buildings allow you to feel like you're navigating through a digital version of most cities and will ensure you always know where you are and where you're going. The included car charger and easy mount make for simple viewing so that you don't get distracted, and it comes with Bluetooth connectivity and advanced lane guidance to avoid against any last-minute swerving.
Best Hiking GPS
Garmin Oregon 650T
Simply put, if you love hiking and need GPS to know where you stand on long trails throughout North America, there is no better product to have by your side than the Garmin Oregon 650T. The latest in a long line of top-tier Oregon handheld GPS devices, Garmin's newest release is preloaded with over 100,000 topographical maps throughout North America, which covers almost any trail your boots will travel.
This excellent, lightweight and waterproof piece of hardware includes detailed information on national, state and local parks throughout the United States, Alaska, Hawaii and Puerto Rico in more detail than you could imagine. If you need to find a river, lake, trail, point of interest or terrain, this will keep you prepared and prevent you from getting lost.
The elevation, terrain contours and GLONASS system allow the Oregon 650T to lock onto more satellites than the competition, which boosts accuracy. It can pick up on barometric pressure over time to keep you informed about changing weather. The vibrant touchscreen cuts down on glare and can be viewed in portrait or landscape mode, depending on your preference. And there's even a handy camera included with the device if you decide to leave your phone at home. The newest Oregon will keep you on track, safe and informed for any nature adventure you decide to take.
Best Value GPS
Garmin eTrex 10
For a handheld GPS device that costs less than $100, Garmin's base model GPS device is a simple, straightforward and effective way to stay on a hike without having a bulky device taking up space. Featuring Global Basecamp, GPS all over the world and the ability to load trails for anywhere you go, the original eTrex is perfect for hiking, backpacking, exploring or geocaching while interacting with a large online community of explorers.
In addition to the rugged design, 2.2" display and 25 hours of battery life, the real appeal of the eTrex 10 is the price. Since its debut, it has been upgraded to the eTrex 20, 20x and 30, but the original retains the features that make Garmin devices top of their class without the expensive frills that hikers might find unnecessary. When it comes to value and practicality, the eTrex 10 is great for hikers who want to add a GPS to their collection of gear.
Best GPS for GeoCaching
Magellan eXplorist 110
With a competitive price, 2.2" sunlight-readable screen, easy to navigate buttons and a fun, colorful interface, the eXplorist 110 is a great addition while trekking around the world on your next geocaching adventure. By imputing coordinates, the Magellan promises accuracy within an impressive 3-5 meters and allows for paperless geocaching to find and log your finds from anywhere you go.
Part of what makes the Magellan eXplorist so fun is that it's ready to go right out of the box. It's preloaded with maps from all over the world. You can use it as a car GPS or for hiking or trekking, and it's even waterproof if you need to take it for a swim (IPX7, submerged for maximum 30 minutes, 1 meter deep). You can overlay a compass on top of any of the world maps and mark where you've walked so that you can easily navigate back to your car.
It conveniently hooks to any belt or bag while fitting in the palm of your hand. The screen is easy to read in bright sunlight and the approximately 18 hours of battery life on 2 AA batteries will get you through any full day of exploration, but it also has an easy sleep mode to last longer throughout the day. Keep in mind, the battery life depends on the device settings for screen brightness, etc.
Best Screen and Best Winter/Skiing GPS
Garmin Montana 680T
At the head of the pack for both best screen along with the GPS you want with you on a winter cross country or skiing expedition is the Garmin Montana 680T. This is the handheld GPS device that can do anything, and it's one of the most versatile devices you can find. Thanks to its brilliant 4" color touchscreen that even works through gloves and the included one-year subscription to BirdsEye Satellite Imagery, this device will guarantee you'll know where you stand no matter how turned around you get.
The Montana (along with the Oregon) is the kind of device that makes Garmin one of the strongest options when it comes to handheld GPS units. That's thanks to the barometric altimeter, accurate positioning and compass, and an included digital camera to take pictures as you go. The vibrant screen will ensure visibility through foggy goggles. It is rugged, lightweight and waterproof for the snow and will be sure to help you find your way if your skiing adventure takes you off course.
The Montana is slightly larger than the Oregon (it's about an inch longer). This can be an advantage when it comes to screen clarity and trips in the snow, making it easier to see while retaining the lightweight portability and incredible maps and interface.
Best Rechargeable GPS
SatMap Active 12
Even though this UK-produced GPS system comes with a very hefty price tag, there are few handheld devices that pack as many features into a lightweight, portable and rechargeable piece of equipment as the SatMap Active 12. On the device itself, you have GPS locking, backlight boost, a replaceable screen cover, Bluetooth connectivity and slots for a mini USB and SD card. Then you have the removable battery pack that makes it an excellent mounted device for driving or mountain biking.
The 3.5" color display isn't just top-of-the line for hiking, biking, backpacking and geocaching. Its Bluetooth smart capability means you can connect it with a heart rate monitor while tracking your biking speed and barometric altitude. The paperless geocaching, route planner and water-resistant shockproof design can go anywhere. And the extended battery life through the rechargeable pack makes it one of the longest-lasting GPS devices on the market.
Best GPS with Radio
Garmin Rino 755T
The best GPS device you could have if you're hiking in groups, going on a hunt with friends, want a tactical advantage in a game of paintball, or oversee a group of hikers during camp, the Garmin Rino 755T combines the best GPS features with a two-way radio. This gives you unparalleled communication while spending far less than on a satellite phone.
In addition to the 5-watt radio that lets you communicate by voice or text, the GPS and GLONASS reception allow for more accurate location tracking than traditional GPS devices. It comes loaded with the best Garmin features, like the preloaded 100K maps with worldwide base map. Also included is a one-year BirdsEye satellite imagery subscription, Bluetooth support and an 8-megapixel camera with LED flash.
The 3" touchscreen display can be viewed in landscape or portrait mode. You can share your geocaching with a huge online community and make your trails, hikes and adventures social no matter how many people join you for the hike. The 4.5 GB of internal memory will store almost any hike you want to take, and the microSD card slot allows for even further storage of maps, pictures or data.
Where to Buy Handheld GPS
Backcountry: Current Promotions
Walmart: Free Shipping with Site to Store.
Cabela's: Current Coupons, Promo Codes and Special Offers
Note: This website is made possible through financial relationships with some of the products and services mentioned on this site. We may receive compensation if you shop through links in our content. You do not have to use our links, but you help support CreditDonkey if you do.
More from CreditDonkey: