Ad Disclosure: This article contains references to products from our partners. We may receive compensation if you apply or shop through links in our content. You help support CreditDonkey by using our links.
(read more)
Earn extra money from your phone. Find money making apps that really work.
Whether you're looking for spare cash or more substantial earning opportunities, look no further than your front pocket. We've compiled a list of the 40 best apps to make money from the comfort of your own phone.
You've probably already got a smartphone, and chances are you're paying for it. Here's your chance for it to start paying you back.
With these popular money making apps, you'll find a variety of ways to add a helpful boost to your bank account. Whether you're looking for a side hustle, a bit of passive income, or ways to get paid for things you already do, there's something for everyone.
Keep in mind: None of these apps are going to make you rich overnight, but for the amount of effort required, they're definitely worth a look.
1. Swagbucks - Most Ways to Earn
Swagbucks has long been one of the most popular sites for taking paid surveys online, and now they've made it easier than ever with an app. While they're known for their surveys, you can also earn by watching videos, playing games, and discovering content online.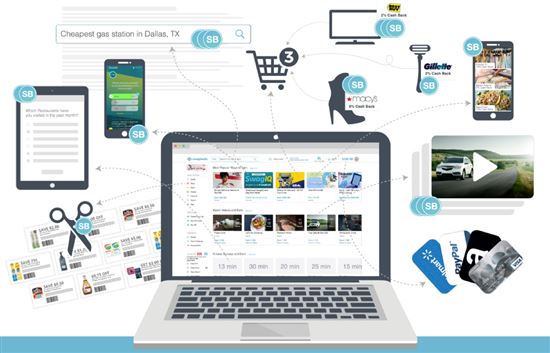 screenshot of swagbucks
You can also earn cash back, shopping at major retailers like Best Buy, Amazon, Target, and more.
What you can earn
According to reviews, users can earn $10-$15 a week using the app 1 or 2 hours a day.
2. Survey Junkie - Highest Pay Surveys
Earn points that can be redeemed via PayPal, cash, or gift cards with Survey Junkie. By sharing your opinions, you're actually getting paid to influence companies. Whether you've got five minutes to kill or half an hour, you're likely to find a fun and interesting survey to help you pass the time.
Screenshot of Survey Junkie
Something to keep in mind for Survey Junkie…
If the participant quota is reached before you finish taking the survey, you may not get paid for it. To avoid this, be sure to check surveys regularly and take the newest ones added.
What you can earn
An average user can expect to earn $5-$10 in 2-3 days.
3. Surveys on the Go - Easiest Surveys
If you're looking to round out your survey roster, Surveys on the Go is another solid option. Get notified when new surveys are available and get paid in cash for the ones you complete.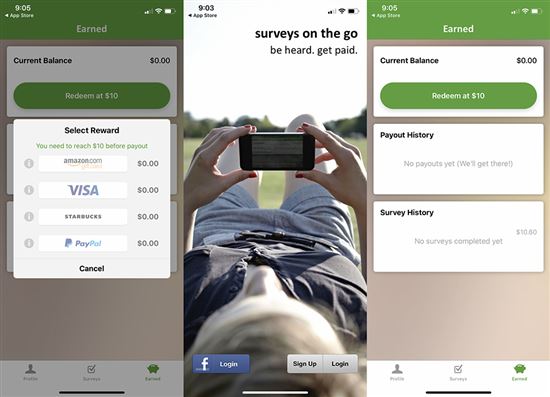 Screenshot of Surveys on the Go
As is the case with many of the survey-taking apps, there's a chance you won't be able to finish every one you start. However, Surveys on the Go offers 10-50 cents for surveys you can't complete, which is higher than many similar apps.
There is a minimum $10 limit for cashing out.
What you can earn
Users report cashing out for $10 or more an average of once or twice a month.
4. Capital One Shopping - For Savvy Shoppers
There are two ways to earn with Capital One Shopping, and they don't require a Capital One card to take advantage of them.
The first is through comparison shopping: Use the app to shop for things you already wanted and save when the app helps find a lower price for that item.
The second is through special deals from the stores you shop at. Earn reward points for shopping that can be redeemed for gift cards to major retailers.
Capital One Shopping is available both online and as an app. A fair number of users report having problems using the app, but those problems go away when they use their computers instead.
What you can earn
Savings vary but usually amount to a couple of dollars per sale.

Capital One Shopping compensates us when you get the Capital One Shopping extension using the links provided.
5. Decluttr - Best for Old Tech
If you've got boxes of old tech lying around your house collecting dust, Decluttr is a great way to clean up and earn money doing it.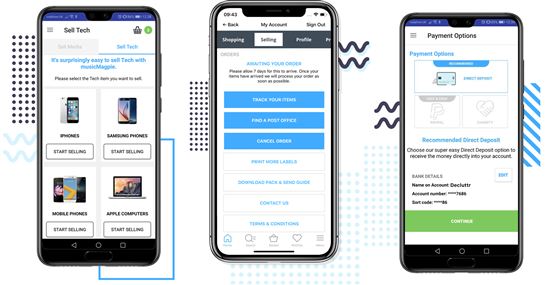 Credit: Decluttr
Scan the barcode on old DVDs, CDs, Blu-rays, games, and books to put them up for sale. Plus, you can get instant pricing on more expensive items, like smartphones, tablets, and gaming consoles.
Decluttr offers free shipping, and sellers receive payment once their items arrive safely.
What you can earn
This depends on what you're selling, but reviewers often found prices better than or comparable to other used-tech marketplaces.
6. Robinhood - For New Investors
While you aren't likely to earn much in the short term, the popular investing app Robinhood does offer a free stock with sign-up. The value of the stock you receive will vary, but it could be as much as $225.
If you need money quick, Robinhood isn't your best option. But as part of a long-term strategy for better financial health and security, investing is a smart choice.
Robinhood's $0 trading cost and the ability to buy partial shares make it a useful tool for those looking to get into investing but who don't have thousands of dollars to devote to it.
What you can earn
Get a free stock, valued up to $225 with sign-up.
7. DoorDash - Highest Pay Food Delivery
With the popularity of home delivery, you've probably already heard of DoorDash. In case you haven't, here's how it works: Customers order food through their app, and those orders are sent to drivers who get paid to pick up the order and deliver it.
Compared to many of the other apps on this list, this app is much more job-like, which means both the effort involved and the earning potential are increased.
Many drivers like the flexibility it offers in choosing when and where to work. If you're looking for supplemental income and have other responsibilities, it's worth a look.
What you can earn
Drivers can reasonably expect to get paid $23 per hour while on a delivery (based on the national average).
For Illustrative purposes only, actual earnings may differ and depend on expenses. Hourly pay is calculated using average Dasher payouts while on a delivery (from the time you accept an order until the time you drop it off) and includes compensation from peak pay, tips, and other incentives.
With any driving-based job, there are hidden costs such as gas and wear and tear to your vehicle. Remember to take them into account when deciding whether to become a driver full or part time.
8. Lyft - For Full-Time Drivers
Driving with Lyft can be a way to earn extra money in your free time, or as a full-time job for dedicated drivers. Simply download the app to sign up.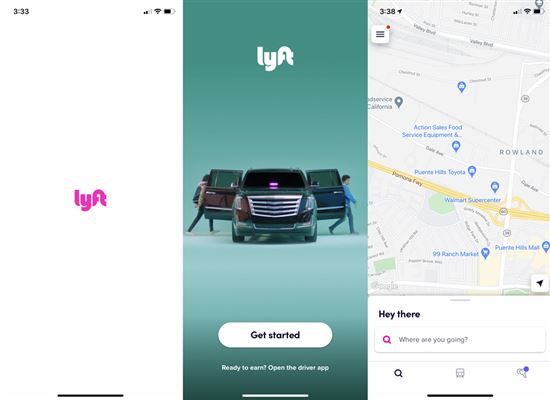 Screenshot of Lyft
After a short waiting period, during which they check your driving record and run a background check (about 3-10 days), you're ready to start driving.
Riders simply request a ride using the app, and if you're nearby, you'll be given the option to take the fare. Drivers can also earn tips on top of what Lyft pays for driving.
What you can earn
It depends on how much you drive and how busy your area is, but including expenses, drivers tend to average around $10 an hour.
9. Uber - For Big-City Drivers
Uber is another option for providing taxi-like service for cash, and it can be a great option if you've got unused time throughout your day.
Once you sign up, there will be a 1-7-day waiting period before you can start driving. To stack your earnings, you can also deliver food with Uber Eats.
What you can earn
After factoring in driving expenses and Uber's cut of the fare, drivers average around $10 an hour.
10. Turo - For Car Owners
If you've got a functioning vehicle collecting dust, you can turn it into a supplemental source of income with Turo. They call themselves a "peer-to-peer car rental service," and allow users to rent cars from other Turo users starting at $18 a day.
They offer contactless check-in and up to $750,000 in liability insurance, so you know your car is safe, even when it's out of your hands.
What you can earn
According to reviews, you can earn an average of $700 renting your car on Turo.
11. Paribus - Get Hidden Refunds
With the cash back app Paribus by Capital One, it's more about spending less than earning more. The app tracks any purchases you make online, and you get money back when they detect a price drop. This way you can be sure that you're not missing out on any deals just because of bad timing.
They also help you take advantage of shipping promises offered by companies like Amazon (such as a 2-day guarantee). If the company fails to meet their delivery promise, Paribus helps you fill out compensation request forms with a few clicks.
What you can earn
A Paribus user might expect to save $200 a year.
12. Ibotta - Cheapest Groceries
With Ibotta, you can earn cash back shopping in-store for everyday items like groceries and cleaning supplies. They even occasionally offer welcome bonuses, so you can get cash just for signing up (if you time it right).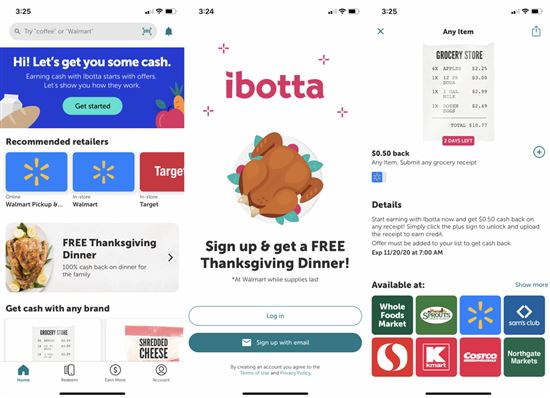 Screenshot of Ibotta
Check the app before you shop and, just like you did with coupons in the old days, see what items are eligible for cash back.
A side note: Reviewers sometimes have trouble verifying their purchases due to problems like unreadable receipts. If you're planning on using this app, try to get as much proof as possible beforehand, so there's no doubt you bought what you said you did.
What you can earn
Cash back deals on Ibotta are usually a couple of dollars per item.
13. Public - Investment Insights
The Public app mixes investing and social media so you can chat with other users about your stocks, share tips, and compare results.
Public lets you purchase fractional shares, called Slices, so you don't have to worry about being able to afford a whole share of a high-value company.
One interesting feature is their Themes section, which lets you choose companies to invest in based on metrics that matter to you, like women-led companies or those that donate to cancer research, for example.
What you can earn
There's no way to predict how much you'll earn, but trading fractional shares with Public gives you the opportunity to learn before investing large dollar amounts.

Invest in Stocks and ETFs, Commission-Free and No Account Minimums
Follow other investors, share insights, and build your financial literacy within a transparent community
Offer valid for U.S. residents 18+ and subject to account approval. There may be other fees associated with trading. See Public.com/disclosures/
14. MyPoints - Best Gift Card Rewards
There are a range of ways to earn points at MyPoints, which you can redeem for gift cards to popular retailers. Take surveys, shop online, or provide feedback on your favorite shows or movies.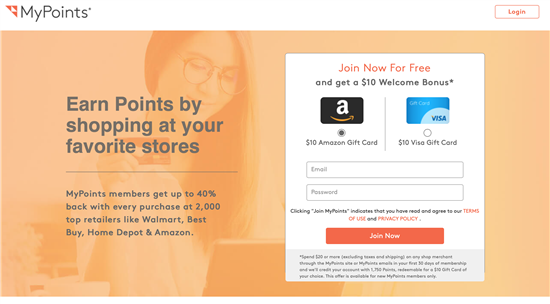 Screenshot of Mypoints
This isn't a get-rich-quick scheme, but you can earn a few dollars here and there with this app, and they sometimes offer bonuses to sign up, so you can earn just for downloading the app.
What you can earn
Average users can earn around $5 a week.
15. Acorns - Hands-Off Investing
If you're the sort of person who always wanted to get into investing but have never set aside the money to do it, Acorns is for you. The idea behind the app is simple: investing with your spare change.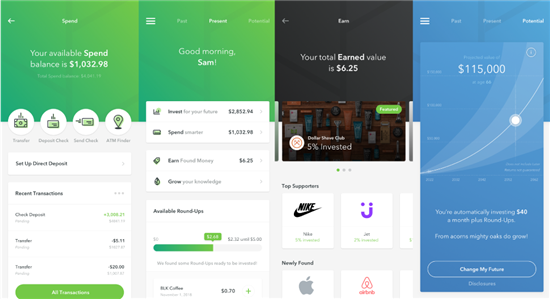 Screenshot of Acorns
With the app installed, whenever you make a purchase, it will round up to the nearest dollar and invest that money rather than depositing it back into your bank account. Over time, your investment grows, along with your earnings—all with no effort from you.
What you can earn
It takes time for stock values to mature. Rather than a quick buck, consider investing as a long-term strategy for financial health.
16. Worthy Bonds - No-Fee Bond Investing
Worthy Bonds attempts to provide a socially responsible investing option. Purchase their bonds guaranteed at a 5% fixed interest rate, and the proceeds help grow small American businesses.
Credit: Worthy
You can also activate Round-Ups, which automatically invest your spare change; and what's more, you can withdraw your money at any time with no financial penalties.
What you can earn
Worthy offers a fixed 5% return, which is much higher than most savings accounts.
17. Fundrise - Long-Term Investors
Invest easily in real estate with Fundrise—without having to buy an entire property.
REITs (Real Estate Investment Trusts) are a popular way to invest in real estate while minimizing risk. Rather than a single property, you will own part of a diverse property portfolio, and Fundrise makes it easy to get started.
Focus on your goals—like cash flow or appreciation—or choose your properties by location. Fundrise is a great way for beginners to get started in real estate investing.
Investments with Fundrise start at $10, and you must wait at least 6 months to redeem your shares.
What you can earn
Recent returns with Fundrise show an average of 9.47%, assuming you reinvest your dividends.

Become real estate investor with as little as $10
18. Postmates - Big City Food Delivery
One of the original delivery driver apps, Postmates lets you earn in your car, on your bike, and even on foot. Customers send in orders, you pick them up, and then drop them off. Earn tips for good service and set your own hours.
Based on reviews, it probably isn't going to replace a full-time job, but it's a flexible way to make money on the side.
What you can earn
This will depend on where you live, but drivers report earnings anywhere from $6 an hour on the low end all the way up to $37.40.
19. Earny - Best Price Tracker
Get up to 20% automated cash back when you shop using Earny at popular retailers like Target, Best Buy, and The Home Depot. They even offer $5 just for installing their browser plugin.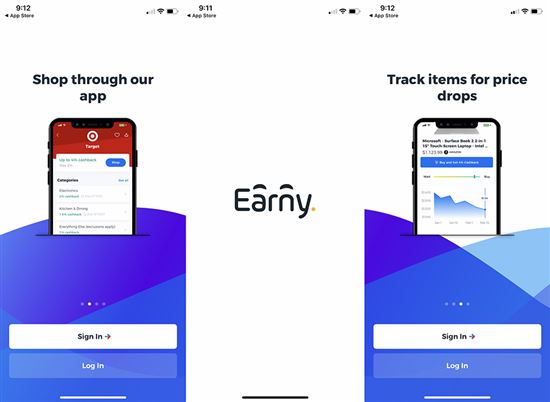 Screenshot of Earny
They also offer tracking on price drops, will suggest good times to buy desirable items, and help you get money back on late deliveries. Invite friends and get 5% of their cash back earnings for a year.
One thing to keep in mind when using Earny is that they take a while to pay; funds take 30-45 days to be confirmed.
What you can earn
Get up to 20% cash back on purchases with Earny.
20. Rakuten - Online Shoppers
Formerly known as Ebates, Rakuten offers up to 15% cash back at over 2,500 stores, as well as a $10 bonus for signing up. They'll even help you get free shipping with coupon codes.

SCREENSHOT OF RAKUTEN
You can get paid via PayPal or by check, and save even more during special events like Cyber Week.
What you can earn
Users can expect to earn up to 15% cash back just shopping as they normally would.

To qualify for $10 Welcome Bonus, you must be a new member and make minimum qualifying purchases totaling at least $25 within 90 days of becoming a member.
21. Truebill - Lower Monthly Bills
With Truebill, the point isn't earning more—it's paying less. Users report saving hundreds of dollars after lowering their bills with their bill negotiator and by canceling unwanted subscriptions.
Truebill reports an 85% success rate with lowering bills like AT&T, Comcast, and Verizon.
Truebill also functions as a budgeting app, helping you keep track of your expenses so that you can spend more responsibly.
What you can earn
Truebill users can expect to save an average of 20% of their current phone and internet plans.
22. Airbnb - For Homeowners
Whether you're going to be out of town for a couple of weeks or you've got an empty vacation home, Airbnb offers a way to turn your unoccupied real estate into an earning opportunity.
Sign up, post your property online (along with availability and pricing), and wait for people to rent it out.
What you can earn
According to Earnest, a low-interest lender, Airbnb hosts make an average of $924 a month—depending on factors like location and quality of the property.
23. Mistplay - For Mobile Gamers
Earn money by playing games with Mistplay—currently available on the Google Play store. By playing games, you'll earn points that can be redeemed for gift cards at Visa and Amazon. Many users say it's also a good way to discover new games.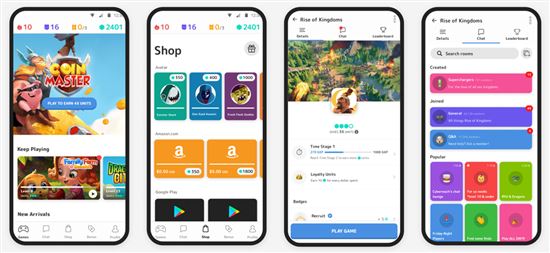 Credit: Mistplay
What you can earn
Users can earn up to $50 a month on Mistplay.
24. HealthyWage - Fitness Challenges
Bet on yourself with HealthyWage to earn money while reaching your weight loss goals.
Here's how it works: You set a weight loss goal—either a percentage of your current weight or a specific amount—and make a bet that you'll achieve it.
This helps you stay motivated during the weight loss journey and earn when you succeed.
What you can earn
According to HealthyWage, 64% of users report weight loss, and the average prize payout is $1,277.
25. Stepbet - Weight-Loss Motivation
Stepbet's goal is to motivate you to move, and you can make a little extra money while you do it.
Once you download the app, you can join challenges to complete a certain number of steps in a given time. Every member bets the same amount, and the pot is split among the winners at the end.
If you're looking for a way to stay motivated while you get healthy, Stepbet is worth a try.
What you can earn
Winnings typically average around $5-$10 on Stepbet.
26. Neighbor - Storage Space Rental
The Neighbor app allows you to rent out unused space in your neighborhood. Empty bedrooms, open storage in your garage, or parking—all of these things can be turned into a source for supplementary income, with minimal effort from you.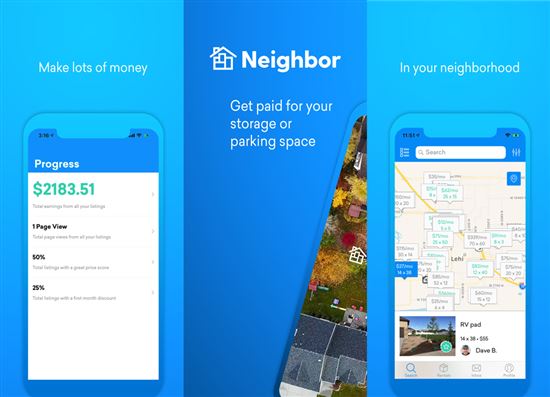 Credit: Neighbor
Just sign up, post your rentals on the app, and wait for people to sign up.
And for your peace of mind, all hosts are protected by a $2,000,000 Host Guarantee.
What you can earn
Neighbor will suggest a price for your rental; once you set it, they take a fee of 4.9% +30 cents per reservation.
27. Google Opinion Rewards - Quickest Surveys
The name says it all, doesn't it? Google will pay you to share your opinions through this app.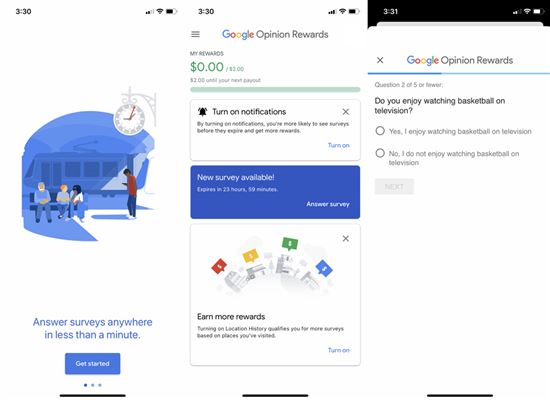 Screenshot of Google Opinion Rewards
Simply answer surveys and get paid via PayPal. Best of all, many of the surveys take less than 20 seconds. The survey topics range from product and service reviews to general opinions.
What you can earn
You can earn up to $1 per survey. How many surveys you get may depend on your demographic and how many similar users are on the app.
28. iPoll - On-The-Go Experiences
You don't just get paid for taking polls on iPoll, you can also earn from easy "missions" at local shops, like buying a cup of coffee ($1.50) or keeping diaries about what you eat or drink ($2.00).
Earnings are paid out in the form of gift cards to popular retailers.
What you can earn
It isn't quick, but users can earn $100 over the course of a couple of months.
29. DiversyFund - No-Fee Real Estate Investing
DiversyFund's goal is to make it possible for users to easily invest in what was once an unattainable asset class: multifamily real estate. In other words, apartment buildings.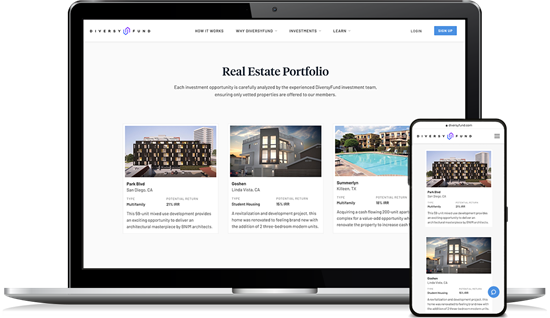 Courtesy of Diversyfund
For a minimum of $500 to start, you can invest in an asset that has historically outperformed the stock market and maintained value in times of economic uncertainty.
What you can earn
It can take several years before you see a return but reported returns have been as high as 12%-17%.
30. Stash - Invest With Little Money
With Stash, you can invest in fractional shares of popular brands like Starbucks, Nike, Amazon, Tesla, and more, starting with just $1.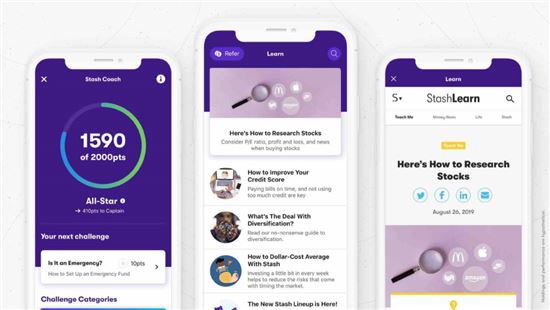 Courtesy of Stash
They cut down on fees (though the app isn't free), offer budgeting and saving tools to help you manage your finances, and even offer online banking to help store your earnings.
Plans range from $1 to $3 to $9 a month.
What you can earn
Stash is an investing platform, which means your earnings will depend on your choices and your risk tolerance. Investing is not a guaranteed way to make money.
31. Sweatcoin - Best Fitness Rewards
The idea behind Sweatcoin is simple: get paid to move. On its surface, Sweatcoin is a simple step counter like any other, but there's a twist.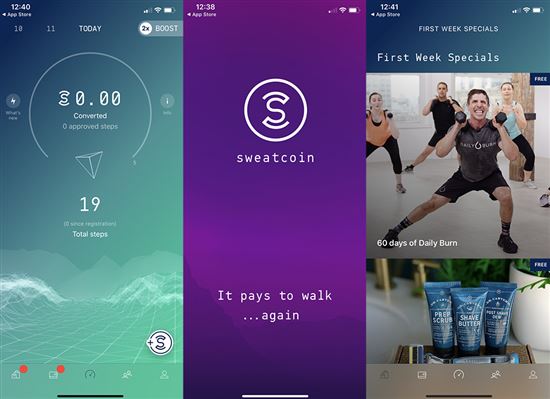 Screenshot of Sweatcoin
You earn money (called Sweatcoins) for your steps. Exchange Sweatcoins for gadgets, gift cards, or food or donate your coins to worthy causes like animal shelters.
What you can earn
20 Sweatcoins are valued at a dollar, which is the most you can earn in a single day.
32. Foap - For Hobbyist Photographers
If you've got a smartphone, chances are you've got a photo library with thousands of images in it. It's never been easier to be a photographer and now with Foap, you can get paid for your pictures.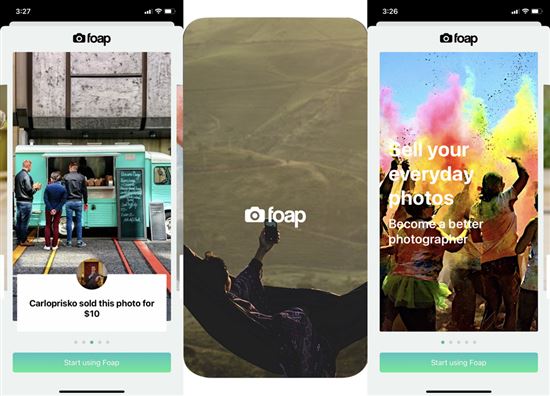 screenshot of foap
The app allows you to sell your personal photos to big brands like Bank of America, Volvo, Nivea, and more.
What you can earn
The truth is, lots of users don't make any money on Foap. A number report making $5-$10 a month, and a select few manage to make a few hundred dollars a year.
33. M1 Finance - Most Comprehensive Investing App
M1 is an online investing platform that allows you to build a portfolio of ETFs and stocks for free. It also offers a lot of extra features like borrowing money, checking, and smart transfers.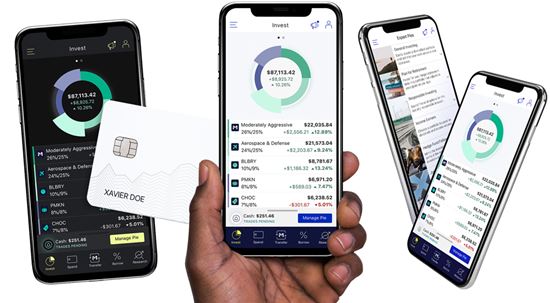 Credit: M1
What you can earn
As with all investing platforms, your returns with M1 depend on your investments.

M1 Finance allows investors the choice of ETFs and stocks. M1 charges no management fees or commission.
34. Mercari - Sell Used Stuff
Mercari is a popular selling (and buying) app that can help you get paid for all the stuff you've got lying around the house.
Toys, clothes, electronics, and more—just list it, take a few photos, and set your price. Then ship it to the buyer and collect your money when it sells.
What you can earn
What you can earn on Mercari depends on what you're selling, but if you have a steady stream of listings, you could make several hundred dollars a month.
35. Mobee - Best for Foodies
Complete missions with the secret shopping app Mobee. You can get paid to shop and eat at spots around town, in many cases discovering new businesses that you might have otherwise missed.
Points you earn can be redeemed for prizes and gift cards for popular retailers.
What you can earn
Users can expect to earn a few dollars a day doing missions, and it can be a fun way to earn a little extra cash.
Other Apps to Make Money
There's no shortage of money-making apps out there. If you've exhausted your options, here are a few more options that you might (or might not) have heard of.
Etsy
Etsy is an app targeted toward crafts-oriented people, and shoppers go there looking for hand-made or one-of-a-kind goods. If you've got a skill for crafting, this may be a great place to monetize it.
OfferUp
OfferUp is a buying and selling app that lets you post products for sale quickly and easily. You can build a seller profile and chat with potential buyers using their in-app messenger.
TaskRabbit
Complete simple tasks for people near you and get paid. With cleaning, minor home repairs, and deliveries, there are lots of ways to earn on TaskRabbit.
BookScouter
Whether you're a student or just an avid reader, there's a good chance you have books or text-books lying around that you'd be happy parting with. BookScouter makes it easy to sell used books from your smartphone.
Upwork
If you're looking for proper freelance work, Upwork is a good place to look. Get hired for jobs in dozens of categories like programming, design, writing, admin, sales, and more.
Bottom Line
Whether you're looking for a way to earn a couple extra dollars in your downtime, build wealth and save, or find part-time or even full-time work, it's never been easier to do it from the comfort of your phone.
Jeremy Harshman is a protector of art and writing at CreditDonkey, a personal finance comparison and reviews website. Write to Jeremy Harshman at jeremy.harshman@creditdonkey.com. Follow us on Twitter and Facebook for our latest posts.
Note: This website is made possible through financial relationships with some of the products and services mentioned on this site. We may receive compensation if you shop through links in our content. You do not have to use our links, but you help support CreditDonkey if you do.
Paid non-client endorsement. See Apple App Store and Google Play reviews. View important disclosures. Investment advisory services offered by Stash Investments LLC, an SEC-registered investment adviser. This material has been distributed for informational and educational purposes only, and is not intended as investment, legal, accounting, or tax advice. Investing involves risk.
Capital One Shopping compensates us when you get the Capital One Shopping extension using the links provided.
Read Next: