6 Common Balance Transfer Mistakes to Avoid
---
We love the idea of balance transfers. They allow us to transfer higher-rate balances to one low-rate credit card, thereby allowing us to both simplify our monthly debt payments and save money.
Although balance transfer credit cards are usually a smart financial choice for many consumers, there are a number of factors to take into consideration before transferring your balance onto a new card.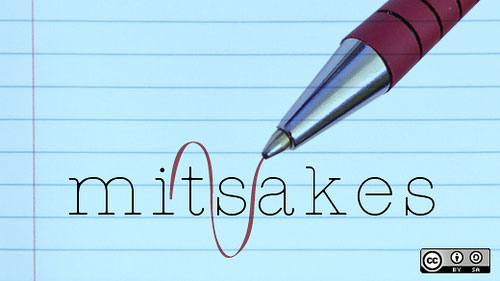 Mistakes

© opensource.com
Here are some of the most common balance transfer mistakes:
Not reading the fine print – Don't just choose a balance transfer card based on the headline. Instead, carefully review the card's fine print. Balance transfer credit cards are notorious for having a slew of terms and conditions, so it is up to you to educate yourself on them so you know you are making the right choice. While the 0% initial APR sounds great, the 25% APR that starts after three months can negate the benefits of the transfer.
Not considering the balance transfer fee – Although a credit card company may be offering a fantastic balance transfer offer, we must always take the balance transfer fee into consideration before we can decide if the offer is really advantageous. Balance transfer fees are common among balance transfer offers, and they usually equal between 3 and 5 percent of the transferred balance. The cost of the balance transfer fee may outweigh any benefits you would receive from the low promotional balance transfer offer, so do the math beforehand.
Not understanding the length of the promotional APR – Although there are many great balance transfer offers on the market, the low promotional rates may not last as long as they once did. In fact, it is now quite common for promotional rates to last only six months, when the standard was 12 months just a few months ago.
Not realizing if the promotional APR is for both balance transfers and purchases – We may enjoy a low promotional rate on our transferred balances, but the purchase rate may be substantially higher. It is therefore always important to consider when the promotional rate covers both balance transfers and purchases.
Transferring credit card balances too often – Playing the credit card game too often isn't usually a good idea. In other words, transferring your balances onto a new card with a new promotional balance transfer rate each time the current card's promotional rate has ended is an exhausting practice and could result in a lowered credit score from too many credit inquiries. It is best to instead choose a balance transfer card with a low promotional rate and a competitive default APR and work to pay it off in a reasonable amount of time.
Balance transfer offers can certainly help you save money and consolidate your debt. Be sure to read the fine print and avoid the mistakes outlined above, and you can be a real beneficiary of balance transfers.

Grace C is a contributing writer at CreditDonkey, a credit card comparison and reviews website. Write to Grace C at grace@creditdonkey.com. Follow us on Twitter and Facebook for our latest posts.