Smart Tactics for Avoiding Airline Fees
---
Flying has become increasingly expensive in recent years, and there is no sign that prices will go anywhere but up in the future. This means that to be a savvy traveler, it may be necessary to stay on your toes and keep abreast of how the airline industry is changing. The bottom line is that most airlines will charge you more if given the opportunity.
The old days of your ticket price being the end of your airline expenses are likely a thing of the past for many travelers. However, by keeping your eyes open, you should be able to keep your travel bill from ruining your vacation or travel plans.
Baggage Charges and More Baggage Charges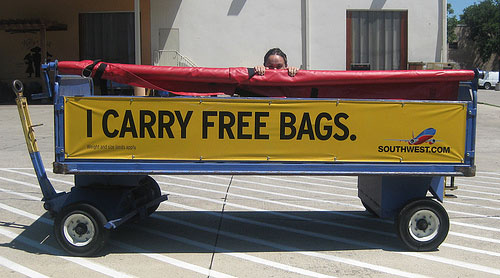 Bags Fly Free @ Southwest © Cordey
Not too long ago, unless you were bringing your pet along for the trip or really went serious overboard on your packing, the airlines gave you a bit of a pass on the weight of your baggage. However those days are long, long gone. Now if you are a few ounces over on the airline scale, you can expect to get hit with additional fees. Plus, many airlines will charge you if you want to transport more than one bag.
The Los Angeles Times recently reported on baggage-fee revenue in 2010. They found that 20 largest carriers collected a total of $906.4 million in fees. This was in the third quarter alone! Obviously, these earnings translate to billions of dollars of yearly fees for travelers. If you want to avoid these serious travel bills, then you will want to invest in a little planning.
Ship Ahead
If you need to bring a lot of luggage with you, then it might make sense to investigate whether or not shipping your items ahead of time is actually a cheaper and easier option. Sometimes this might not be practical, but the potential cost savings make it worth investigating. Often hotels will be more than happy to receive a package for you, and they may even bring it up to your room.
Do You Really Need That Extra Pair of Shoes?
Every single item you bring with you could mean that you will be charged money. This means that taking the time to pack wisely and only bring the essentials could really be worth your time.
How Heavy Is Your Bag Anyway?
Your suitcase might be heavier then it should be when it is empty. A good deal on a suitcase may not seem so great if it can't carry much before it gets really heavy. This means that you may wish to consider buying a suitcase or bag that is lighter in weight. After all, when your suitcase is lighter in weight, you can bring more items with you.
Avoiding Food Charges
Airlines have begun charging you for food. Yes, you now have to pay for that exceptionally delicious airline food. With this fact in mind, a savvy traveler is going to bring a lunch. Not only is airline food overpriced, but also you can expect much the same for the highly limited airport food options. Also if you are a healthy eater, your airport options could be a serious problem. Bringing your own meals and snacks might seem like a hassle when you are getting ready for your trip, but once you are up in the air, you will probably be ecstatic that you packed some nutritious and cheaper food.
By thinking ahead and considering different options, you can likely save big on all of those numerous airline fees. Travel can be stressful. That is even more reason to save the stress of airline sticker shock. The end result is that your trip will be more relaxing and productive.