Why Zipcar Might Just Be the Best Subscription Service Ever
---
As a resident of Los Angeles, I am intimately familiar with all of the worst parts of owning a car: the cost of repairs and insurance, the late-night hunts for the cheapest gas at out-of-the-way filling stations, and the constant battle to find parking within a one-mile radius of your destination.
The expense and frustration often hardly seems worth it, especially in a world where you can tap an icon on your phone screen and have a car pick you up within two minutes.
But those rides are pricey, so I'm always on the lookout for cheaper, more convenient transportation options.
A Better Option
If you're lucky enough to live in a city that's walkable or has an extensive public transit system, you might not need to own a car to get to work or the grocery store. But what happens when you want to go further than usual?
Like me, you might go looking for better, more flexible transportation options. I'm here to point you in the direction of a great option that combines the flexibility and independence of renting a car with the ease of use of a ridesharing service: Zipcar.
HOW DOES IT WORK?
Zipcar is a car service that allows you to drive cars and pay either by the hour or by the day, depending on the kind of trip you want to take.
You'll find Zipcars in major cities all over the globe, usually parked in reserved spaces in public parking lots. Under the right circumstances, a Zipcar membership can save you hundreds of dollars over car ownership or rideshare services, provided you know its limitations and how to work within them.
Here's how it works:
You start by applying for a membership online.

Once you're approved, which will depend on your driving history, they'll send you a "Zipcard."
The Zipcard acts like your key to the cars you reserve: just walk up to your chosen vehicle in the lot, scan your card across the sensor near the windshield, and the car will unlock.
You'll find the keys waiting for you inside. You can take your car for as little as one hour or as long as seven days, and when you're done, all you have to do is leave it in a designated Zipcar parking space for the next user.
Zipcar Membership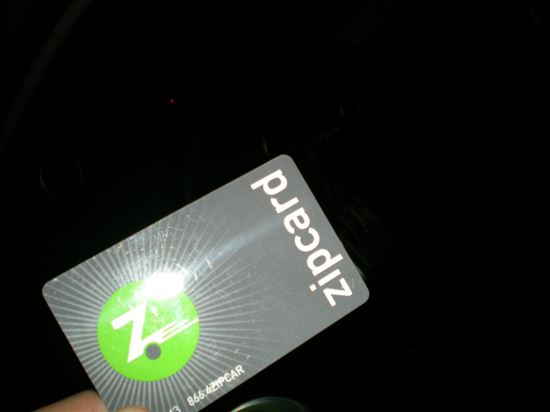 Zipcard © Frederick Dennstedt (CC BY-SA 2.0) via Flickr
Now, all of this convenience isn't free. But with flexible membership plans, you can save quite a bit of money if you know exactly how you plan to use this service.
Memberships come in two flavors: a one-year membership and a month-to-month one.
This membership fee helps Zipcar provide insurance and gas for every vehicle so you don't have to worry about either of those things every time you hop behind the wheel. For the rental itself, you can pay by the hour or by the day, and Zipcar won't charge for mileage up to 180 miles. After that, though, you will incur a mileage fee.
Tip: Zipcar also has an app that you use to reserve your vehicle, which can be done up to a year in advance. That means it can require a bit of planning if you want to make sure a car will be available for you, but as long as you remember to make a reservation, the rest of the experience is a breeze.

HOW IT BEATS THE COMPETITION
Zipcar has its limitations, but the overall experience is a lot less frustrating and a lot more empowering than many of the alternatives. For example, renting a car through a traditional rental agency often involves a long wait to speak to an agent even after you've made your reservation, whereas Zipcar allows you to simply walk up to your car, scan your card, and hop in.
Ridesharing apps, meanwhile, might be convenient, but they don't offer the freedom of jumping into a car yourself and heading to any destination you choose. If you're taking multiple short trips, those ridesharing apps will get pricey fast, too, whereas Zipcar lets you get in and out almost wherever you choose without incurring additional costs.
If you live in a place that doesn't require you to drive your own car every day, but you still own one, you're paying for insurance and a parking spot that you might not even be using.
A Zipcar membership could end up being significantly less expensive than all of those costs if you only use your car once a week or so, and otherwise take public transit or walk. Low-usage car owners might want to consider cashing in their car and getting a membership instead.
THE FINE PRINT
Zipcar is not a one-size-fits-all transportation solution.
Given its reservation system, it does require some planning ahead.
If you overshoot your reservation and end up dropping your car off late, Zipcar may also charge you a fee for that. These fees can get hefty if you're extremely late, and can even eclipse the cost of one day's rental. You can also incur fees for passing through toll zones, returning the car with a low tank, or getting a traffic ticket. If you're not a fan of planning ahead or have trouble sticking to a schedule, Zipcar might not be the ideal solution for you.

The drawback to Zipcar is its number of locations in comparison to leading traditional car rental services.
While a city like San Francisco has Zipcar spots available in a large number of places, other cities and towns aren't so lucky. You may find that the nearest drop-off point is quite a hike from your actual destination. You also can't drop your car off in any old parking place; if you close your rental and leave the car anywhere but in a designated Zipcar parking spot, you'll incur a penalty on your bill. This means a little more planning to know where you'll have to park your Zipcar, and how you'll get from that location to your final destination.
THE BEST USES OF ZIPCAR
All that said, this is the perfect solution for a number of different transportation challenges.
Tourists and visitors to cities where Zipcar is active can use it to explore at their leisure without the hassle of dealing with rental car agencies.
Anyone who doesn't already own a car can easily grab one from their local Zipcar location and take a Saturday day trip out of town.
It's also an affordable option for those whose cars are in the shop or otherwise not always available; you'll always have a backup car ready and waiting for you.
It's not a replacement for public transit, but it is a fantastic, convenient, and very easy way to supplement your other modes of transportation. Knowing that you have the ability to grab a car should you need one adds a flexibility to life that can't be measured. It's not for everyone or every situation, but when used right, Zipcar can be one of the best, most convenient subscription services out there.
More from CreditDonkey: