Survey: Online Shopping Statistics
Will Consumers Ever Do All Their Shopping Online?
---
While many shoppers would rather not pay for something without holding it first, shipping costs are the number-one issue preventing consumers from doing more online shopping, according to a survey from CreditDonkey.com.
In a survey of more than 1,200 respondents, 34% of consumers said that high shipping costs stop them from buying more items online. The inability to touch and try out new products keeps another 32.9% of respondents from using the computer to make more purchases. Nearly 15% of consumers cited impatience, admitting that having to wait for merchandise to arrive was enough to prevent them from making some online purchases.
For about 9.2% of respondents, it's a fear that what arrives in the mail will not be the same as what was ordered that keeps them from buying more on the internet. Another 6% fear their credit card information will be stolen. In a true sign of the times, only seven respondents out of over 1,200 claimed they don't have a valid payment method for online shopping.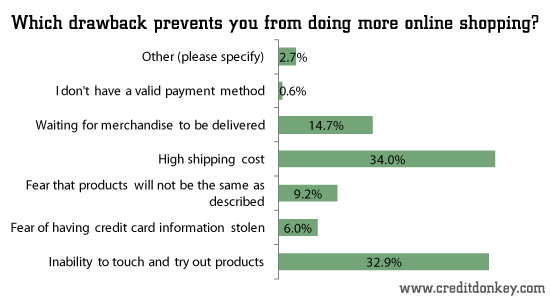 Which drawback prevents you from doing more online shopping? © CreditDonkey
Despite their concerns, most consumers shop online. Only 1% of the respondents aren't willing to make internet purchases. Those that do use either a debit card or credit card to make their online buys (more than 80%) while 15.7% of respondents use PayPal or a similar service to shop online.
The Web gives shoppers many reasons to overlook any perceived cons of online shopping. More than half of responses cited "convenience" as the main reason they shop online while 27.8% of respondents find better deals shopping over the internet. And for 13.1% of those who took the survey, the large selection offered on the internet keeps them shopping online.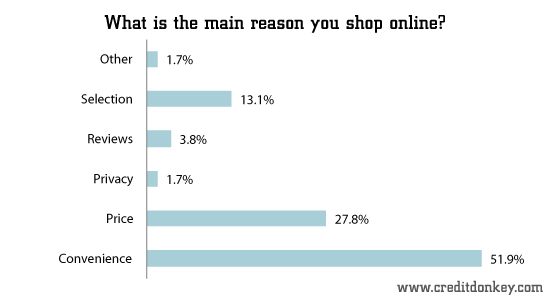 What is the main reason you shop online? © CreditDonkey
CreditDonkey.com conducted the online survey of 1,246 shoppers in the U.S., age 18 and over between August 20 and September 2, 2012.