Thanksgiving Travel: 10 Ways to Save Money Getting Where You Need to Go
---
As Thanksgiving approaches and thoughts of pie, family and shopping put you in the holiday spirit, one negative aspect of the holiday – traveling to your destination – can quickly put a damper on the mood.
In a recent survey by CreditDonkey.com, only 35% said they enjoy traveling on Thanksgiving. Part of the reason this ranks so low on the list is the cost. With most people (78%) expecting to spend the same amount of money this year as they did last year, here are some tips and suggestions to keep your travel expenses down this Thanksgiving.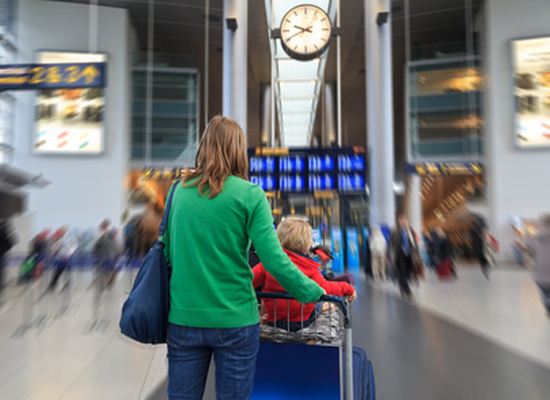 Use airline rewards credit cards. Using one of these for your day-to-day purchases will help you accumulate flyer miles that can be used to book your flight. Compare airline rewards programs, and see which one is the best for you.
Pack light. Paying for baggage gets expensive, and, depending on which airline you use, chances are the only free bag you can bring is your carry-on. JetBlue allows one free checked bag, and Southwest allows two, but other airlines have a fee for any checked bag. So do your best to pack light; take only what you really need and bring clothes that are versatile and can be worn more than once.
Make it a road trip. If you're traveling with a group of people, the cost of gas for one car will be much less expensive than the cost of plane tickets for each person. Turn it into an adventure, and throw in a few extra stops for sightseeing along the way.
Try packaged deals. Booking your flight, hotel and rental car all in one can cut down on costs. Sometimes rental car agencies and hotels have deals that they don't publish for the general public but share with airlines for inclusion in bundled deals.
Use airline hubs to your advantage. Find out which airlines have hubs closest to your departure or destination area. Flying to or from an airport that is in an airline's hub city will save you lots of money, as these tickets tend to be cheaper. For example, since the Charlotte, N.C., airport is a major hub for US Airways, flights through Charlotte will generally be cheaper for that airline than going through another connecting city.
Choose another airport. Sometimes using a smaller, alternative airport will save money too. For instance, flying to or from Providence instead of Boston is usually cheaper. Of course, one might have to rent a car then, an additional expense. Smaller airports tend to have fewer fees that, in turn, result in lower costs to customers.
Be flexible. The more you're willing to shift your travel dates, the more money you can save by leaving or returning earlier or later than you intended. Even though flying to your destination on the day before or the day of Thanksgiving may be the most convenient for your work schedule, it's much more costly. Returning on the Sunday after Thanksgiving is expensive too. Since many people want to spend as much time with family as they can and still get back home in time for work on Monday, that's a day in high demand.
Ask about upgrades. Often when you arrive at your hotel or rental car company, there will be free or cheap upgrades available for unfilled rooms or unrented cars. Ask the person at the counter what options are available. You may actually be able to get a better deal than if you had tried a particular arrangement when you booked your room or car.
Use credit card rental car insurance. You usually don't have to pay for rental car insurance if you pay for your rental with a credit card. The four major credit card companies – Visa, MasterCard, Discover and American Express – typically offer some form of rental insurance that's applied automatically when you simply pay for your entire rental with the card and decline the rental car insurance. Each company has its own set of rules about what's covered and what's not, but this is a frequently forgotten perk that is worth considering.
Bring your own food. While the turkey is the focal point of the holiday, there are of course other meal times that require food. Plan ahead by packing food for the road so you don't get stuck overpaying for junk food at rest stops or those pricey snack boxes on the airplane.