5 Ways to Save on Your Taxes
---
They say the only two certain things in life are death and taxes. It's easy to get pessimistic about tax season, but planning ahead can make your tax bill lighter. With the right type of planning, you'll be able to save on your taxes this year.
Don't wait to think of ways to save until you're filing your taxes, though. Instead, take steps to start saving all throughout the year so that when tax time comes, you don't have any surprises. Here are the top five simplest ways to save on your taxes—and you don't have to be rich to take advantage of them, either!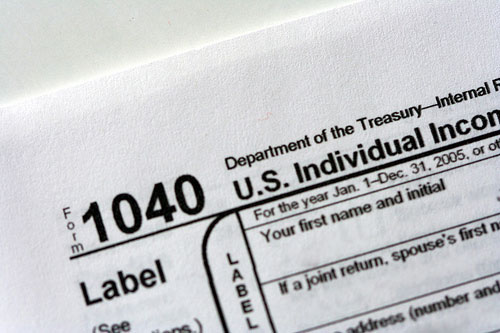 IRS Form 1040 © John Morgan
1. Get your withholding right to begin with.
It's easy to fill out that W-4 form when you start your job and then forget about it. However, one of the best ways to save on your taxes is to fill in this form correctly. Each January, pull out your check stubs to see how much federal income tax your employer is withholding. You can use online calculators to see if it's too little or too much. You may need to adjust your withholding level or have your job withhold an extra amount out from each paycheck.
Why take time to fine-tune your withholding? Well, if your employers are taking too much out of your check, you get a tax refund at the end of the year. It seems great, but, really, you're giving the government an interest-free loan for most of the year, and you could get more out of that money if it was paid directly to you. On the other hand, if your employers are withholding too little, you'll end up owing money, which can be difficult to plan for. Your goal here is to break even with the government unless you get a special tax credit that you weren't expecting.
2. Take advantage of your employer's tax breaks.
Many employers offer flexible savings accounts to supplement health care plans. They're a fantastic way to save on taxes while you save up for medical expenses. Here's how it works:
Step One: At the beginning of the year, you decide how much money you want to put into your flex account. Calculate this amount based on the amount of money you spent out of pocket on medical expenses last year.

Step Two: On January 1st, all that money is available to you, but you actually pay into the account out of each paycheck through the year. It's essentially an interest-free loan that you pay off automatically.

Step Three: Spend the money in your flex account on allowed expenses—co-pays, prescriptions, certain over-the-counter medications, etc. Spend it all by the end of the year because whatever is left after December 31st will just disappear.

Step Four: Enjoy tax savings! The money you put into your flex account came out of your paycheck pre-tax, which lowers your overall taxable income and, thus, your taxes.
Many employers also offer a similar pre-tax plan for childcare expenses so that you can lower your taxable income on those expenses, as well.
Another great way to lower your taxable income is to invest for retirement. Check out your employer's plans, or talk to a financial planner about setting up an independent retirement account on your own. Some types of accounts reduce your taxable income. Plus, unlike other investments, they grow tax-free, so you don't have to claim your profits on these accounts each year.
In fact, if you find yourself with a major tax bill, you could save some money by investing a chunk of money in an IRA. For example, you could reduce your 2011 taxes by investing in an IRA in 2012 as long as your investment is made before your taxes are due in April.
There are also great incentives for going back to school. Unless your income is well into the six-figure range, you'll likely get education-related tax credits. Of course, you have to count the cost of the education when you're calculating these savings, but, overall, it can be a pretty good way to save on taxes if you're thinking about going back to school anyway.
Keep in mind that for most tax benefits, you have to be in school at least half time. For undergraduate students, this means six credit hours a semester, and for graduate students it usually means between four and six, depending on the school.
5. Use a home equity loan instead of credit card debt.
Credit cards don't come with tax advantages, unfortunately, because they count as consumer debt. So if you need to take out some money for a specific purchase this year, consider applying for a home equity loan instead. Just like the interest on your original mortgage is tax deductible, the interest paid on your home equity loan is also tax deductible. You still need to manage the debt properly, but at least it will give you a tax advantage!
Keep in mind, credit card debt is usually considered unsecured debt, while a home equity loan is usually secured against your home. Make sure you're able to pay back your home equity loan.