SoFi Review: Student Loan Refinance Worth It?
This article contains references to products from our partners. We may receive compensation if you apply or shop through links in our content. You help support CreditDonkey by reading our website and using our links.
(read more)
---
Is student loan refinancing a good idea? Is SoFi legit? Is NOW a good time to refinance? Read on. The answers may surprise you.
If you feel like you're chipping away at your student loan balance with a broken chisel, you're not alone.
A better interest rate might help you make a bigger dent. And one of the best way to get one is by refinancing.
How Does Refinancing Work?
The word "refinancing" sounds complicated and intimidating, but it's really not that bad.
Basically, it really means is that you get a new loan at a new, lower interest rate to replace your existing loan.
So, why would somebody give you a new loan at a lower interest rate?
Well, hopefully between the time you applied for your existing student loan and today, you've graduated college, built up your credit history and landed yourself a solid job.
Not everyone is that lucky. But if you are, then to the eyes of lenders, you are a lower risk than you were when you were an incoming college freshman with an unclear future.
So You Want to Save Some Money
If you can find a lender that's a good match for your needs and who likes your credit history, you could save a ton of money over time - and you could lower your monthly payments.
There are a handful of lenders that specialize in refinancing student loans, and SoFi is one of the largest.
Dive into our in-depth look at the pros and cons of refinancing your student loan through SoFi and find out whether it's worth it for you.
Why Use SoFi to Refinance Your Student Loan
Chances are you don't refinance every day, so you may not be up to date on the reasons to go this route. Here are the benefits of refinancing through SoFi.
You can potentially save thousands on interest. The whole point of refinancing is to cut down on the amount of money you're paying in interest, and SoFi may help deliver big savings because of that.

But it does depend on how much time is left on your loans and how much interest rates will fluctuate in the future. According to the company website, the average member saved $22,359 over the lifetime of their loans when they refinanced.

Did you know

: SoFi has an

A+ rating

with the Better Business Bureau.

You might get a lower interest rate. SoFi offers both fixed rate and variable rate refinance loans, so you've got some flexibility when it comes to how much interest you end up paying.
You won't lose your grace period. Most student lenders give you a grace period before your monthly payments kick in. It can be half a year after graduation to give you time to map out a budget and get prepared for paying off balances. SoFi honors that grace period for borrowers who consolidate or refinance their loans.
You don't have to pay an origination fee. Normally, when you're financing existing debt into a new loan, the lender charges you an origination fee for writing up all the paperwork and processing the loan.

With SoFi, you won't pay an origination fee to refinance.

There's no penalty for dumping the debt early. If you're able to pay off your loans ahead of schedule after refinancing, SoFi won't hit you with a prepayment penalty.
You'll be rewarded for referring your friends. Beyond refinancing your own loans, you can score some extra perks when you join the SoFi referral program. Any time someone you refer sets up a new account and refinances their loans, you'll get a $100 bonus.
You might be able to get additional rate discounts. Setting up automatic payments for your loans ensures that you're never late. But that's not the only benefit. SoFi will also give you a 0.25% reduction on your interest rate when you put your payments on autopilot.
You can choose your loan term. Ten years is the standard repayment term for most student loans, but you can switch things up when you refinance. SoFi offers 5, 7, 10, 15, and 20-year loan terms, so you can pick the plan and the monthly payment that fits your budget.
Federal and private loans are accepted. Looking for student loan consolidation? Some private lenders will only refinance private loans, but SoFi will let you consolidate your debt even if federal direct loans are part of the mix.
You're protected if you lose your job. Trying to keep up with your loan payments when you're out of work can be a nightmare, but SoFi cuts borrowers a break.

If you become unemployed, your payments are temporarily suspended until you get back to work (as long as you don't have a co-signor who can make the payments for you in the meantime). SoFi also offers complimentary career coaching if you need a little help finding your next gig. We'll discuss more below.
To learn more about Sofi and see how it can reduce the cost of your student loan, click here to visit SoFi's website.
Is Now a Good Time to Refinance Your Student Loan?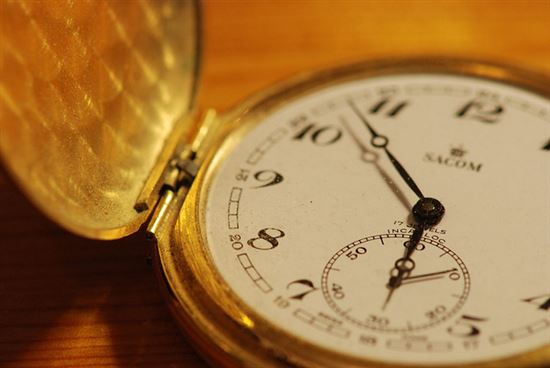 Time For... ? © bogenfreund (CC BY-SA 2.0) via Flickr
Interest rates are near historical lows and that could change in the near future. So, there is some pressure to do it now.
But that doesn't mean refinancing now is the right move for everyone.
Watch Out
Though there are many reasons to like SoFi, nobody's perfect. Here are three things to keep in mind before you pull the trigger:
You may lose federal loan protections. If you decide to combine your federal and private loans through SoFi, you'll be giving up certain benefits that are only available to federal borrowers. These include the option of picking an income-dependent repayment plan or wiping out your loans through public loan service forgiveness if you work for the government or a tax-exempt nonprofit.

If you don't think you need these protections, or you already have a private student loan, then keep reading and see how Sofi may help you save money.

Tip: If you have a mix of federal and private loans, the smart move might be to only refinance your private loans and continue making separate payments on your federal loans.


You could end up paying more in interest. Switching from a fixed rate loan to one with a variable rate can save you money as long as rates stay low, but it can also backfire big time.

Know that you're taking a gamble if you refinance with a variable rate loan.

Luckily, SoFi offers both fixed rate and variable rate loans.

The application process can be bumpy. While it takes just a few minutes to apply for a refinance loan through SoFi, actually getting approved can be much more time-consuming. We poked around to see if there were any negative reviews of SoFi, and one of the biggest complaints was that it sometimes took three or four months for a loan to get finalized.
How Does SoFi Work?
SoFi isn't like a traditional bank, so you need to be aware of a few nuances.
For starters, the money that's used to fund refinance loans comes from alumni, individuals, and institutions that have invested in the company. SoFi's approach to lending is also different since it looks beyond numbers (like your credit score) and factors in personal merits that would make you a good candidate for a loan.
If you have horrible credit or don't have a job, stop reading this article and focus on finding a job and improving your credit history instead. Get some income in the door and establish a record of being able to pay your bills, and then you can look into bringing the interest rates down on your loans.
Sounds a bit counterintuitive if you are struggling with debt, but it's a reality.
What is the process like?
It's fairly straightforward to get started with SoFi. You just fill out the online form with some basic information about your debt, including the total amount you owe and where you went to school. From there, SoFi gives you an estimated interest rate.
If the rate looks good to you, you can apply directly through their website. You'll need to give SoFi all the details on your loans, upload copies of your most recent loan statements, and authorize the company to check your credit history.
If you're approved and you sign off on the creation of a new loan, SoFi will pay off your old loans for you. You'll send payments to SoFi going forward.
Is it worth it?
The answer of whether refinancing is worth the trouble of comparing lenders, gathering your paperwork, and filling out applications is an individual one. It makes sense to periodically check and see what other rates you could possibly get.
When you're nearing the end of your payments, it may not be the right time to refinance. You may instead want to see if makes sense to just pay off the debt earlier.
For everyone else, getting a much better interest rate is tempting enough to make looking into refinancing worth it.
Consider this other reason to go the refinancing route: You could change the timeline for your repayment.
You can shrink the amount of time you'll be paying. A lower interest rate could mean you'll pay less over time (though keep in mind that the monthly payments could be higher).
Or you could go the other direction and shrink your monthly payments (this might cost you more over time but it's better to make manageable payments than to not pay at all).
Depending on your individual circumstances, refinancing can help you make a bigger dent in your debt. To find out, visit SoFi's secure website to get your rate.
Am I obligated once I apply?
There's no obligation to accept any of the refinance offers through SoFi, so you don't have to worry about being pressured into a decision.
In fact, it's a good idea to compare the rates and loan terms to see where you will get the best deal.
Can anyone refinance through SoFi?
Even though SoFi isn't a traditional lender, it does have some tough eligibility requirements. Certain borrowers won't qualify.
Here are the main things SoFi considers when you apply:
Minimum loan balance. You'll need at least $5,000 in outstanding loans to qualify for a refinance. The bar could be higher depending on the state you live in.
Employment status. SoFi wants to make sure you can pay your loans if you refinance, so you'll have to be employed or have a verified offer to start work in the next 90 days.
Cash flow. Aside from proving that you've got a steady job, you'll have to be able to show that you're making enough to cover all your bills, including your loan payments.
Credit reputation. When you consolidate federal loans, your credit score doesn't come into play. But it's another matter when refinancing private loans. You'll have to go through a credit check when you apply, and if you don't meet SoFi's minimum standards, you may have to bring a co-signer on board to seal the deal.
Residency. SoFi offers refinancing in 49 states and the District of Columbia, but if you live in Nevada, you're out of luck. You also have to be a U.S. citizen or a permanent resident.
School. Refinance loans are limited to borrowers who graduated from Title IV accredited universities and graduate programs.
Will I get approved?
No one likes to get denied, but SoFi will turn you away if you've got any delinquencies on your credit report or if you don't have a job.
Asking someone to co-sign can up your odds of being approved. However, it's not a sure thing, since the co-signer will have to pass the same credit and employment checks.
Generally speaking, refinancing eligibility depends on your financial history, your employment status, and your income and expenses.
Did you know: Once you get a loan with SoFi, you become a SoFi member with access to member education events, dinners, and happy hours. Through other non-traditional programs like the SoFi Entrepreneur Program, borrowers can defer payments without worrying about fees or negative credit reporting.

How It Compares
We've got the lowdown on three other lenders that are also worth a look. All three of them offer fixed and variable rate loans with terms ranging from 5 to 20 years.
DRB / Darien Rowayton Bank
Refinancing with DRB is an option if you've got federal or private loan debt. This lender caters to borrowers who took out loans for undergraduate and graduate degrees, including professionals who financed an MBA, law, or medical degree. In terms of the savings, Darien Rowayton estimates that a student carrying $100,000 in loan debt could cut $15,000 off the interest total by refinancing with DRB.
Why we like DRB more
Darien Rowayton offers refinancing on loans in all 50 states, which is good news for our friends in Nevada.
Why we like SoFi more
While these two have a lot in common, we'd still go with SoFi for a few reasons.
First, SoFi gives a little more help to borrowers who find themselves out of work. DRB does offer a three-month forbearance period, but it doesn't actively work to help you find a new job. If you get laid off and decide to start a business, you can score a six-month deferment through SoFi's entrepreneur program.
Second, there's the 0.25% discount on your interest rate when you set up automatic payments. Both have this reduction, but DRB offers it only if you have a checking or savings account with the bank.
CommonBond Review
CommonBond offers refinancing specifically for undergraduates and graduate students who earned their degree from a participating school. The list of schools included in CommonBond's refinance network is fairly extensive, but this criteria make it much more restrictive than SoFi.
With CommonBond, you can refinance up to $500,000 in loans, which is definitely a plus if you borrowed heavily to earn a degree. CommonBond also offers a hybrid rate loan, which allows you to pay a fixed rate for the first five years and variable rate for the rest of the loan term.
Why we like CommonBond more
One thing that makes CommonBond more appealing than SoFi is the hybrid loan option. If you go with a fixed rate and then rates go down, you're going to end up paying more for your loan. If you choose a variable rate instead, you may pay more if rates go up. The hybrid loan is a way to hedge your bets, so you're not wasting more money than you need to on interest.
Why we like SoFi more
The hybrid loan certainly piqued our interest but between the two, we still think SoFi has the edge.
CommonBond is limited to borrowers who graduated from one of their network schools.
SoFi is open to anyone as long as they earned their degree from an accredited school. It's more welcoming.
Earnest Review
Earnest takes a merit-based approach to lending, so borrowers need more than a solid credit score to get approved for a refinance. An established work history, a steady income stream, and a healthy bank account also factor into the equation. It does have a possible deal breaker, though: You have to live in one of the 36 states (or the District of Columbia) where Earnest offers refinancing, and you need to have graduated from an accredited school.
According to the company website, you stand to save nearly $13,000 on average when you refinance through Earnest. Like all the other lenders we've profiled, there are no origination or application fees.
Why we like Earnest more
In general, Earnest isn't quite as stringent as SoFi when it comes to the kind of credit you need to qualify. The company will consider applicants who have delinquencies or collection accounts on their credit as long as they can give a reasonable explanation as to how the black mark got there. Your assets and income also weigh heavily into their decision, which could work in your favor. Some borrowers may find it easier to get approved through Earnest compared to SoFi.
Why we like SoFi more
Two factors cause Earnest to lose points in our book.
For one thing, it's not available in every state, so some borrowers are locked out of the application process altogether.
The other issue is that you're required to give Earnest your online banking user ID and password when you apply. If you're antsy about keeping your banking information safe or you're worried about violating your account terms, you're better off sticking with SoFi.
The Bottom Line: Is SoFi Too Good to Be True?
Compared to other student lenders, SoFi offers some of the lowest rates around, and they'll likely be able to tempt you into at least applying. Whether you get approved without a co-signor is another story. Borrowers who don't have excellent credit may feel burned by the rejection stamp (those who are fresh out of school without time to build up their scores will be in that camp).
On the other hand, if you've been using credit responsibly for a while and you've got a stable employment history, refinancing with SoFi could put thousands of dollars back in your pocket over time.
To get started, visit SoFi's secure website.
*Not all borrowers receive the lowest rate. If approved for a loan, the fixed or variable interest rate offered will depend on your creditworthiness, and the term of the loan and other factors, and will be within the ranges of rates listed above. For the SoFi variable rate loan, the 1-month LIBOR index will adjust monthly and the loan payment will be re-amortized and may change monthly. APRs for variable rate loans may increase after origination if the LIBOR index increases. The SoFi 0.25% AutoPay interest rate reduction requires you to agree to make monthly principal and interest payments by an automatic monthly deduction from a savings or checking account. The benefit will discontinue and be lost for periods in which you do not pay by automatic deduction from a savings or checking account. *To check the rates and terms you qualify for, SoFi conducts a soft credit inquiry. Unlike hard credit inquiries, soft credit inquiries (or soft credit pulls) do not impact your credit score. Soft credit inquiries allow SoFi to show you what rates and terms SoFi can offer you up front. After seeing your rates, if you choose a product and continue your application, we will request your full credit report from one or more consumer reporting agencies, which is considered a hard credit inquiry. Hard credit inquiries (or hard credit pulls) are required for SoFi to be able to issue you a loan. In addition to requiring your explicit permission, these credit pulls may impact your credit score.

**Member Lifetime Savings - Average member lifetime savings calculation of $22,359 is based on all SoFi members who refinanced their student loans between 8/16/2012 and 6/30/2016. The savings calculation is derived by taking the estimated lifetime cost of existing student loans minus the lifetime cost of SoFi loans upon refinancing for SoFi members who refinanced their student loans. SoFi's lifetime savings methodology for student loan refinancing assumes 1) members' interest rates do not change over time (PROJECTIONS FOR VARIABLE RATES ARE STATIC AT THE TIME OF REFINANCING AND DO NOT REFLECT ACTUAL MOVEMENT OF RATES IN THE FUTURE) 2) members make all payments on time 3) members make monthly payments for the full duration of their loan 4) members take advantage of AutoPay, which enables them to lower the APR of their loan by 0.25%. SoFi's average savings methodology for student loan refinancing excludes refinancings in which 1) members elect SoFi loans with longer maturity than their existing student loans 2) the term length of the member's original student loan(s) is greater is than 30 years 3) the member did not provide correct or complete information regarding his or her outstanding balance, loan type, APR, or current monthly payment. SoFi excludes the above refinancings in an effort to maximize transparency on how we calculate our average lifetime savings amount and to minimize the risk of member data error skewing the average lifetime savings amount.
Rebecca Lake is a journalist at CreditDonkey, a credit card comparison and financial education website. Write to Rebecca Lake at rebecca@creditdonkey.com. Our data-driven analysis has been recognized by major news outlets across the country and has helped young adults make savvy financial and lifestyle decisions. (read more)
Disclaimer: Opinions expressed here are those of the author's alone. Please support CreditDonkey on our mission to help you make savvy financial decisions. Our free online service is made possible through financial relationships with some of the products and services mentioned on this site. We may receive compensation if you shop through links in our content.
More from CreditDonkey: