Getting your finances in shape is much like getting your body in shape. It takes dedication, discipline, and, most of all, a plan. If you've ever tried to lose weight by saying, "This year, I'm just going to eat healthier," you probably know that doesn't really work. Instead, you need to set specific goals for what you'll get into – or out of – your diet and for what kinds of exercise you'll do and when.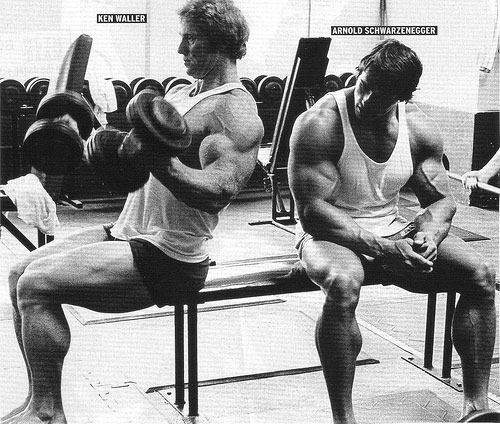 Ken Waller & Arnold Schwarzenegger © David van der Mark
The same thing goes with your finances. You can't just say, "This year, I'm going to get in shape financially." Instead, you need to set specific goals that will allow you to get your finances in shape slowly but steadily. In the long run, this will work much better than erratically trying to change everything about your financial life at once! Here are our top five ways to start getting your finances in shape today.
Look at your credit report. Did you know that your credit score and report affect you financially all across the board? With a bad credit score, you could get bad interest on loans, be turned down for an apartment lease, and even lose a job opportunity to a similarly qualified person with good credit. Make it a habit this year to check your report. Check for inconsistencies and weaknesses, and see what you can do to improve your credit.
Get better credit card deals. These days, credit is just a fact of life. Before you settle for a terrible deal, though, look around for better credit card deals. You might save a fortune this year by transferring a high interest credit card balance to a low or no interest card while you pay it off. Look carefully at contract details before you switch cards, though, as sometimes they can be quite surprising and can sneak up on you with extra charges.
Sock away an emergency fund. Even if you can only put away money $10 or $15 at a time, it will make a difference in the long run. Open a separate savings account for an emergency fund, or keep it in cash somewhere you can't get to it easily. If you're doing a savings account, don't link it with your checking account. Your fund should be relatively difficult to get to so that you don't use it for minor issues. Make a goal of getting $500 to $1,000 in an emergency fund by the end of the year. That way, you don't have to rely on high interest credit when you do have a major issue.
Check out your biggest bills. Sometimes there are great ways to save on your big bills, but they're easy to miss. For instance, you may be able to save a ton by refinancing your home, especially in this market. You can also look at refinancing your car, and looking for different car insurance providers that will save you money. Another option is to talk to your utilities companies to see how you might be able to save. Sometimes you can get a set payment plan that makes high energy months more affordable, and other times you can get discounts by using energy at odd times during the day.
Make a budget. This is number five on the list, but it's actually the absolute most important thing you can do to get your finances under control this year. Write down your income, and then write down all your expenses. Track your spending for two months to see where you're at, and then see where you can cut back. Often times small changes like going out one less time each month or shopping at a discount grocery store for some major items can mean big financial changes. You'd be surprised at how easy it is once you get everything budgeted!