PayPal Credit Card Review: Worth It?
Editorial Note: This content is not provided by the card issuer. Opinions expressed here are author's alone, not those of the issuer, and have not been reviewed, approved or otherwise endorsed by the issuer.
This article contains references to products from our partners. We receive compensation if you apply through links in our content. You help support CreditDonkey by reading our website and using our links.
(read more)
---
If you're a casual user of PayPal, arguably the most widely used online payment service, you may not realize it has a credit card. It's designed to lure loyal members to conduct as many financial transactions with the eBay-owned company as possible.
The PayPal Extras MasterCard is a rewards card that offers one point for every dollar you spend, which you can then redeem for gift cards, travel, merchandise, or cash back into your PayPal account. The real advantage comes when you get triple the points on dining and gas, and double the points when you use the card on any type of PayPal or eBay purchase — which is a plus for those who constantly troll the auction site looking for their next Hello Kitty or Star Wars collectible.
This all sounds good in theory, but is this card worth another slot in your wallet? CreditDonkey thought that exploring the benefits of a credit card from this popular online service would help with that answer, particularly for die-hard online shoppers who use PayPal on a regular basis.
AT A GLANCE
Rewards: 3 points for every dollar you spend on gas and restaurants, 2 points for every dollar spent through PayPal and eBay, and 1 point for all other eligible purchases

Benefits: All MasterCard Platinum Benefits

Annual Percentage Rate (APR): 19.99% or 23.99%, depending on your credit worthiness

Annual Fee: None
We'll explain more below. But first, here are some current credit card promotions you should not ignore.
PayPal Credit Card Review
REWARDS
Redemption of rewards is tier-based. So, at the low end, you need 2,200 points to get a gift card from a variety of retailers. Accumulate 3,000 points and you can redeem them for eligible merchandise. For cash back, you'll need at least 6,000 points, which converts into $50 (roughly 0.83 cents per point), which will be credited immediately to your PayPal account. You can then transfer that money into your regular bank account if you want. The maximum amount of points you can accumulate in a year is 50,000.
How rewarding is it?: While this card provides a variety of ways to accumulate points, its formula is not as generous or easy to calculate as what you will find with other rewards cards that view one point as equivalent to 1% back, or about 1 cent per point. Instead, PayPal's MasterCard points usually translate into less than one cent per point, so if you're looking to get the best rewards point bang for your buck, you need to be aware of this lower valuation. Another factor to consider is that points limit. While it could be a tough threshold to meet and never be an issue for you, it is a limit that many other rewards cards don't have.
ADDED BENEFITS
A plus with the PayPal MasterCard is that you'll receive all the benefits given to MasterCard Platinum customers, including those listed below.
EXTENDED WARRANTY
When you use the card on eligible purchases, you'll get double the original manufacturer or retail store warranty for up to a year. So, if the original warranty was six months, you'll get an additional six months warranty. An initial one-year warranty will net you an additional year.
PRICE PROTECTION
If you use the card to make a qualified purchase and you find a lower price, you have up to 60 days from the date of purchase to be reimbursed the difference.
PURCHASE ASSURANCE
If an eligible purchase you make with the PayPal Extras MasterCard is damaged or stolen within 90 days of buying it, you can sleep easier knowing that you'll receive a refund (if you just use PayPal, you have half that amount of time to make a dispute with a purchase).
TRAVEL PROTECTION
If you pay for qualified travel expenses using the PayPal Extras card, including airfare, hotel, and car rental, these are some of the peace-of-mind benefits that you'll get:
Baggage Delay and Lost Luggage Insurance: You'll be reimbursed for essentials, such as toiletries, if your bags don't arrive at your destination with you. And if your eligible luggage never shows up or is damaged, you will be reimbursed for the repair or losses.

Car Rental Insurance: Decline the rental car company's collision and damage waiver and pay for your car with the card, and you'll automatically be covered for any theft and damage to an eligible rental car.

Hotel Burglary Insurance: If you use the PayPal Extras card to pay for your hotel room and one of your eligible personal belongings is stolen, you're covered.
You also get Travel Accident and Trip Cancellation Insurance, which will reimburse you if your eligible trip is canceled or interrupted. Make sure, though, that you read all the fine print as to how much of a refund you'll receive.
FRAUD PROTECTION
If there's an unauthorized charge on your PayPal Extras MasterCard, you won't be liable for a cent. If it looks like you're the victim of identity theft, PayPal will help you contact the credit bureaus to assist you with straightening the problem out. This feature may give you more confidence using PayPal's service.
HOW IT WORKS USING PAYPAL
When you make an eligible purchase on eBay through PayPal and you use your designated PayPal Extras MasterCard, you'll receive 2 points for every dollar you spend. So, if you want to rack up rewards points, it makes sense to pay via PayPal using your Extras MasterCard rather than the debit card or bank account you have linked to the account, unless your debit card nets you more rewards.
WHY WE LIKE IT
PayPal obviously has its security advantages, which is why it's used to make online purchases, with over 100 million customers using the site. And you won't have to twiddle your thumbs waiting for a decision on your application — in most cases, you'll have an answer 10 seconds after submitting it, and you will be instantly given a temporary credit line to use on your account, a nice convenience. Also, hundreds of thousands of merchants allow you to pay via PayPal, so you can easily earn points just by using the service.
THE DOWNSIDES
Rewards points expire 24 months after they're issued. You'll also lose your points if you miss two payments in a row, or if your card is inactive for a 12-month period.
The APR is pretty high for a general MasterCard, so if you carry a balance, this is probably not the card for you. And there's no introductory APR, so if you have strong credit, you'll certainly be able to find a card with a lower, or even 0%, introductory or overall APR.
Travel rewards can only be redeemed when you make a reservation through Loyalty Travel Services, a PayPal business partner, so you can't use the points if you don't book through that company.
WHO IT'S BEST FOR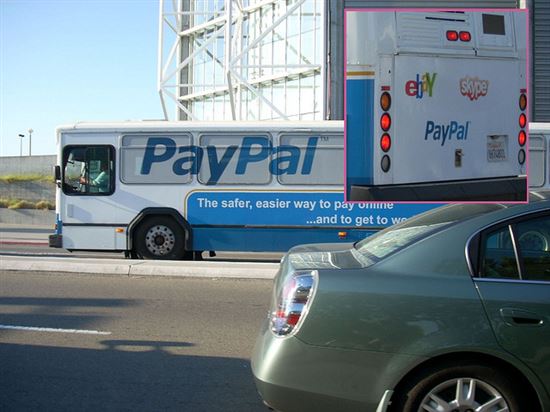 PayPal employee shuttle © Richard Masoner / Cyclelicious (CC BY-SA 2.0) via Flickr
People who use PayPal on a regular basis, either for purchases or business. People who do a lot of eBay transactions via PayPal.
ALTERNATIVES
If you carry a balance, look elsewhere: If you know you're going to make monthly payments, you're better off finding a card that offers low interest rates.
If you travel a lot: There are several travel and mileage rewards cards that will be better suited for you, as you're not limited to booking a trip through just one website.
If you're in school: Look into acquiring a student credit card. These types of cards help you build credit, and if you're short on cash and carrying a balance, you can find a card with a lower interest rate and perhaps even some rewards.
Cynthia Cohen is a retail analyst at CreditDonkey, a credit card comparison and financial education website. Write to Cynthia Cohen at cynthia@creditdonkey.com. Our data-driven analysis has been recognized by major news outlets across the country and has helped consumers make savvy financial and lifestyle decisions. (read more)
Editorial Note: Any opinions, analyses, reviews or recommendations expressed in this article are those of the author's alone, and have not been reviewed, approved or otherwise endorsed by any card issuer. This site may be compensated through the Advertiser's affiliate programs.
More from CreditDonkey:
---