Payment Technology Outlook: Trends You'll See in 2014
4 trends you'll see at the register in 2014
---
Traditional cash registers will continue to follow the footsteps of the VCR this coming year. Technological trends are slowly but surely transforming the way we pay for items, from the rollout of new credit card technology to the increasing popularity of mobile-phone payment apps. We predict you will be taking advantage of at least one of the following payment technologies in 2014, if you haven't already.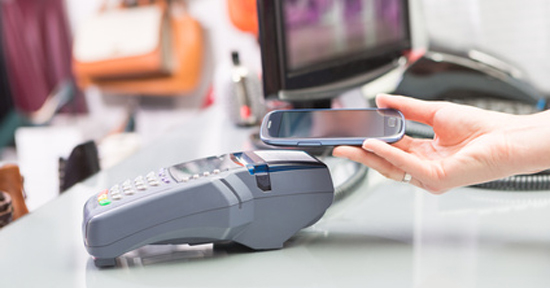 There will be a chip in your wallet. A new credit card species will make significant headway in the United States in the next year. While common in Europe, so-called "smart cards" are virtually unknown in this country. They have embedded microchips to encrypt each transaction, providing an added layer of security. That's good news for U.S. credit card companies worried about liability, as we lead the world in the number of credit card fraud victims per year. But they have to lean on merchants to catch up: U.S. issuers are requiring merchants to install smart card readers alongside traditional credit card readers by October 2015. While you may not get a replacement card until then, some cards with chip technology are floating around.
You'll swipe your card through a mobile phone card reader. Mobile card readers are a lifesaver for small businesses. Not only do they cost very little to set up but they also offer flat transaction fees. Moreover they're easy to install – a food cart merchant or a wedding photographer can just top off their iPhone with a bite-sized swipe device and they're good to go. As a result, their customers don't have to worry about carrying cash, and the seller can potentially sell more items. Since these readers were introduced on the market in 2010, demand has shot through the roof – about 40 percent of small businesses now use them for transactions, and 16 percent plan on adding readers to their checkout system in 2014, according to research firm BIA/Kelsey. Popular brands include PayPal Here, Intuit GoPayment, and Square.
You might just skip out on plastic altogether. Doing away with the idea of physical credit cards, Near Field Communications (NFC) technology will also be on the rise in 2014. Similar to Bluetooth in design, NFC allows payment data to move wirelessly from a smartphone to a virtual cash register, with no swiping needed. Both Google Wallet and PayPal are leaders in the NFC movement, providing online wallet apps where customers can store credit and debit card information. After uploading your card numbers, you can use these apps for quick, through-the-air payments in any store that accepts NFC technology. Starbucks is one of the first companies to roll out an NFC payment system, and it's been moderately successful so far – about 10 percent of its customers ring themselves up straight from their phone.
You could even use Twitter to pay for something. No longer just for communication purposes, hashtags could turn into the new dollar. In February, American Express launched a "pay by tweet" service, which lets customers sync their Amex cards with a Twitter account. They can then order a variety of products by tweeting a specific hashtag. The selected item is then shipped to the customer's billing address. A service known as Chirpify, which launched last year, also works in a similar way – it helps advertisers dangle promotions and incentives in front of customers via Twitter. In response to a social media campaign, interested consumers then tweet back "action hashtags" to sign up for deals or purchase special or discounted products.
Whether you'll be tweeting packages to your front door or using a smartphone to pay for your coffee, you certainly have many options for doling out your money. Will you be trying any of these new systems in 2014?