Survey: Paycheck to Paycheck Statistics
More Than Two-Thirds of Parents Live Paycheck-to-Paycheck
---
It's one thing to be young, single, carefree, and barely making ends meet. That's sometimes called paying your dues. But our recent CreditDonkey.com survey found that while 59.9% of the more than 1,100 respondents live paycheck to paycheck, a higher percentage – 68.4% – are parents with children and other family members who are dependent on a paycheck that needs to stretch until the next pay cycle.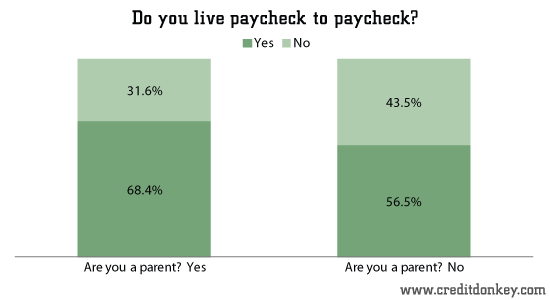 Do you live paycheck to paycheck? © CreditDonkey
More than half do not have even $1,000 in readily available savings stashed away, either.
Unfortunately, our survey also found that 53.2% of parents do not have at least $1,000 in readily available savings for use in an emergency.
Financial experts, including Dave Ramsey, author of "The Total Money Makeover," believe people should have a minimum of $1,000 set aside, to cover the cost of sudden, unexpected car or household repairs without having to rack up credit card or, in the worst case, resort to taking out dangerous payday loans.
Who is at risk for predatory payday loans?
While 66.6% of parents have at least $100 cash on hand, that is usually not enough to cover life's daily surprises. These parents can fall prey to payday loans and get trapped in a vicious cycle of long-term, high-cost debt.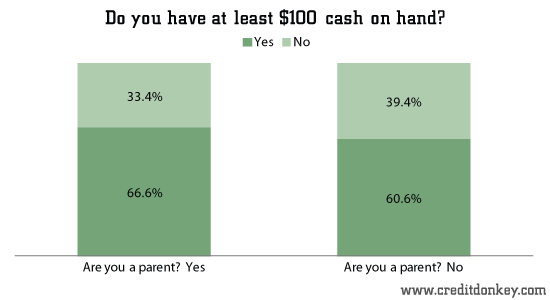 Do you have at least $100 cash on hand? © CreditDonkey
Payday borrowers take an average of nine loans per year from one lender, sometimes having to take one just as they closed another loan but before they can collect their next paycheck, according to The Center for Responsible Lending (CRL) , a nonprofit research and policy organization. Among the organization's findings:
Payday lending carries 400% annual interest rates.
Payday loans are usually due in full on the borrower's next payday.
Payday lenders secure their loans by holding the borrower's signed personal check for the loan amount plus their fee, or by gaining electronic access to the borrower's bank account. If their funds are insufficient, the borrower will owe the loan amount, finance fee, plus a bounce check fee.
Payday borrowers frequently get caught in a cycle of repeat loans that put them in a worse financial position than when they first borrowed.
Online tools can help those burdened by debt and low incomes get a handle on their finances.
Users wanting to improve their financial situation can set up a free account on The National Foundation for Credit Counseling (NFCC) website tool MyMoneyCheckup.org to evaluate four key areas of personal finance: budgeting and credit management, saving and investing, planning for retirement, and home equity.
Users answer a series of questions and then receive a personalized assessment of their overall financial health and associated behaviors in addition to suggested changes for becoming more financially independent.
(From January 4 to January 8, 2013, CreditDonkey polled 1,109 Americans, age 18 and over, for their views on credit cards, saving, retirement planning and other financial issues with 38 multiple-choice and yes/no questions.)
Naomi Mannino is a contributing writer at CreditDonkey, a credit card comparison and reviews website. Write to Naomi Mannino at naomi@creditdonkey.com. Our data-driven analysis has been recognized by major news outlets across the country and has helped families make savvy decisions. (read more)