No Foreign Transaction Fee Deals
---
Credit cards can be quite convenient to use when traveling. This is especially true if you tend to travel outside of the country, because they eliminate your need to pay for currency conversion for large quantities of money. They also provide financial security, giving you protection if your wallet is stolen. (You are able to dispute fraudulent charges to credit cards, but once paper money is stolen, there's no getting it back!)
However, international travelers need to pay special attention to the credit cards they use when outside of the United States. Many credit cards have foreign transaction fees that can really add up.
Keep reading to learn how foreign transaction fees may affect you during your travels, how much these fees can cost and some top pick credit cards that provide you a foreign transaction fee-free alternative.
How you're affected by foreign transaction fees
Many credit cards charge a fee for every purchase that is made from outside of the United States. These fees are added to your credit card bill and can add up. Typically, a 3% fee is charged by the credit card issuer.
The real cost of foreign transaction fees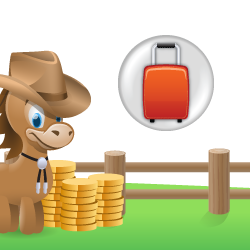 Travel Rewards Deals © CreditDonkey
Many consumers dismiss foreign transaction fees as not costing very much. However, the fees can really add up, especially when you are on an extended vacation or business trip overseas for several months each year.
As mentioned above, the processor typical fee consists of 1% of the purchase and about the bank fee is 1% to 2% of the purchase price; this is a total of 3% of the purchase. This doesn't seem like much when thinking about a $15 meal (in that instance, the fee is only $0.45). However, consider that USA Today reports that the average one-week, one-city European trip costs $2,000 per person, not including airfare. Apply the 3% to that total and you are paying $60 in foreign transaction fees alone. For each city you visit in that week, you can add an additional $100 to your expected expenses, which is another $3 in fees.
That scenario is just for a one-week stay, so image how much you would be paying if you go on a month-long vacation. That's an extra couple hundred bucks that you could use for nice dinners, souvenirs or tours.
Top picks that save you from these fees
If you have a multi-week vacation coming up and would like to save yourself from the extra fees, check out these credit cards that have excellent travel perks, including the absence of foreign transaction fees.