Do You Need Baggage Insurance for Your Next Trip?
---
With all the money airlines are charging for luggage these days, you'd think they'd treat yours with a little more care. Unfortunately, this is simply not always the case. Mistakes certainly happen, and you could end up with delayed luggage – or with no luggage at all! Luckily, you might not need to buy extra baggage insurance through a travel insurance company. Instead, you should check to see if your credit card offers baggage insurance.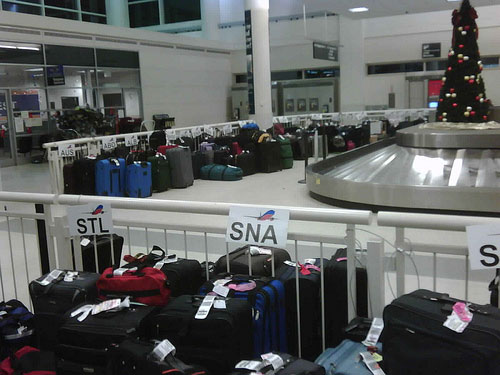 Airport Baggage © Buba69
Many credit cards these days do offer baggage insurance – sometimes for no extra cost. The insurance can pay a certain amount for luggage that you've completely lost, or it can help you cover the cost of getting through a couple days of delayed baggage. If you want to save yourself some money on your next trip, having baggage insurance might be a good idea. While you may be one of the thousands of travelers who arrives at their location without any luggage problems at all, that may simply not be the case for you. Here's what you need to know about baggage insurance offered by some credit card companies:
Baggage Delay Insurance
This is insurance that you can use when your baggage is simply delayed. Most of the time, if your baggage is delayed, the airline will be able to tell you where it accidentally was sent and when you'll be able to get it back. Unfortunately, you may be halfway through your trip or more before your luggage arrives, and what are you going to do until then?
This insurance will ensure that your credit card company will pay for essential personal or business items that you have to have while waiting on your luggage to be delivered. Now, keep in mind that "essential" may be different from one company to the next, and you may have to jump through a couple of hoops to prove that your purchase was actually essential. It could include things like personal care items and even some clothing that you'd need to get through the few days without the things you packed in your bag.
Lost or Damaged Luggage Insurance
This is helpful if the airline damages your actual luggage, which can be expensive to repair or replace, or if they totally lose your bags and are unable to find them. Basically, in this case, the credit card company will simply pay for the cost of repairing your luggage or replacing your bags and everything in them. Again, you might have to jump through some hoops to figure out exactly how much the credit card company will pay, but most are willing to work with you to figure out how much they owe you for this insurance payout.
If you're taking some expensive things with you on a trip, it might be a good idea to have an itemized list of items in your luggage. Leave the list in your carryon baggage or back at home where you can easily access it when you arrive home. That way, you don't need to fight with the credit card company about what was or was not in your baggage. Keep in mind that as with homeowner's insurance, sometimes the policy will pay for the actual value of each item, which can include depreciation, and sometimes it will pay for the replacement value, or whatever it would cost you today to buy the same item new.
Check with Your Company
The important thing here is to make sure you check with your credit card company to see exactly what's covered. It's also a good idea to understand the basic process you need to go through to file this type of claim. That way, when the stress of missing luggage hits, you won't have to wonder who to talk to or how to get reimbursed.