Survey: Men Shopping Statistics
Men at Work, Shopping
---
More than half of men shop online while at work, according to a recent CreditDonkey.com survey of over 1,200 respondents. In fact, they are more likely than females to shop at work; exactly half of women do it while they're on the clock.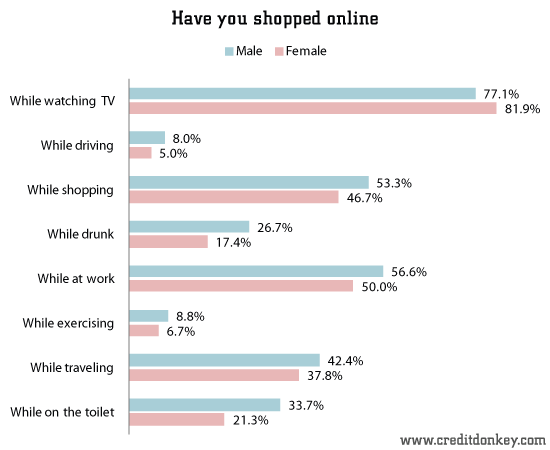 Have you shopped online while... © CreditDonkey
It's widely thought that men prefer not to make a daylong excursion of shopping and that they respond less to store sales. So it's no surprise to us to find that they are more likely to do their shopping during work hours. It's easy to do your brand and price comparisons online and simply make the purchase online without ever stepping foot into a store. Done and done!
Women swayed by social media to shop
While 71.7% of total respondents said they have never felt compelled to shop or make a purchase as a result of a tweet or post on a brand's social media page, these results differ by gender. Women are more likely to be attracted to shopping because of social media specials, deals, or coupons. While only 23.7% of male respondents have been swayed to make a purchase as a result of a brand's social media post, 36.9% of women have caved to the pressure. After all, that's what brands are doing it for, right? (You don't think Gap checks its Twitter feed to hear how much you love your cat, do you?)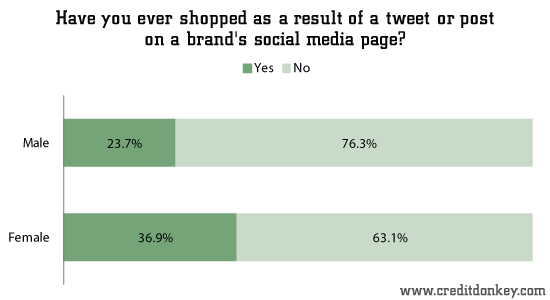 Have you ever shopped as a result of a tweet or post on a brand's social media page? © CreditDonkey
Men have no idea what Pinterest is or how to use it
One reason women fall prey to social media sales tactics is because they love Pinterest and men don't even know what it is, according to our survey results. The online pin board has an effective persuasion on its users since pictures of products are easily shared and "pinned" on users' online boards. The site easily triggers impulse buys and heedless credit card use. Both men and women use Facebook and Twitter at a similar extent, but the only social media site that was mostly used by women was Pinterest. 44.3% of women use Pinterest while only 7.2% of men use Pinterest. Indeed, 38.2% of men said they are "not comfortable" using Pinterest.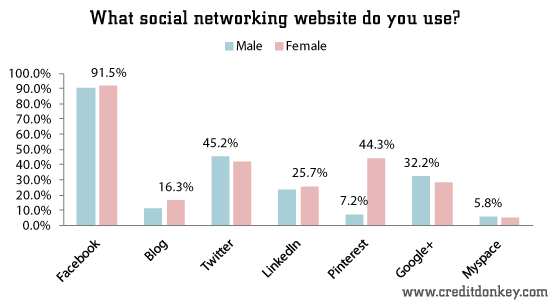 What social networking website do you use? © CreditDonkey
CreditDonkey.com surveyed 1,250 Americans, age 18 and over between February 19, 2013 and March 6, 2013 on their use of technology. CreditDonkey.com conducted the survey online using a multiple-choice and short-answer questionnaire.
Naomi Mannino is a contributing writer at CreditDonkey, a credit card comparison and reviews website. Write to Naomi Mannino at naomi@creditdonkey.com