Credit Cards with Airport Lounge Access
---
No one likes waiting for their flight to board. Uncomfortable chairs, crowded terminals, overpriced dining options, dying phone with no outlet for charging... you get the point.
How would you like wait in an airport lounge? Where you can relax in plush chairs in a quiet setting, nibble on snacks, and browse the Internet?
Unfortunately, this luxury doesn't come cheap. Entry into an airport lounge can be as much as $60 per person. If you travel frequently, these fees add up. One way to beat these costs is to get the right travel rewards card that offers complimentary lounge access on top of its regular travel rewards program.
The right card for you depends on how often you travel and which airline you use. Cards with lounge access usually come with a hefty annual fee, but travelers who fly a lot often say it's their favorite perk.
THE BENEFITS OF AIRPORT LOUNGES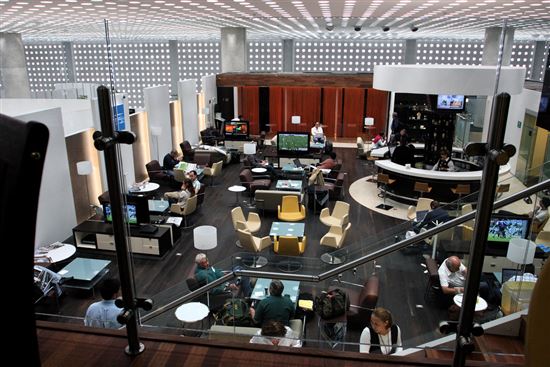 The Centurion Lounge © TravelingOtter (CC BY 2.0) via Flickr
Why would someone pay so much for a lounge pass or for a credit card with lounge access? Here's what you can get in a lounge:
A quiet setting: Instead of waiting with the crowd at the gate, you can rest in a more peaceful setting on comfortable chairs or couches.
A place to work: Need to get some work done before your flight? Airport lounges generally provide free Internet access and charging stations, and some even have printers and fax machines.
Food and drink: Lounges usually offer complimentary snacks, soft drinks, and even alcoholic beverages. The American Express Centurion lounges even offer premium drinks and food in partnership with local renowned chefs.
Help from airline reps: If you have a sudden change of plans or something else comes up, lounges often have a customer service rep from the airline who can help sort out your problem.
Showers: Some lounges have shower amenities where you can freshen up during a layover.
There are a number of lounge networks around the world, but we're focusing on Delta, American, and United - the three big U.S. carriers with lounge clubs. Each carrier has a different credit card partnership.
Take a look at which airline you fly most often to see which card is right for you.
IF YOU FLY DELTA AIRLINES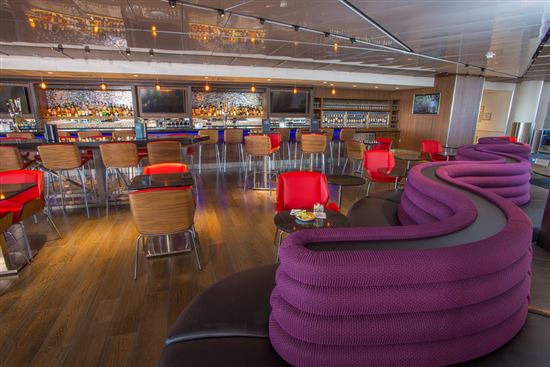 Delta Sky Club at Hartsfield-Jackson International © Delta News Hub (CC BY 2.0) via Flickr
Delta Sky Club lounges are in over 50 locations in most major U.S. airports and some international airports in major cities. The lounges usually offer light refreshments, Wi-Fi, and entertainment materials. Some even have free self-service bars and showers.
A one-day access pass would cost $50 and a one-year membership starts at $450. If you fly Delta often, you can receive complimentary access with these cards from American Express, a CreditDonkey partner:
Delta Reserve / Delta Reserve Business:
The Delta Reserve® Credit Card from American Express and Delta Reserve for Business Credit Card get you access into Delta Sky Clubs, but unlike the AMEX Platinum, you don't get access into the other lounge networks. Instead, you get other travel perks such as a free checked bag on Delta flights for you and 8 travel companions (on the same reservation), priority boarding, companion certificate each year upon renewal, and 20% savings on in-flight eligible Delta purchases. Terms and limitations apply.
Delta: Pricing information from published website as of 10/16/2016.
IF YOU FLY AMERICAN AIRLINES
American Airlines operates the Admirals Club network of lounges, available in over 80 locations in major airports around the world. Admirals Club lounges offer light snacks, drinks (including alcoholic beverages), Wi-Fi, and workspaces. Some special locations even have small gyms and showers.
A one-day pass costs $59, or $550 for an annual membership. These cards from Citi include Admirals Club membership:
Citi AAdvantage Executive World Elite MasterCard:
The Citi AAdvantage Executive card allows you, plus two guests, access into Admiral Clubs. Authorized users also get complimentary lounge access. Other travel benefits include $100 credit every 5 years for Global Entry or TSA Pre application, priority check-in and early boarding, first checked bag free for you and 8 companions on American Airlines flights, 25% off on in-flight purchases with American Airlines, and premium concierge service.

The annual fee is steep at $450, but if you mainly travel on American Airlines, the lounge access could make it very worthwhile, especially as it includes access for guests and authorized users as well.

Citi AAdvantage: Pricing information from published website as of 10/16/2016.

Citi Prestige*:
The Citi Prestige also comes with a $450 annual fee, but it has always been a top contender for travelers because of its complimentary access to Admirals Club. But this will no longer be one of the benefits as of July 23, 2017. Instead, it will feature access into Citi Proprietary Lounges (more information to come).

Is this card still worth considering? It still has an attractive list of benefits, including: Priority Pass Select membership into hundreds of lounges around the world, $250 yearly Air Travel Credit for flight-related expenses, $100 credit every 5 year for Global Entry or TSA Pre application, complimentary night after a 4-night eligible stay at any hotel, and premium concierge service. But the loss of Admirals Club access may be a turn-off for American Airline fans.

Citi Prestige: Pricing information from published website as of 10/16/2016.
IF YOU FLY UNITED AIRLINES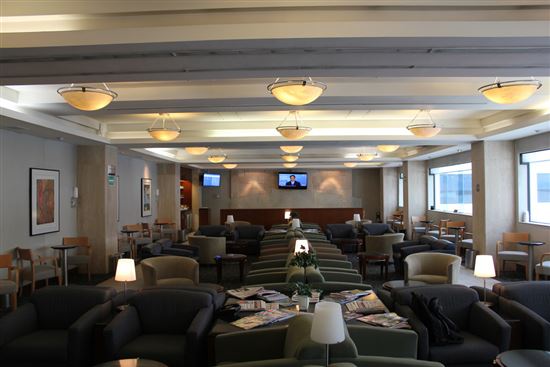 United Club © Jeffrey Beall (CC BY-SA 2.0) via Flickr
United Airlines operates United Clubs lounges, which have over 45 locations. Most are in the United States in major airports, but there are a few international locations in Hong Kong (HKG), London Heathrow (LHR), Mexico City (MEX), and Tokyo Narita (NRT). Lounges offer light food and drinks as well as Wi-Fi, and some provide shower amenities and family rooms.
A one-time pass would cost you $59 or a one-year membership costs $550. However, if United is your airline of choice, there is one card that offers complimentary access.
United MileagePlus Club:
The United MileagePlus Club card from Chase gets you membership into United Clubs. As United is part of Star Alliance, this card will also unlock access to participating Star Alliance lounges when you fly with other Star Alliance carriers, but the options are not as extensive.

Other travel perks are more limited too, mainly just consisting of the 1st and 2nd bag checked for free for you and one companion, priority check-in, and early boarding. The real value of this card and its $450 annual fee is in the United Clubs membership. However, as most of these lounges are in the U.S., we'd say only consider it if you fly United often on domestic flights.

United MileagePlus Club: Pricing information from published website as of 10/16/2016.
Is Lounge Access Worth It?
Airport lounges are considered to be a luxury travel feature, and so the credit cards offering access have luxury price tags to match. However, if you frequently use one of these three major airlines, you may find that the lounge access is a very worthwhile perk to justify the steep annual fee.
Luxury travel cards aren't so much focused on rewards as they are on perks.
To find the card best suited for you, consider which airline you use the most and which airports you visit the most. Make sure that the airports you frequent have the lounge network you want, or else you won't be getting much value out of the card.
The information for Delta Reserve® Credit Card from American Express, Delta Reserve for Business Credit Card, Citi AAdvantage Executive World Elite MasterCard, Citi Prestige, United MileagePlus Club have been collected independently by CreditDonkey. The card details on this page have not been reviewed or provided by the card issuer.