Being stuck in an airport is often not very fun. The seats aren't comfortable, everything is noisy, and the food is expensive. The waiting experience in an airport VIP lounge is much more pleasant. These rooms often offer a quiet setting, food and drinks, and internet access. Some lounges even offer showers so you can freshen up after a long flight.
However, this perk doesn't come cheap. Entry fee for an airport lounge usually range from $30 to $45 per person. If you travel frequently, these fees add up. One way to beat these costs is to get the right travel rewards card. A few travel cards offer complimentary lounge access on top of their regular travel rewards program.
We have made a list of the cards from our partners with lounge access. The right card for you depends on how often you travel and which airline you use. By finding the right lounge access credit card, you'll make sure you travel in style without breaking the bank on access fees.
The World Traveler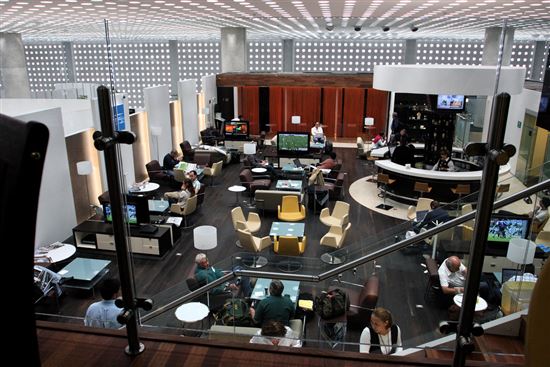 Amex Centurion Lounge - Mexico City Airport © TravelingOtter (CC BY 2.0) via Flickr
If you pay in full and don't need a credit card, you can consider a charge card. A charge card like the Platinum Card from American Express (a CreditDonkey advertiser) offers access to over 600 lounges worldwide with Priority Plus Select. The annual fee is $450.



Earn 40,000 points after you spend $3,000 on purchases on your new Card in your first 3 months.
Up to a $200 Airline Fee Credit Annually.
To receive the statement credit, you need to select a qualifying airline.
There are no foreign transaction fees with purchases made on your Platinum Card.
Platinum Card Concierge is your personal resource to help secure a last minute restaurant reservation, or shop for a hard-to-find gift.
Terms & restrictions apply.

Card Type
Annual Fee
Personal Charge Card

$450
Platinum Card Members have access to three airport lounge networks:
Participating Delta Sky Club® lounges

Priority Pass(TM) Select: When you enroll in Priority Pass(TM) Select, you can access over 600 participating airport lounges worldwide - no matter what class or airline you fly

Airspace Lounges in New York (JFK), Cleveland (CLE) and the Baltimore-Washington International (BWI) airports (learn more at airspacelounge.com)

Complimentary, unlimited access to the Centurion Lounges: The current lounges are in the Las Vegas McCarran airport and the Dallas/Fort-Worth airport. The lounges are the first of several American Express airport lounges that will open in major U.S. cities, and offer complimentary gourmet food, signature cocktails and curated wines, high speed Wi-Fi, a computer bar, and more. For more information, visit thecenturionlounge.com.