Credit Cards, Cell Phones Giving Relief to Joplin Tornado Victims
---
Relief organizations say help is desperately needed in the Joplin area and are asking people across the country to use their credit cards and cell phones to assist the victims of the Joplin Tornado. The single deadliest tornado in America's history, it tore an eight-mile path of devastation through the Missouri town on Sunday, May 22.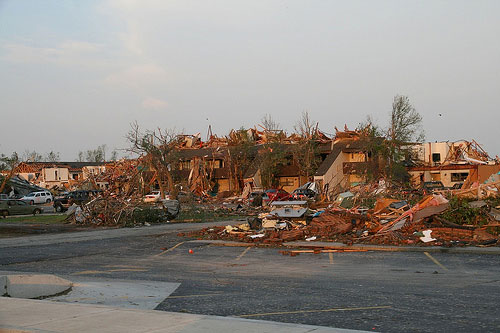 Boone County Fire Protection District in Joplin © KOMUnews
With 39 people still missing, more than 130 killed and thousands of homes, businesses, schools, hospitals and churches destroyed, charitable organizations say relief efforts will need to continue for months and will require ongoing donations. To make donating as easy as possible relief organizations are accepting donations made with credit cards and cell phones.
Although donations and offers of assistance have been streaming into the Joplin area since the news of the tragedy began to spread, many charitable organizations say more is needed. The Salvation Army said in a press release that it will continue for the foreseeable future to serve hot meals, snacks and drinks for its six mobile feeding units located throughout the city.
Additionally, the organization will continue to provide telephone, computer and internet communications with one of its satellite communications trucks, along with emotional, spiritual and religious services, and emergency social services.
As the struggle to provide on-the-spot relief continues, the Salvation Army said that financial donations to include those made with credit cards or cell phone texts are the most helpful. "At this time, in-kind donations are not being accepted as financial donations better allow disaster responders to immediately meet the specific needs of survivors," the organization said.
Estimating that it will spend more than $41 million responding to disasters which have struck America since March 31, the Red Cross, making a similar plea for assistance in a recent press release, said "The Red Cross is still on the ground in Joplin, Missouri providing meals, safe shelter, relief supplies and emotional support for people affected by the May 22 tornado. The Red Cross is also working hard with our government partners to help reconnect families through the Red Cross Safe and Well site."
The Red Cross added, "This spring has brought destruction to a large swath of the country. Since March 31, the American Red Cross has helped people affected by tornadoes, floods and wildfires by serving more than 2.2 million meals and snacks, opening more than 230 shelters and providing 20,000 overnight stays, providing more than 48,000 mental health and health consultations, and handing out more than 1.1 million relief items like toothbrushes and shampoo, tarps, coolers, rakes and other cleanup supplies."
Relief is not just being provided to Joplin's human victims, but its pets too. The American Society for the Prevention of Cruelty to Animals (ASPCA) said in a press release that although more than 350 animals have been brought to its temporary shelter since the tornado hit, the outlook may be turning around for the town's animals. "By Thursday morning, more than 60 had been reunited with their families. On Wednesday, even as the threat of more severe weather loomed, 20 pets went home in just one hour," said Tim Rickey, ASPCA Senior Director of Field Investigations and Response.
Continuing, Rickey said, "Our work is not yet done, and none of it would be possible without generous donations from our members, supply providers like PetSmart Charities and other in-state groups, and countless compassionate volunteers."
How to Help
Credit card donations to the Salvation Army can be made by calling 1-800-SAL-ARMY or by going to www.salvationarmyusa.org. Cell phone donations of $10 apiece can be given to the Salvation Army by texting the word JOPLIN to 80888.
The Red Cross is accepting credit card donations at both www.redcross.org and 1-800-RED-CROSS. Cell phone users can text the word "REDCROSS" to 90999 to make a $10 donation.
Credit card donations to the American Society for the Prevention of Cruelty to Animals (ASPCA) can be made at www.aspca.org, while $ 10 cell phone donations can be made by texting PLEDGE to 25383.
Andrew Green is a contributing writer at CreditDonkey, a credit card comparison and reviews website. Write to Andrew Green at andrew@creditdonkey.com