Best Investing Apps: Top Wealth Resources
---
Winners of the CreditDonkey Best Investing Apps Award can help you keep track of your investments and build wealth.

Best Investing App © CreditDonkey
Top Investing Apps
Everyone seems to have an app these days. You can find apps for playing games, earning rewards for shopping, and even organizing the schedules of everyone in your household. The most valuable apps out there could be the investing apps that help investors watch over their hard-earned money and make trades while on the go. You don't want to miss a thing even when you're in a checkout line when it comes to knowing where your money is going and how it's doing.
Because they're so important (and numerous), you want to be sure you download only the best investing apps. These are apps we've chosen because they can give you a full picture of your investments and help you make smart decisions. They're easy to use and give you the latest and greatest information about how the markets are performing.
Factors to Consider Before Downloading an Investing App
Ease of use: Fancy graphics might seem cool if you've got a bunch of desktop monitors set up on your desk like a trader. But if you're like most of us, you'll be looking on a small screen and needing your fat thumbs to do the buying and selling. Test drive the app to see if it's easy to navigate or whether it's going to frustrate you all the time.
Compatibility: You may want to stick to your brokerage's app or you may find that an upstart company offers a superior tool for you to track your funds. Just be sure you can, in fact, connect with your accounts so that you get real-time information. You don't want a time lag - you need to be able to make timely adjustments.
Security: You should feel confident that the app you're using will keep your information secure and that it requires a password when you want to make any big decisions. Just like when iTunes prompts you about downloading a movie, you want assurance that your niece can't log on to your investing app and start making trades.
Choose wisely by looking over our list of the Best Investing Apps, and you'll find at least one that makes the most sense for your needs.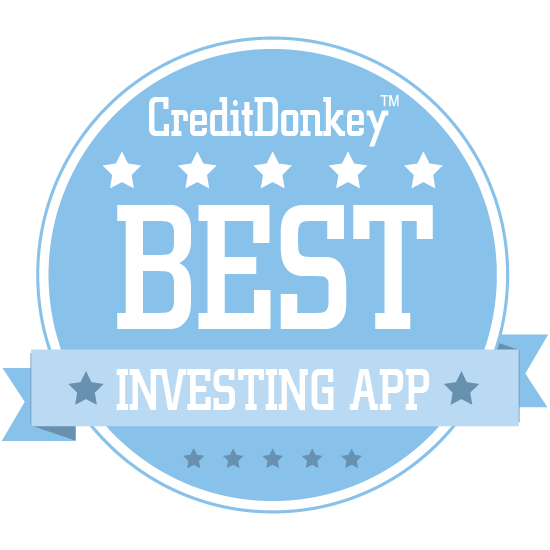 Best Investing App © CreditDonkey
More from CreditDonkey: