Identity Theft Statistics and What to Do
---
Everyday many individuals become a victim of identity theft and all of the problems that are associated with it; however you need to be proactive in protecting yourself from such a horrible event. The rapid evolution of technology has made information more accessible to the masses. In many regards this is a positive thing, however, when your personal information falls into the hands of scrupulous people this situation can quickly become a nightmare due to identity theft.
What is Identity Theft?
Identity theft is a situation in which your vital information is obtained by another person who uses it for illegal purposes. The criminal obtains your driver's license, bank accounts, social security number, etc, and uses them to obtain access your credit, services, and money without your knowledge.
Impact of Identity Theft on the Victim
Victims of identity theft suffer from total financial chaos as their credit history and rating are destroyed by illicit purchases that were never paid for by the identity thief. Many victims even have to face the horror of a criminal investigation as the identity thief may use your identity for other illegal activities.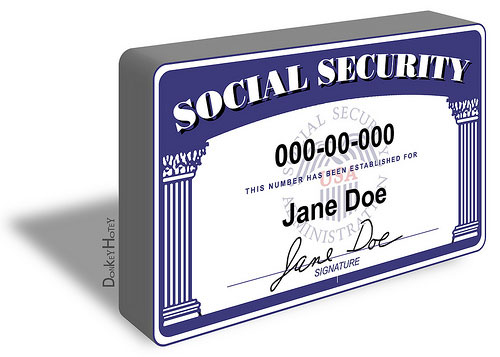 Social Security Card © DonkeyHotey
Often times, you may not even realize that you have become a victim of identity theft until you see your bad credit report or get declined for services.
Role of the FTC in Preventing Identity Theft
FTC is addressing this problem seriously and is paying special attention to the issues of privacy. The Inspector General of Security Administration has even termed is as a national crisis.
Statistics Regarding Identity Theft
According to the identity theft center:

In the year 1997, identity theft cost the American government around $745 million, according to some government agencies.
According to an estimate made by the Grand Jury of Florida it costs $17,000 per individual for a business when a case of identity theft occurs.
The cost is extremely high for the federal agencies; almost $11,433 per individual and $15,000 to $20,000 for investigating the case, according to the U.S. Office of Attorneys.
If you are a victim of identity theft, you spend almost 175 hours and $1,000 in clearing your name.
Recently a 10 percent decline in the reports of identity theft has been seen, as compared to 10 years back. But the irony is that debt complaints and reports about credit cards have tripled in comparison to the last year.
How to Minimize the Damages of Identity Theft
Make A Habit of Checking Your Credit Reports: You should make it a habit of checking your credit reports often, even if the person who stole your identity is caught and prosecuted.
Report Any Errors: If you find any errors in your credit reports always report them to your bank no matter how small those errors.
Protect Your Information: Always protect your private information like social security number, credit card number, etc.
Always Keep Good Records: It is really important keeping good records when you have been a victim of identity theft.
Handle Your Documents Carefully: Make it a habit of securing your documents. Even if you are throwing away a paper in the dustbin having your social security or credit card number on it make sure to shred them first with a shredder so that no other person should get hold of them.
Overall, you never want to go through the stress of dealing with the aftereffects of having your identity stolen. If you follow the suggestions above, hopefully you never will have to go through such a stressful event.