Survey: Holiday Shopping 2013 - Cyber Monday Growth
Sales on Cyber Monday Should See Significant Growth
---
Though many experts expect only modest sales gains this holiday season, a new poll by CreditDonkey.com suggests that online sales will actually post big gains this November and December.
While Santa Claus is making a list and checking it twice in order to see who's naughty or nice, CreditDonkey.com has polled consumers for their wish lists and spending predictions this upcoming season. Among the findings by the credit card comparison website: Cyber Monday will be much more popular than Black Friday as consumers will have more access to deals through their mobile devices than ever before. And most respondents are hoping for gift cards in their stockings this year, but not as many are planning to give them out.
Of the over 1,000 consumers polled by the site, 59.8 percent said they will shop on Cyber Monday this year – a gain of more than 3 percentage points over the 56.7 percent who expected to shop on Cyber Monday last year. What's more, almost 84 percent said they will spend the same amount of money, or more, on Cyber Monday bargains than in 2012.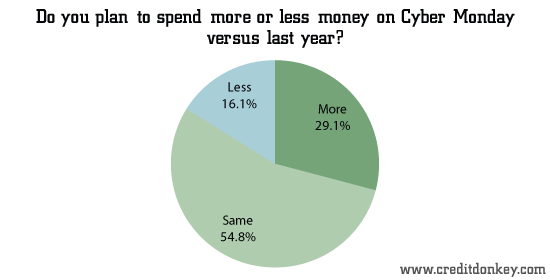 Do you plan to spend more or less on Cyber Monday versus last year? © CreditDonkey
Overall, we're mildly optimistic about the 2013 holiday season. However, when it comes to online sales, we're very optimistic. We predict that online sales will see double-digit growth. With each passing year, holiday shoppers are spending more time and money shopping from the peace and comfort of their own homes — or wherever they happen to be with a mobile device.
By contrast, only 42.4 percent of those polled said they will shop at stores on Black Friday, with 77.1 percent saying they will spend the same amount of money, or more, on Black Friday than last year. Overall, 80.5 percent of respondents said they will spend the same amount as last year, or more, on holiday gift-giving.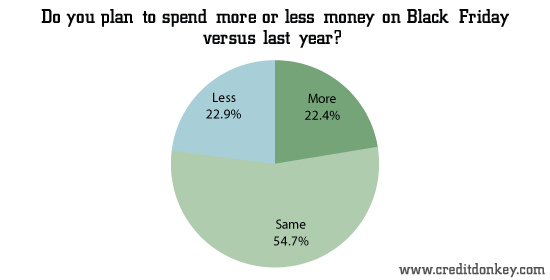 Do you plan to spend more or less money on Black Friday versus last year? © CreditDonkey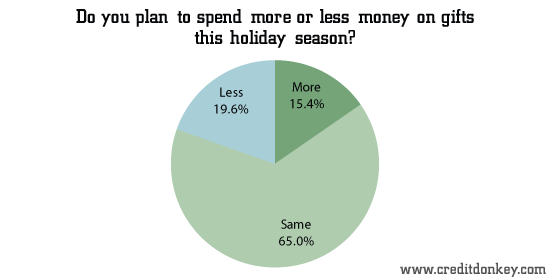 Do you plan to spend more or less money on gifts this holiday season? © CreditDonkey
Among the other findings of CreditDonkey's 2013 Holiday Spending Survey:
68 percent said they plan to set a shopping budget for the 2013 holiday season.
Once again, gift cards top the list of preferred presents. However, more people would rather receive gift cards (82.2 percent) than give them (69.2 percent).
Other favorite gifts respondents want to receive include:

Electronics (76.2 percent)

Clothing (67.9 percent)

Books (61.9 percent)

Homemade gifts (55.1 percent)

Household goods (53.5 percent)

Movies (43.3 percent)

Music (37.4 percent)

Jewelry (31.7 percent)

78.2 percent of respondents don't mind receiving regifted items, while 68.5 percent said it's OK to regift items to someone else.
86.7 percent said they don't mind when people return their gifts to the stores, which is a good thing, since 54.3 percent admit they do return some gifts.
(From October 7, 2013 to October 11, 2013, CreditDonkey polled 1,076 Americans, age 18 and over for their opinions and plans regarding the Halloween, Thanksgiving, and Christmas holidays.)
Charles Tran is the founder of CreditDonkey, a credit card comparison and reviews website. Write to Charles Tran at charles@creditdonkey.com