Consumers to the U.S. Government: Protect Us Against ID Theft, Please
As Consumers Become More Vulnerable to ID Theft, They Want Help
---
95 percent of respondents told us the government could be more effective in protecting consumers against identity theft in a recent CreditDonkey.com survey. 32% said that the government is flat-out not effective in protecting against identity theft.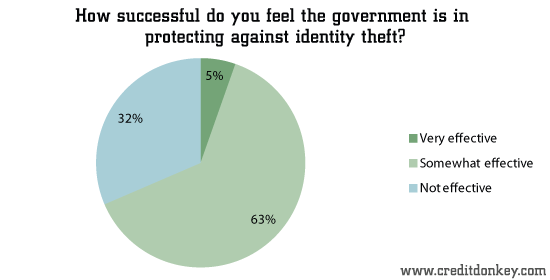 How successful do you feel the government is in protecting against identity theft? © CreditDonkey
While government regulations have been in place for over 40 years to protect consumers from identity theft, they have not kept up with the pace of the enormous changes to how people shop nowadays – namely the Internet. Shoppers have a variety of ways to pay for their transactions, and ID thieves have a variety of ways to steal their data.
Under the U.S. Fair and Accurate Credit Transactions Act, consumers are protected to a certain extent. The law includes many safeguards, such as restricting merchant printouts of credit card numbers to only the last five digits and allowing consumers to put red flags on their credit reports to curb the chance someone else will apply for credit under their name.
These regulations have helped limit identity theft in the U.S., but as consumers take greater advantage of society's growing digital systems, lawmakers have recognized the need for expanded legislation to protect consumers even further. Holding them back is a fight from businesses that would have to carry out such regulations and pay the costs of doing so.
A Need for Change
In the meantime, consumers have become much more comfortable using plastic for their transactions. In fact, they use debit or credit cards almost every time they buy something.
The CreditDonkey.com survey found that:
92 percent regularly use a credit or debit card for in-store merchant purchases.
71 percent of respondents are comfortable with making online purchases using their debit or credit card.
94 percent frequently use credit or debit cards for purchases online.
Of course, the convenience of online buying comes with risks. By providing personal information over the Internet, consumers become more susceptible to credit card fraud and are more likely to receive phishing email messages (messages that seem like they're from an institution but are actually from a fraudster). Need proof? CreditDonkey.com's survey found that 67 percent of respondents received at least one fraudulent email per day requesting information that could compromise their identity.
In the most recent congressional session, several bills were written on cybersecurity regulation, but nothing passed. Any new regulation would likely pull from the Cybersecurity Policy Review, a government wide evaluation undertaken a couple of years ago that recommended the government consider ways to:
Increase regulation on computer systems, specifically greater defenses against viruses and other digital threats.
Spread public awareness and education to help consumers better combat identity threats on their own.
Find ways that the government and businesses can work together to better protect consumers.
How to Limit Your Risk of Cyber Fraud
There are ways the government does try to help. The Federal Trade Commission (FTC), for example, offers a number of suggestions on its website. First, the Commission suggests not opening or responding to any emails from unfamiliar senders. Secondly, consumers are advised to use anti-virus and anti-spyware software as well as a firewall to protect from computer viruses.
The Federal Deposit Insurance Corporation also offers a comprehensive online tutorial with further information on identity theft prevention. The video, entitled Don't Be an On-line Victim: How to Guard Against Internet Thieves and Electronic Scams, provides in-depth information on phishing emails and identity theft through malware.
Additionally, the FTC has a designated toll free number, 877-FTC-HELP, consumers can call to report fraudulent or deceptive practices. Complaints can also be filed at ftc.gov/complaint.
By staying aware of government protections and following some basic precautions, consumers can avoid identity theft and the hassles involved with compromised credit and financial accounts.
(Click Image to Enlarge)

Infographics: Identity Theft Protection © CreditDonkey
(From November 19 to November 27, 2012, CreditDonkey.com surveyed 1,045 Americans, age 18 and over, using multiple choice questions and short-answer questionnaires. 1,027 survey respondents answered the question "How successful do you feel the government is in protecting against identity theft?")