Fabric Life Insurance
---
Fabric offers term life insurance for families with affordable premiums and a fast application process. Is it right for you? Keep reading to find out.
With Fabric life insurance, you can apply online in as little as ten minutes. This means approval without a medical exam.
If the automated system doesn't approve you instantly, a human reviews your application. During the underwriting process, they decide if you need to undergo a medical exam.
Is Fabric Life Insurance legit? Fabric has an A+ rating with the Better Business Bureau. Though Fabric is less than two years old, Vantis Life underwrites its policies. This collaboration gives you the benefit of instant approvals with the security of an established insurance company. Vantis Life is owned by Penn Mutual, which has been in business since 1847. It has an A+ A.M. Best score.

What Fabric Offers
Buying life insurance can be overwhelming. Fabric keeps it simple. You have two options: accident death and term life insurance.
Fabric's term life insurance covers most natural causes of death, including by:

Accident

Illness

Fire

Homicide

Vehicle accidents

Health issues, including heart attack, stroke, diabetes, and cancer
Residents of Montana aren't eligible for insurance from Fabric at this time.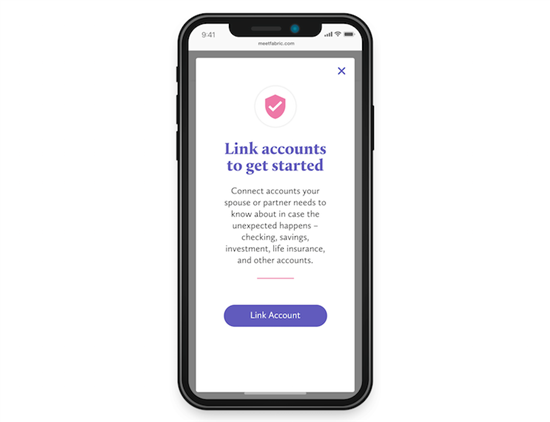 Screenshot from Fabric
Fabric offers two term policies:
Fabric Instant is accidental death insurance that can be canceled at any time.

Applicants can be between the ages of 25 and 50 years old.

The policy can stay in effect until you are 60 years old.

Get approved in as little as two minutes.

You never need a medical exam or underwriting.
Fabric Premium is term life insurance.

Available in terms of 10, 15, and 20 years (but some states only allow a 20-year term)
Keep the policy after the level term ends until age 85.
Coverage up to $1 million for those who qualify.
Death by suicide
Fabric excludes death by suicide within two years of starting a new policy. You may also face exclusions if you weren't honest about your health on your application.

How to Apply

© CreditDonkey
You apply for Fabric insurance online. The application asks questions about your:

Age, gender, birthdate, and state of residence
Height and weight
Employment, living situation, debts, and current life insurance policies
Lifestyle and hobbies
Plans for future living arrangements outside the U.S.
Tobacco, drug, and alcohol use
Criminal and driving history
As a final step, you'll provide your name, driver's license number, and Social Security number. Many applicants receive instant approval. In some cases, more information will be required.
If you live in California or New York, you are required to undergo the health exam and full underwriting by law.

That means an underwriter will call with additional questions. Sometimes they'll also request a health exam. Fabric sends the health professional to you—at home or work at your convenience. The exam typically includes blood pressure and pulse measurements, and sometimes blood work.
In rare cases, the underwriters may also need a copy of your medical records or a signed note from your doctor.
Applicants can amend their coverage amounts and term lengths when they receive an offer without additional underwriting. You can use this flexibility to view multiple options before purchasing coverage.

Reasons We Like Fabric Insurance

© CreditDonkey
Medical Exam Not Always Required
Each situation is different, but Fabric tries to keep medical exams to a minimum. If you do need one, they make it convenient by bringing the health professional to you.
Online Claim Process
Your beneficiary can contact Fabric support online to make a claim. The agents will walk them through the process. Vantis will also reach out to complete the claim.
Fabric donates 1% of the value of your policy if it pays out—at no cost to you.

Premium Payment By Credit Card
Fabric accepts all major credit cards. You can store the payment information in your account for easy monthly payment.
Short Underwriting Periods
Many applicants are approved within minutes. Even if you need a medical exam, Fabric makes a decision within 5–7 business days.
No Annoying Sales Calls
You don't have to deal with an agent trying to upsell you and offer several confusing options. All you need to do is choose the term and the amount.
Option to Convert to a Whole Life Policy
All term life insurance policies can be converted into permanent ones at any time—as long as you're under 65 at the time of the conversion.
Converting your term policy into whole life may involve another round of underwriting with a Fabric partner.

31-day Grace Period
If you miss a payment, you have 31 days to make it. Your policy will lapse on the 32nd day after the due date. However, you have 29 days to get your policy reinstated.
Coverage Starts Immediately
The final step in the application process is to make your first month's premium. Once you pay online, your coverage begins.
Free Financial Organizational Tools
Create a will or use Fabric's "vault" to store important financial information that your beneficiaries may need upon your death.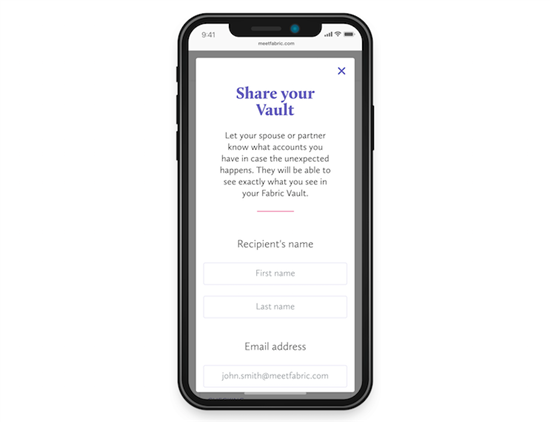 Screenshot from Fabric
Downsides
Extra Requirements In Some States
If you live in New York or California, you must start with Fabric Instant. Once you buy a policy, you can apply to upgrade to Fabric Premium—the term life insurance policy.
No 30-year Term Option
Fabric focuses on insurance while your kids are at home, which is usually 20 years. If you want a longer term, you'll need to look elsewhere.
How Fabric Compares
Vs Ladder
Like Fabric, Ladder offers an online application for life insurance. In as little as five minutes, you can have insurance coverage.
Ladder offers terms of 10, 15, 20, 25, or 30 years. You can also decrease your life insurance amount at any time or apply for more.
Ladder's policies are issued by Fidelity Security Life Insurance.
Vs Haven Life
Haven Life offers an online application process for term life insurance. You may get instant coverage, but they do require medical exams in certain cases. You have 90 days to complete the process.
The company offers terms of 10, 20, or 30 years. Applicants up to age 60 can apply for up to $3 million in coverage and applicants ages 60 to 64 can apply for up to $1 million in coverage.
Haven Life's insurance is issued by MassMutual.
Vs Quotacy
If you need more than term life insurance, Quotacy is a good place to start. It offers comparison shopping for insurance. You can apply online and receive multiple quotes and plans from various companies.
You'll also have more options including whole life and final expense insurance.
Bottom Line
Fabric offering simple life insurance products for families looking to protect themselves against unexpected tragedies.
If you want fast, simple term life insurance, Fabric is worth a look. But for more complex options or for those with a complicated health history, you may want to look elsewhere.
More from CreditDonkey: