How edX Can Help You Build Wealth
---
Get an Ivy League-caliber education for free. If you are serious about saving money and building wealth, edX is a nonprofit, open source education platform you should not ignore.
Invest in Yourself
Online nonprofits have sprouted up over the past few years to close the knowledge gap, and one of the most prominent is called edX. edX, an open source site offering classes from the world's best universities, is free. Without having to fill out an application or pay a tuition bill, you can access business and finance lessons from the smartest professors in academia.
Have you always wished your school offered a personal finance course? That perhaps you'd be better with your money if you could have just taken a few finance or business courses? Here's a resource for you to smarten up on your financial know-how. You could also learn how to keep up with investors who know just where to look and what to think about when they place their trust and hard-earned cash with corporate stocks.
What Is edX?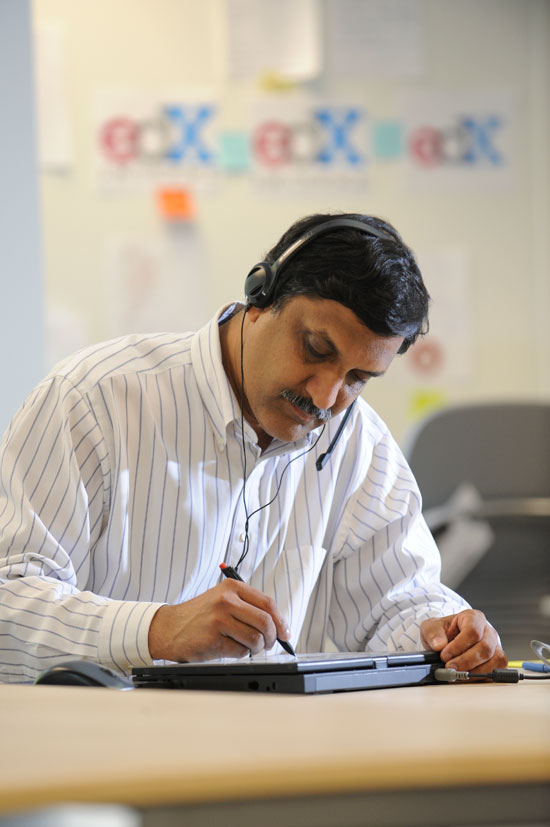 Anant Agarwal creating a tablet-based lecture
Founded by Harvard University and MIT in 2012, edX is the largest MOOC (Massive Open Online Course) that is both nonprofit and open source. This separates it from similar online services, which are either for-profit or closed to the developer community. edX is a platform where anyone can access hundreds of courses from some of the best universities in the world.
Their mission is to increase access to high-quality education for learners everywhere. They do this by offering online courses from the world's best schools and making them available to anyone who wants to advance their careers, brush up on a particular subject, or is just passionate about gaining additional knowledge in a new field.
We think it's a particularly valuable resource for getting up to speed on how to be smart with your finances so that you can build wealth. Thinking about changing careers so you can earn a better salary? Want to try entrepreneurship so you can pocket the compensation of a CEO some day? Feel like you could invest wisely if you just understood your way around a company's financial statements? You can do all of those things with the free courses offered on this site.
In their financial-related courses alone, edX has seen nearly a million enrollments worldwide. These include a range of learners from people who want to learn a new skill, buff up their financial expertise or train for a new career in finance or wealth management.

Who Is It For?
Aside from the mission statement that edX is for everyone, the people who will get the most out of its courses are those of us who are excited to learn something new. If you want to know what all of those stock symbols mean, what they're talking about on CNBC, and all the financial knowledge and terms that will open up a new world to you, it will cost you nothing for one of the best educations in the world.
Let's say you're not happy with your job or career field. Maybe you've been in a rut and you've always wondered what life would be like if you had the skills in a different sector. That's where edX comes into play. You can explore whatever you choose at your own speed and the risk is extremely low compared to grad school.
This doesn't only apply to finance. This can mean coding and scripts, seminars on artificial intelligence, law, hospitality, entrepreneurship, resume and interview skills, programming, video game design or hundreds of other fields. The reason you might want an education in a new subject can vary person-to-person, but if you have the drive to learn things, then this is one of the best ways to learn on your own schedule.
What's the Catch?
If you want to take a Harvard course online in an entirely new field with some of the best professors at your own pace, it will cost you nothing. However, it does cost money if you want to receive an official certificate in your particular course or field.
While the class itself is free, if you want the piece of paper that you can take to an employer, you'll have to fork over some money to get it. Still, it's a fraction of what you would be charged at a degree-granting institution.

edX vs. the Competition
edX is one of several nonprofits (and for-profits) that have the mission of spreading education worldwide for free (or extremely inexpensively compared to shipping off to college). Some of the notable competitors in the field include Khan Academy, Coursera, and Lynda.com.
Where edX stands out is when it comes to the subjects of science and technology, which are usually the strongest fields for online learning. The humanities tend to be geared a little closer to a classroom full of students bouncing around ideas. When it comes to subjects with an eye towards the future, edX stands out from the pack.
This includes subjects like The Science of Everyday Thinking, which is a self-paced course. There are also topics like The Science of Exoplanet Discovery and an Artificial Intelligence course from ColumbiaX.
If you're looking to branch out from finance, they have classes like HarvardX's self-paced Introduction to Computer Science. You can take a world-class course for free to see if it sparks your interest and career aspirations before you get mired in college applications, etc. for a several-year investment that will take you much longer to repay.
edX is a little lighter on the sheer number of courses than Khan Academy and Coursera, but some of the subjects are more out of the box. The platform and subjects are always evolving. Some of its competitors are a little more uniform in their courses, and edX stands out in its uniqueness in offerings.
Free Financial Courses
edX has a series of classes, some of which are self-paced and others are with professors from across the country. They run the gamut from the basics of money all the way through the minutia of data analysis. New classes are always popping up, so it's important to set alerts and check their schedule based on your interests:
What are some ways to stay motivated through online courses?
Once you're enrolled in an online course, one of the most difficult steps is staying motivated to complete the course. It isn't the same as living in a dorm while getting your undergraduate degree. You're not surrounded by other students who all have exams, papers and deadlines due that week.
You have to find ways to motivate yourself.
We reached out to Alice Randall, communications manager at edX, and she shared her insights on how to stay motivated:
Identify the reasons for taking the course. If you think about the reason you want to learn a new skill, change your career, or learn a new subject, it can fuel you through the tough parts of an education. Your personal enrichment will have a greater gain in the long run.

Set smaller goals throughout the course. If you look at the entire syllabus, you might get bogged down by how much further you have to go. Instead, take one class, one assignment, one seminar at a time and then look to see how far you've gone.

Sign up with a friend who will act as an accountability buddy. If you know that you have another person counting on you, then you'll be less liable to give up when the going gets tough. You'll have a person to learn with and someone else to consult if some aspects get confusing.

If you need some money on the line to stay motivated, then consider whether you should pay to get a certificate. You might be more determined to reach the finish line if the initial passion begins to dim.
How to Enroll
Simply cruise over to edX.org. You can browse all their newest classes by subject, school or program and see what jumps out at you. Some are self-paced that you can take when you decide to, or you can stick with a schedule for an upcoming class. It never hurts to explore a new realm of education and see what happens. You might just get everything you hoped you would.
More from CreditDonkey: