Durbin Amendment: What Will It Cost You?
---
On July 21, 2010, the Dodd-Frank Act, which was created to help protect consumers and merchants, and encourage competition in the financial industry, was signed into law. One piece of the Act was the Durbin Amendment, which aims to limit interchange fees and encourage competition in card processing. While the government first proposed a 12 cent cap on swipe fees, the final rule has set the cap at 21 cents per swipe plus 0.05 percent of the transaction.
This cap goes into effect on October 1, and is likely to make some changes to the strategies of banks and credit unions.
(Click Image to Enlarge)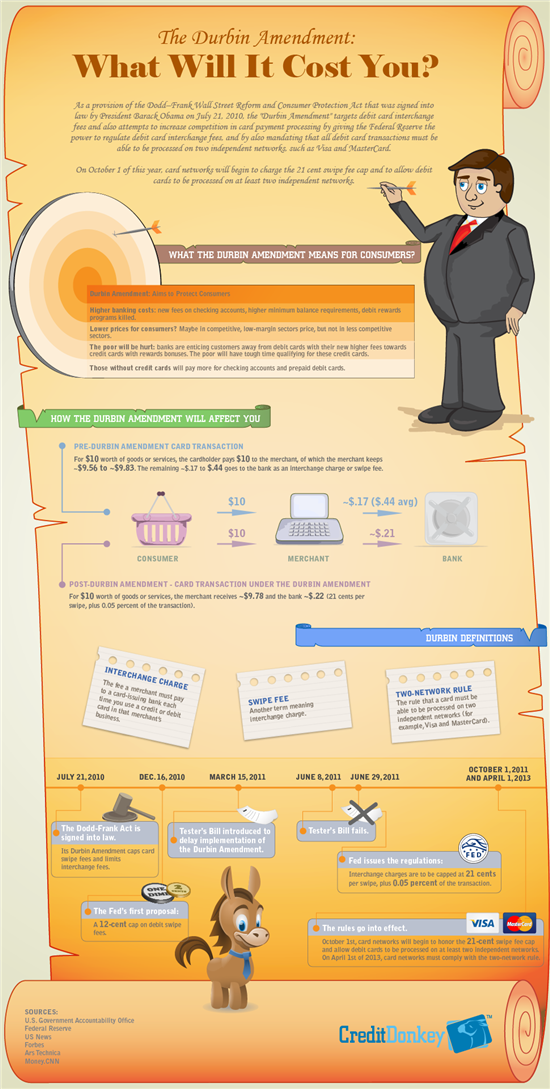 Infographics: Durbin Amendment Cost © CreditDonkey
What are interchange charges and swipe fees?
Interchange charge and swipe fee are two terms that are interchangeable. These are fees that merchants are required to pay to the card-issuing bank each time a debit card is used at that merchant. The fee, while minimal on a per-transaction basis, accumulates to create a significant income source for banks and credit unions.
How does the reduced fee affect consumers?
While the interchange charge is paid by merchants, it is predicted that consumers will see increased fees as a result to this regulation. Prior to the Durbin Amendment going into effect, a bank receives an average of 44 cents from merchants. Starting October 1, a bank will receive 21 cents plus 0.05% for the same transaction.
This essentially will cut interchange income in half. As a result, banks will likely increase checking account fees, set higher minimum balance requirements and discontinue their debit rewards programs. To help increase revenue, banks will increase marketing of their credit card programs in hopes of earning more interest income from their customers.
How can consumers avoid increased fees?
Make sure to read all communication sent from your bank or credit union so you are aware of any changes to your checking and savings account. If your accounts will now have minimum balance requirements, be sure to maintain those balances to help reduce fees.
You may now incur an annual fee for your debit card, so now may be the right time for you to start using credit cards for your everyday purchases. When doing so, be sure that you aren't overspending so you are still able to pay your credit card in full at the end of each month.
If you don't qualify for your bank or credit union's traditional credit cards, inquire about their secured credit cards. Secured credit cards require you to deposit money into a savings account as collateral for the purchases you charge to your card. If you do not make your credit card payments, the banks will gain ownership of the deposit. When looking for a secured credit card, you will want to ask about account fees and verify that the bank will report your payment information to the credit bureaus. By getting a card that is reported to the credit bureaus, you will be able to build your credit score so you can qualify for an unsecured credit card in the future.