Survey: American Debt Statistics
50.8% plan to be debt-free within five years
---
Accumulating debt is almost as unavoidable as death and taxes these days. Buying a home requires taking out a mortgage. Student loans come with getting an education. Still, many Americans see an end in sight to their personal debt.
A recent national survey by CreditDonkey.com found that 65% of respondents feel confident they can eliminate all existing personal debt within their lifetime. In fact, 42% believe they can get out of debt in less than five years; 8.8% within one year.
The rest are less optimistic: 28.3% think they can eliminate debt within 10 years, and 11% see themselves taking up to 20 years to reach that goal. Only 9.8% believe it will take them longer than two decades.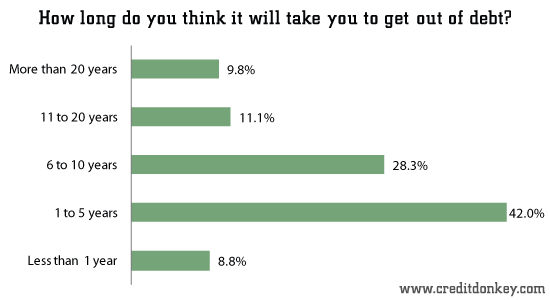 How long do you think it will take you to get out of debt? © CreditDonkey
The optimists in the group have formulated a plan for reducing their debt pile. Solutions vary. Those in debt can obtain a better interest rate up front for a bank loan. They can consolidate student loans into one monthly payment. Or they can work out a scheduled payment plan on auto repairs, medical bills, and other major expenses (31% of the survey respondents plan to go this route).
The survey also found that just over three-fourths of consumers will use a monthly budget to make it easier to repay debts, and 52% will consider working an additional job and create a new source of income to ease their personal debt. Only 12.6% indicated they will use bankruptcy as a primary option for eliminating outstanding debt.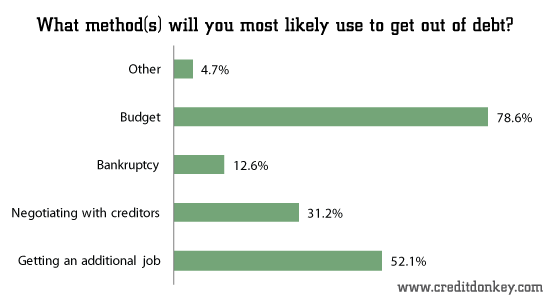 What method(s) will you most likely use to get out of debt? © CreditDonkey
Of course, progress can't be made when they are still accumulating debt at high clips. Half of the respondents feel confident they can avoid adding to their total debt, while 30% don't think they can pull off such a feat while resolving older debt. It's little wonder why: Many milestones in life, such as owning a home or a car, require more money than the average person has on hand.
As a result, debt is a reality for most people. Just over 70% of the people surveyed affirmed they already possess some debt at the moment, and 68% said their amount of debt is normal for their age group.

Of course, despite the best of intentions and planning for paying down debt, some things – like unemployment or medical problems – cannot be accounted for ahead of time and can undermine a consumer's efforts to resolve debt. Indeed, 58.6% of survey respondents worry about earning enough money to pay off their debt. Of that group, 50.3% fear they will need to file for bankruptcy if they can't resolve their debts, while 32.5% believe they will need to turn to a family member or friend for financial support.
CreditDonkey.com conducted this nationwide survey between September 17 and September 25, 2012. Of the 1,105 surveyed, the majority were age 18 to 44.