CommonBond Review: Is It Legit?
This article contains references to products from our partners. We may receive compensation if you apply or shop through links in our content. You help support CreditDonkey by reading our website and using our links.
(read more)
---
You could try waving a magic wand to banish your student loans for good, but getting a better deal on your interest rate is a more realistic way of getting them to go away faster.
CommonBond wants to give you a better rate by letting you refinance your loan, but would that be a smart move?
CommonBond is one of many fairly new companies out there offering to refinance student loans. It looks beyond your credit history to see whether your career is on the right track and whether you're responsible when it comes to how you handle your money (yes, that means you need to have a job to get approval for a new loan).
If they like what they see, they could offer you a lower interest rate on your student debt — which can save you good money in the long run and make your monthly payments more manageable. It depends on how much debt you still owe and the rate you can score from this company.
Just like any big money decision, it's smart to compare CommonBond to other service providers before you agree to anything.
Read this to weigh the pros and cons of this lender and take a peek at their competitors.
10 REASONS TO USE COMMONBOND TO REFINANCE STUDENT LOANS
You can potentially cash in on big savings. Exactly how much you stand to save depends on how many payments you have left on your loans and what kind of rate you qualify for. According to the company website, the average savings is around $14,000.
You can get a competitive rate. CommonBond offers three rate choices for refinancing: fixed, variable, and hybrid. The hybrid loan option gives you a fixed rate for the first 5 years and a variable rate for the last 5.

Be careful before signing up for any loan that has a variable rate — you're taking a risk as no one knows for sure what interest rates will be. At the moment they are historically low, so if you want predictability, it may make more sense to go with a fixed rate.

However, you are currently able to get a low APR if you go with a variable rate (when we last looked, rates started at 2.32% for variable rate loans). The highest APR is 7.74% for fixed rate loans. The rates for hybrid loans fall right in the middle.

There are no hidden fees. Normally, refinancing into a new loan means paying some extra charges, like an origination or application fee. That's a fact some borrowers easily overlook, but CommonBond does not charge these "surprise" fees.
You won't be punished for paying early. Refinancing can put you on the fast track to paying off your loans if more of your money is going towards the principal each month. There's no prepayment penalty if you wipe the debt out at warp speed.
You can postpone payments if you need to. If you run into trouble making your payments after you refinance, you don't need to panic. CommonBond offers forbearance periods for borrowers who are going through an economic hardship, so you have time to get back on your feet.
You can get free money for telling your friends. CommonBond wants you to spread the word about how happy you are with your refinanced loan. Every time you tell a friend and they refinance with the company, you'll get a $200 cash bonus.
You can refinance multiple loan types. Some refinance lenders only handle one or two types of loans, but CommonBond offers a little more variety. You can refinance federal and private loans as well as corporate-sponsored and international loans.
You can refinance a lot of debt at once. Altogether, you can refinance up to $500,000 in loans through CommonBond. That's good news if you borrowed heavily to get through school.
You don't have to freak out if you lose your job. The job market is tough these days, but CommonBond isn't going to hold it against you if you end up out of work. If you don't have a co-signer who can help with payments, you can get them suspended temporarily.

And even more, CommonBond will give you a hand with landing your next job. CommonBond has a strong community that hosts networking events, panels, and career assistance. You can take advantage of it to make connections and find job opportunities.

Applying is a breeze. If you've been holding off on refinancing because you think the process is going to be cumbersome, think again. With CommonBond, you can apply online and get your rate in minutes.
IS NOW A GOOD TIME TO REFINANCE STUDENT DEBT?
Ideally, you want to refinance your student loans when interest rates are low. Waiting until rates start to climb may mean missing out on the best deal.
At the moment, rates are still low but that could change in the future. Ultimately, whether it's a good time to refinance for you depends on what your credit looks like and where you're at financially.
WHAT ARE THE RISKS?
After reading through the list of reasons to consider refinancing with CommonBond, you might be ready to take the plunge — but be sure to consider all the facts. We took a closer look and found three reasons why you might want to proceed with caution.
You might not be eligible. To refinance with CommonBond, you have to have used your loans to cover your education costs at an eligible school. The company currently works with more than 2,000 Title IV colleges and universities but if your school didn't make the cut, you're out of luck.
Savings aren't guaranteed. Refinancing your student loans by itself doesn't mean you're going to save money. If your credit doesn't qualify you for the best rates, you may end up with an APR that's pretty close to what you were already paying. You might even be at risk of paying more in interest if you choose a variable rate loan and the rate takes a big jump later on.
You may lose your federal loan safety net. If you have federal and private loans, you can refinance them into a single loan — but you're taking a big gamble. Once you refinance federal loans, you're not going to be eligible for things like income-based repayment, deferment, or loan forgiveness if you work in the public sector. If you've got both types of loans, you're probably better off refinancing just the private ones and consolidating the others through a federal loan program.
HOW DOES COMMONBOND WORK?
Refinancing through CommonBond isn't the same as getting a loan from a bank. It's helpful to understand what the biggest differences are.
For starters, the company partners with institutional investors who provide the funding to cover the loans. These investors realize returns on the money they've put up when you pay the loan back.
CommonBond doesn't see borrowers as just a credit score; the company takes a more well-rounded approach to reviewing applicants that involves looking beyond that three-digit number. You'll still need good credit to qualify, but it's not the only way CommonBond is going to judge you.
WHAT IS THE PROCESS LIKE?
The entire refinance process takes place online, starting with filling out the CommonBond application. There's some specific information you need to provide, including:
Your name

Address, email and phone number

Birth date

Graduation date

Name of your school

Degree type

Estimated loan balance

Housing status and monthly payment

Income
You also need to enter the last four digits of your Social Security number. This is what CommonBond uses to quote your rate and it counts as a soft pull on your credit. A hard pull is only required if you're interested in moving forward with the refinance process.
If you decide to continue, you'll have to upload supporting documents like your loan statements and pay stubs. Once the loan is approved and you've signed off on all the paperwork, CommonBond uses the money to pay off your loans. After that, you just make one payment to CommonBond each month.
IS IT WORTH IT?
Refinancing isn't going to be right for everyone and you need to think it through carefully before you pull the trigger. After all, there's nothing more frustrating than going through all the trouble to apply only to get denied.
It can also backfire if you're not able to get the best rates because your credit isn't that great. It's easy to get stuck in a catch-22 if you're trying to improve your score but interest rates are going up at the same time. Even if you do clean up your credit, rates may be higher by the time you're ready to apply.
Refinancing is usually the most cost-effective choice if you've still got a lot of time left on your debt and you're paying a high interest rate. If you're only a couple of years away from being debt-free, you've pretty much paid most of the interest by this point. Refinancing probably isn't going to yield much of a benefit at this stage.
Weighing how much time you have left on the loan, your credit score, and your current rate against what you might be able to lower it to if you refinance can tell you if it's truly going to be a money-saving move.
AM I OBLIGATED ONCE I APPLY?
CommonBond provides rate quotes with no obligation, so you're not locked in if your rate isn't as low as you'd like. You're actually better off shopping around with different lenders to see what kind of loan terms you might be able to qualify for.
CAN ANYONE REFINANCE THROUGH COMMONBOND?
Before you can refinance with CommonBond, you have to make sure you're eligible. Here's a rundown of the most important requirements you need to meet:
Residency. You must be a U.S. citizen or permanent resident to apply for a refinance loan with CommonBond.

Graduation status. Only borrowers who have actually earned a degree can refinance through CommonBond. If you're still in school or you didn't finish, you have to look elsewhere for a loan.

Credit history. Your credit history and score land under the microscope when you apply for a loan. If your credit's not up to snuff, you'll need to find a credit-worthy co-signer to get the ball rolling.

School. As we mentioned earlier, CommonBond works with an extensive network of colleges and universities. As long as your school is on the list, you can apply for a loan.

Income and employment. Before any lender will give you a loan, they'll check to make sure you can pay it back. CommonBond takes a look at your employment status and how much money you're making to determine how much borrowing power you have.
WILL I GET APPROVED?
Not everyone is going to get the green light for a refinance loan with CommonBond. Even though they're not a traditional lender, they still hold borrowers to a certain set of standards.
If you're wondering what your chances of getting approved are, take a step back and see yourself the way a lender would see you.
For example, if you have a good credit score, you've been working steadily since you left school, you don't have any other debts outstanding, and you're bringing in some decent cash, then you're going to look a lot more attractive. If you're the total opposite of that, your odds of getting approved might be slim if you don't have a co-signer who's willing to help.
HOW IT COMPARES
Doing your research before you commit to refinancing with CommonBond is a must. To make it easier, check out how it stacks up the competition.
LENDKEY
LendKey has a lot in common with CommonBond. You can use it to refinance private or federal loans, you have a choice between variable and fixed rates, and there are no origination fees to contend with. The one big difference is that instead of using larger banks to fund loans, LendKey relies on credit unions and community banks for funding.
What we like about LendKey
We think LendKey is worth a look for a couple of reasons. For one thing, the interest rates it advertises are slightly lower than what CommonBond is currently offering. LendKey also offers more flexibility with repayment, and certain loans will even let you make interest-only payments for the first four years.
Why we like CommonBond more
Even though LendKey has somewhat lower rates, we'd still recommend CommonBond based on how much you stand to save. According to LendKey's website, their borrowers save an average of $12,500, which is $1,500 less than what CommonBond advertises. The fact that you get a third interest rate option with the hybrid loan also gives it the edge.
CITIZENS BANK
Citizens Bank is a traditional bank that offers refinancing for private and federal student education debt. Loan terms last either 5, 10, 15 or 20 years, which is the same as CommonBond. There are no origination fees for loans and no prepayment penalties, which can save you money.
What we like about Citizens Bank
One of the biggest marks in Citizens Bank's favor is the fact that you don't need to have graduated to refinance your student loans. That requirement can be a major barrier if you've got your eye on CommonBond. One other nice perk is a 0.25% interest rate reduction if you have a checking or savings account with Citizens Bank.
Why we like CommonBond more
CommonBond beats outs Citizens Bank for a few reasons. First, Citizens Bank caps refinance loans at $170,000. If you borrowed substantially more, that's not going to help you any. Because it is a traditional lender, Citizens Bank is also more stringent in terms of the kind of credit you need to qualify. Not only that, but the fixed and variable rates the bank offers are quite a bit higher than what you can get with CommonBond.
SOFI
SoFi, a heavy hitter in the student loan refinancing arena, is not all that different from CommonBond. This lender offers loans for federal and private refinancing with fixed and variable rates. Loan terms are the same, lasting 5, 10, 15 or 20 years, and SoFi also offers extra protections if you lose your job.
What we like about SoFi
We like SoFi because it's easy to use and they really give borrowers the benefit of the doubt in terms of credit worthiness. They look at your long-term career track instead of just your most recent work history to decide whether to approve you or not. Variable and fixed rate loans start out with a lower APR, which may help you save a little more.
Why we like CommonBond more
Unlike SoFi, CommonBond doesn't place any restrictions on which states it offers refinance loans in. While SoFi's rates start out lower, the maximum rate is almost a full percentage point higher than CommonBond. That can make a big difference in how much refinancing costs you in the long run.
Still Can't Decide?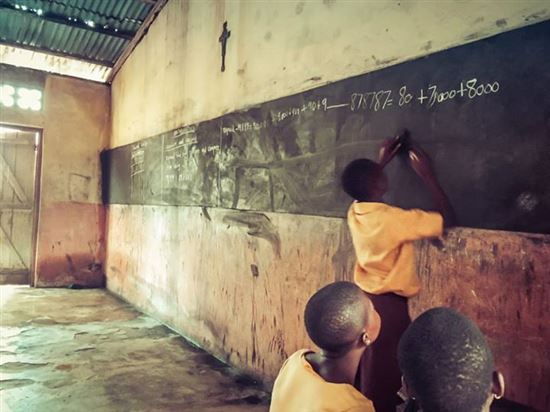 © Courtesy of CommonBond
Can't decide between two lenders? Maybe this will help you decide:
CommonBond has a social mission. They call it their "Social Promise." For every degree fully funded on CommonBond, they will fund the education of a global student in need for a year through Pencils of Promise.
THE BOTTOM LINE: IS COMMONBOND A GOOD CHOICE?
There are lots of things to like about CommonBond if you're in the market to refinance your student loans.
If you're able to get approved, it could help you put thousands of dollars back in your pocket. Do your comparison shopping and some math before you sign off on new loan terms. For example, if you decide to go with a longer payment term to keep your monthly payments low, know that you could end up forking over a lot more money over time in interest charges.
All in all, CommonBond is worth a look if you're ready to save some money on your loans and you've got the rest of your financial ducks in a row.
Rebecca Lake is a journalist at CreditDonkey, a student loan comparison and financial education website. Write to Rebecca Lake at rebecca@creditdonkey.com. Our data-driven analysis has been recognized by major news outlets across the country and has helped young adults make savvy financial and lifestyle decisions. (read more)
Disclaimer: Opinions expressed here are those of the author's alone. Please support CreditDonkey on our mission to help you make savvy financial decisions. Our free online service is made possible through financial relationships with some of the products and services mentioned on this site. We may receive compensation if you shop through links in our content.
More from CreditDonkey: