Survey: Credit Card Convenience Fee
Warning to Small Business Owners: Think Twice Before Charging a Credit Card Checkout Fee
---
As of January 27, most merchants can start charging customers a checkout fee for using a credit card, but should you?
CreditDonkey.com asked 728 consumers with credit cards how they would react to such a fee. Results showed that 21% would not buy anything at merchants that impose it; 28% would switch to cash; and 42% would use their debit card instead. Only 9% would continue paying by credit card.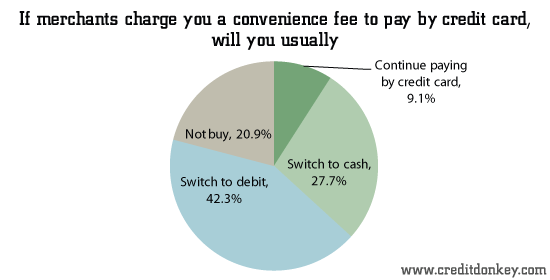 If merchants charge you a convenience fee to pay by credit card, will you usually © CreditDonkey
As a business owner, you'll need to evaluate if it makes sense to potentially lose 21% of your credit card customer base by charging a checkout fee of up to 4% on transactions.
What to consider: if your margins are thin and you offer a unique product or service, then consider a checkout fee. Your customers may put up with it in return for your offerings.
However, if you have healthy margins and shoppers have viable alternatives, then think twice before charging a checkout fee.
To be sure, merchants might not notice an immediate sales drop-off when they institute the checkout fee, but over time, the checkout fee is bound to influence brand loyalty and consumer shopping decisions.
Keep in mind, checkout fees are not allowed in all states including California, Colorado, Connecticut, Florida, Kansas, Maine, Massachusetts, New York, Oklahoma and Texas.
(CreditDonkey.com conducted the national survey between January 15 and January 22, 2013. 728 American consumers, age 18 and over who have one or more credit cards, were asked "If merchants charge you a convenience fee to pay by credit card, will you usually... continue paying by credit card, switch to debit card, switch to cash, not buy?")
Charles Tran is the founder of CreditDonkey, a credit card comparison and financial education website. Write to Charles Tran at charles@creditdonkey.com. Our data-driven analysis has been recognized by major news outlets across the country and has helped consumers make savvy financial and lifestyle decisions. (read more)