How to Save Money on Flights
---
Finding the best priced airfare can be a stressful task – especially when you're trying to stick to a strict travel budget. Thankfully, there are some tips you can follow to cut down on the financial investment of your next flight.
(Click Image to Enlarge)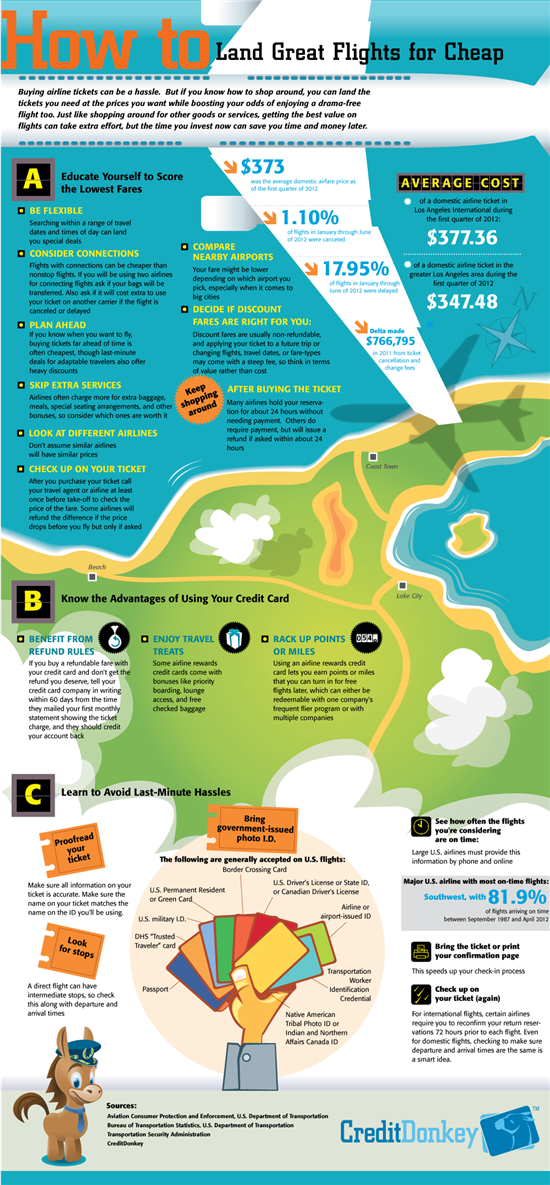 How to land great flights for cheap © CreditDonkey
A – Educate Yourself to Score the Lowest Fares
Finding the best airfare requires a bit of investigation and flexibility. By being willing to invest a little time and make some minor changes to your plans, you can see some significant savings.
Investigation
When making your plans, be sure to check out several different airlines and airports. Price can change significantly across the various airlines and even airports that are only 50 miles apart.
You'll also want to continue following airfares after you've purchased your ticket. Many airlines will allow you to cancel within 24 hours of your ticket purchase and give you a full refund, so you don't have to feel buyers remorse if you find a better ticket elsewhere. And, if you take the time to check the price of the fare prior to your travels, you may be eligible for a partial refund if airfare for your particular flight has been reduced.
Flexibility
Your willingness to have connections instead of flying nonstop and skipping extra services, like checking your bags or assigned seats will shave significant dollars off your flight price. Being flexible on your dates and times will also open up your savings options.
Of course, there are some things that you may not be comfortable comprising. This is important to keep in mind when deciding whether to take advantage of a discount fare, which typically are non-refundable.
B – Know the Advantages of Using Your Credit Card
Many credit card holders are unaware of the travel related perks that come with their credit cards. Take the time to research the benefits of your preferred card. If you are a regular traveler, you'll probably want a card that has the following benefits:
Travel Extras
Traveling by air isn't always the most comfortable experience. So if you log a lot of miles flying the friendly skies, look for a card that comes with priority boarding, exclusive lounge access and free checked bags. These little perks can make the flying hassle feel a bit more luxurious.
Rewards Points
How does free airfare sound? It's fairly easy to accomplish these days thanks to rewards credit cards and airline rewards programs. Each point you earn can be applied toward a free flight in the future.
Perks Available to all Cards
There's a huge advantage to using your credit card instead of your checking account when purchasing your tickets—if you buy refundable fare but don't get the refund owed to you, you'll be able to dispute the charge with your credit card to credit your account back.
C – Learn to Avoid Last-Minute Hassles
There's nothing worse than missing your flight due to last minute airport hiccups. You can prevent most of these costly mistakes by taking a couple of extra minutes during the ticket purchase process—proofread your ticket to make sure there are no typos and that you know all of the flight details so you don't have a mix-up with connecting flights.
You'll also want to set aside some time the week of your flight to review the latest airport security rules and regulations. Pay attention to what identification is required as well as what items are banned from your carryon and/or checked bags.

(Additional Writing by Meghan; Graphic Design by Marcelo)
More from CreditDonkey: