Businesses Should Prepare for Haggling This Holiday Season
---
With the advent of no-haggle pricing and its widespread advertising among car dealers, you might think consumers really don't want to negotiate prices. But you'd be wrong, according to a recent CreditDonkey.com survey that found almost half of consumers welcome a salesperson's offer to haggle to induce a sale.
When asked if a seller's willingness to haggle affected their decision to buy an item, 46.5% of respondents answered that it made a difference and 17.8% said it made a big difference in their choice to buy.
There's not a better or more competitive time to find this out than the holiday shopping season, especially for small businesses.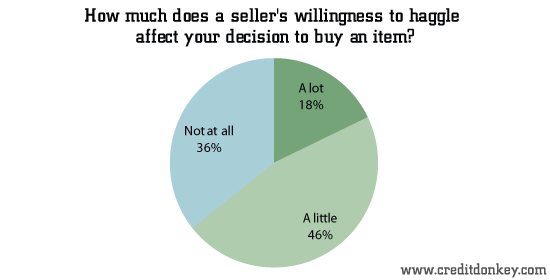 How much does a seller's willingness to haggle affect your decision to buy an item? © CreditDonkey
So, how low do you have to go? The majority of respondents said they save at least 10% when they haggle. Is that a fair price to pay for gaining a loyal customer? With this data in mind, you may want to adjust your pricing strategy in the weeks ahead.
For instance, you could have at the ready a flash sale code, a coupon, or special bundle price to offer customers who appear eager to haggle. These can be kept in your back pocket, available not only to give your customers a 10% break but also to extend goodwill that will be returned in the form of positive word of mouth and repeat customers.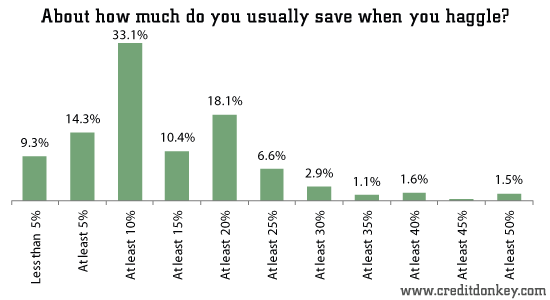 About how much do you usually save when you haggle? © CreditDonkey
What items are up for haggling? When you think of haggling, buying a car most likely comes to mind. Indeed, 40.3% of respondents were proud to say they have successfully negotiated a car purchase. Consumers have also been successful at haggling discounts for electronics (29.4%), clothing (24.8%), furniture (23.6%), and hotel rooms (23.4%).
FYI to the banks: Consumers hate new fees and will haggle strongly to have them waived whenever possible. 26.3% of respondents have been successful at haggling over bank fees, and customers fully expect a bank to waive a mistaken fee immediately.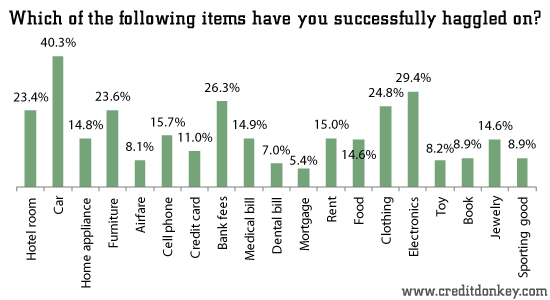 Which of the following items have you successfully haggled on?
From October 9 to October 23, 2012, CreditDonkey.com polled 1,125 Americans, age 18 and over, about their holiday shopping plans using multiple choice questions and short-answer questionnaires.

Naomi Mannino is a contributing writer at CreditDonkey, a credit card comparison and financial education website. Write to Naomi Mannino at naomi@creditdonkey.com. Our data-driven analysis has been recognized by major news outlets across the country and has helped consumers make savvy financial and lifestyle decisions. (read more)