Infographic: How to Build Business Credit
Solve Your Business' Identity Crisis and Build Credit
---
Small business owners need to build business credit so they can continue to make investments and grow. Learn how with our infographic guide.
(Click Image to Enlarge)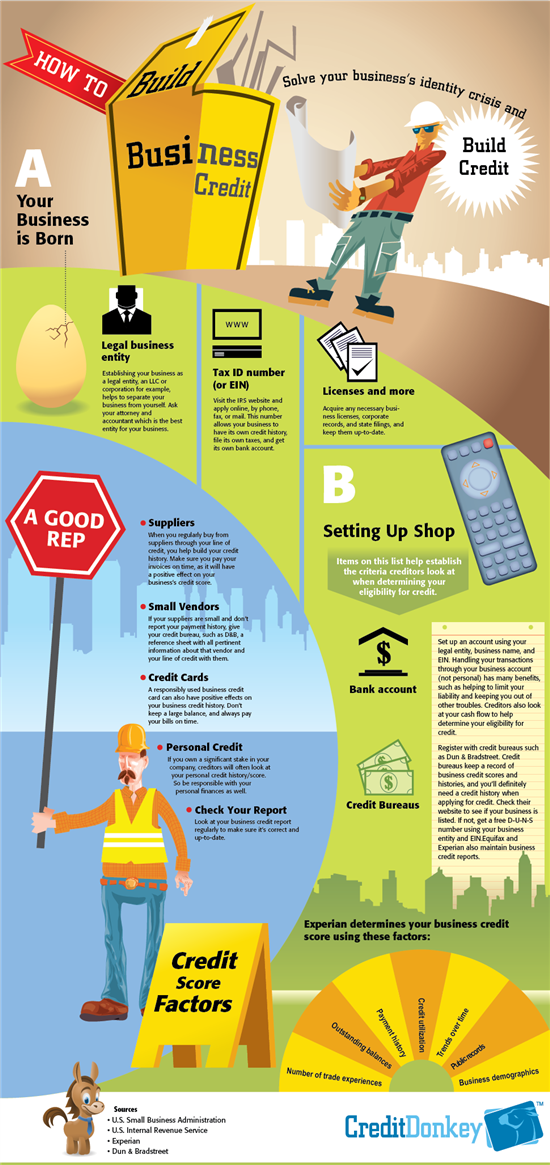 Infographics: How to Build Business Credit © CreditDonkey
Your business is only as good as its reputation. If it's known for integrity — because it pays its bills on time and doesn't leave anyone in the lurch, including its vendors — then it will be able to get credit so that it can continue to make investments. And, ideally, grow.
But when you're just starting out, building up that reputation can seem like a crazy thing. Fortunately, it's pretty easy to get started, with one simple tool: a small business credit card, plus some identification (put that driver's license back in your pocket —we're talking about a different kind of ID).
Where to Begin
Establishing business credit first requires that your business has its own identity—separate from your personal identity. For example, setting up a legal entity for your business, such as an LLC or corporation, is a like giving your business its own name and birth certificate. Instead of a using your social security number for a sole proprietorship, get your legal business entity its own tax ID (or EIN number).
Then, your business must operate entirely though its own identity. It's that simple. The rest is all in the details.
Here are some tips for small business owners to keep in mind for building credit:
Understand the basics. Basically, as long as you have a line of credit (it could be in the form of a business credit card), you can start building a business credit history. The point is to be able to show that your business has, over time, been able to meet its obligations by paying back what it owes when it's supposed to.
Make sure your personal credit score is in good shape. Banks will base their decision on whether to lend to small or newly established businesses at least partially on the credit history of the business owner.
Kickstart your credit history as soon as possible. Even if you don't need it quite yet, it's a good idea to sign up for a credit card to get your business track record going. Use this credit card responsibly and don't take out more than you can handle, but do pay back what you owe. Once you get the card, keep your personal and business expenses separate.
Look for credit in more than one place. Do business with more than one financial institution, preferably of varying sizes. Large banks offer convenience and a variety of financial products, but small banks make it easier to build personal relationships with your potential creditors.
Look beyond the banks for who can vouch for your business. You can establish your business' credit history through the regular course of business. Some suppliers update credit bureaus about another company's ability to pay its bills and at the same time, be willing to give you a 30- to 60-day reprieve on the invoices they send you. Be aware that not all suppliers report your line of credit or your payment history, and make sure you have a profile with the credit reporting agency Dun & Bradstreet.
Always pay your bills. Creditors know that those who don't pay their bills are more likely to stiff them. That's why businesses with tax liens have a much tougher time getting credit than a company that may be hurting financially but still manages to pay a significant amount down each month on their credit card bills. With every bill you pay on time and every time you chip away at your balances, you are establishing your business' reputation and its credit history.
Also keep in mind that building your business credit history involves keeping your eye on it too. So check in with what others are saying about your business and see what your business credit report says. You may find mistakes, and you want to get on top of them before a customer or a key vendor finds out about them.
Building business credit is an ongoing affair, and your company will benefit if you make a point of paying attention it. Otherwise you risk your access to funds drying up and you could hurt your ability to sustain and grow the business.
Remember, a home business can build credit too.
(Click Image to Enlarge)

Infographic: Home Business Startup © CreditDonkey
(Writing by Kelly and Leah; Graphic Design by Marcelo and Estefan)
More from CreditDonkey: