There are quite a bit of expenses that come with being a college student, between the books and school supplies, gas, food and utilities, there is always something that needs to be purchased.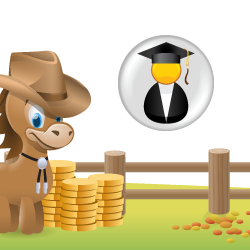 Student Deals © CreditDonkey
Credit cards can come in handy with these purchases because they are a quick and secure way to make your payments. If your credit card or credit card data is ever stolen, the account can be suspended while an investigation is underway. The same is true for your check and savings accounts; however, if money is drained from those accounts, you can be left with no funds until the matter is resolved. This can create major issues if you need to get supplies for the beginning of the term or it's your week to buy groceries.
Another benefit of credit cards is that many offer college students the ability to earn cash back. When these cards are used responsibly (remember, all those purchases you make have to be paid off eventually, and the longer it takes to pay them off, the more you are paying in interest!), they can serve as a great reward for students who are looking to save up a little for something fun like a weekend trip or a concert.
Here are some convenient offers when it comes to student credit cards that offer great deals to their cardholders. Each of these cards are annual fee free and offer students cash back opportunities.
Discover® it for Students
This is a top pick from Discover. This card also offers cash back opportunities. What sweetens the deal with this pick is the 0% Intro APR on new purchases; the introductory period last for the first 6 months. Once the introductory period ends, your regular variable interest rate will be as low as 12.99% to 21.99%.



No annual fee. No overlimit fee. No foreign transaction fee. No late fee on your first late payment. And paying late won't increase your APR.*
5% cash back at gas stations on up to $1,500 in purchases from July through September 2014 after you sign up*. 1% cash back on all other purchases.
Free FICO® Credit Score online and on monthly statements.*
Looks out for you-since each Discover purchase is monitored. If it's unusual, you're alerted by e-mail, phone or text-and never responsible for unauthorized Discover card purchases.*
0% intro APR* on purchases for 6 months, then the standard variable purchase APR of 12.99% - 21.99%.
Free text alerts can remind you when your payment is due. And free mobile app helps you stay on top of your account.
*Click "Apply Now" to see rates, rewards, free FICO® Credit Score terms and other information.

Intro APR for Purchases
Intro APR for Balance Transfer
Regular APR
Annual Fee

0% for 6 months

See Terms

12.99% - 21.99% Variable*

$0
Citi Dividend Platinum Select
This Visa card will help you earn extra cash back in rotating categories that change each quarter (free enrollment required). If you time this correctly, you can maximize the earning potential. All other purchases earn the cardholder a full 1% cash back (you may earn up to a total of $300 per calendar year).



Build credit while earning cash back fast
Earn 5% Cash Back in categories every quarter. Right now, on eligible purchases within the Hilton Portfolio, car rental agencies, movie theaters and theme parks from 7/1/14 - 9/30/14
Enrollment each quarter is quick and easy.
Earn 1% cash back on all other purchases
The total cash back earned with the card is $300 per calendar year. See Citi Dividend Card Reward Program Information.
Choose your payment due date
No Annual Fee
Click Apply Now for pricing details

Intro APR for Purchases
Intro APR for Balance Transfer
Regular APR
Annual Fee

0%* for 7 months*

N/A

13.99% - 23.99%* (Variable)

$0*