Amazon, PayPal Lead in Consumer Confidence
---
Online shoppers trust Amazon more than other well-known online brands, according to a new survey by CreditDonkey.com. When asked what tech company they trust the most with their credit card information, over 60% chose Amazon.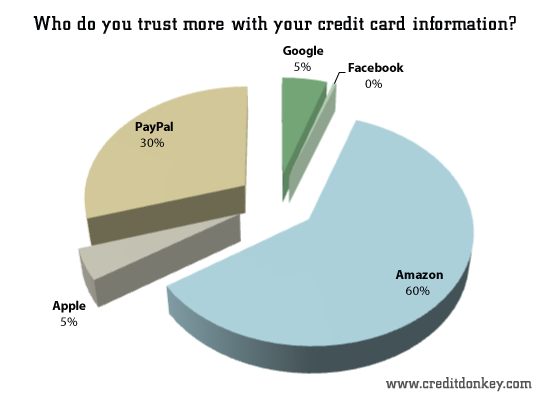 Who do you trust more with your credit card information? © CreditDonkey
Consumer trust the online retailer thanks to its long track record in online payments, while security breaches have plagued other websites. "Amazon.com has operated for over 15 years and had no major security breaches or lose user's credit card data," said Charles Tran of CreditDonkey.com. "They've proven to shoppers that they can be trusted, and shoppers trust them."
The perceived security of Amazon.com might encourage the firm to expand its payment platforms. In recent years, Amazon has leveraged its brand into tablet and mobile phone spaces, with the Kindle Fire and Amazon Wireless offerings, but it has also quietly rolled out a mobile payment service to allow partner merchants a secure payment option for customers. The Amazon Mobile Payments Service (MPS) is designed to help customers make one-time payments, 1-click purchases with their Amazon account, and receive refunds.
"As smartphone penetration expands, the opportunity to use a mobile phone for shopping is irresistible," noted Tran. "Since Amazon is so trusted, their mobile payment system could give both the security and convenience that shoppers want." An expansion of Amazon's MPS may be well received by customers who see the brand as more secure than Google and PayPal.
Government Agencies at all Levels Fail to Win Trust
PayPal was also trusted more than other brands, with nearly 30% of respondents saying that they trusted the online payment processor with their financial data.
While trust in PayPal and Amazon remained strong, survey respondents balked at the thought of handing their personal information over to local governments. Both city and state governments scored low levels of trust--only 25.2% and 21.1%, respectively. The Federal government scored much higher, with 53.8% of respondents saying that they would trust the Federal government more with their credit card information.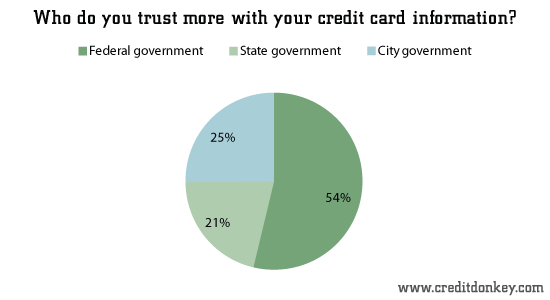 Who do you trust more with your credit card information? © CreditDonkey
PayPal's Mobile Wallet Remains Popular Despite Widespread Adoption
PayPal has already seen growing interest in its PayPal Mobile platform, which allows PayPal users to send and request money from their mobile phone in addition to a mobile credit card reader for merchants.
The company still needs to play catch up with Square, which revolutionized the mobile payment space with its iPhone accessory. Since 2010, the firm has grown to dominate the mobile payment space and is already worth $1 billion.
PayPal's brand recognition and track record may continue to encourage more merchants and customers to choose their mobile payment services, although Square has been praised for its security and reliability. "Although Square is one of the newest companies in the financial world, it's been a reliable and trustworthy brand, and credit card companies have been quick to embrace them," noted Tran.
(CreditDonkey.com conducted the online survey of 1246 shoppers in the U.S., age 18 and over between August 20 and September 2, 2012.)
Mike Foster is a contributing writer at CreditDonkey, a credit card comparison and reviews website. Write to Mike Foster at mike@creditdonkey.com