Are you a frequent flyer? If you make frequent trips via air travel, you are likely signed up with at least one frequent flyer program, which lets you earn miles redeemable for trips and other rewards.
Would you be well served by a credit card that can help you earn more miles for every dollar you spend? Even if you are not a frequent flyer, a credit card with "flyer miles" rewards can help you earn points toward free airfare.
What are your travel and spending habits?
Before you apply for a credit card with flyer rewards, you should ask yourself if you are the type of credit card user who spends enough to accumulate a significant number of points. If you fly frequently, a rewards card can help you earn miles quicker. However, if you do not fly frequently and do not use credit cards often, it may take years to accumulate enough miles needed for a free ticket.
To get the most out of an airline miles credit card, be sure you can afford to spend and fly enough to make the card worthwhile.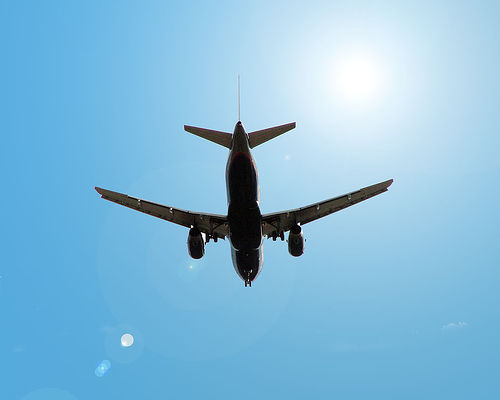 Airplane © Joshua Davis
Fees and interest
Credit cards that offer airline miles often come with annual fees. If you get a miles card with a $50 annual fee and it takes you five years to accumulate enough points for a ticket, you've spent $250 for the "free" reward, which could easily be the cost of a ticket. Add that to any interest you may be charged on revolving balances, and you may end up overpaying for what you get.
Casual travelers should find a miles reward card that offers no annual fee and low interest. It's always best to pay your balance in full each month to get the full benefit.
Specific airline or general air miles?
You can request a credit card rewards program from a specific airline that you use frequently. The miles you earn will be applied to that airline's frequent flyer program. These cards generally have a higher annual fee attached to them.
Other credit cards offer miles that can be used for tickets with a variety of airlines. You can choose the airline to which you want to apply your miles and redeem your reward according to the airline's guidelines.
Use your rewards
Keep track of your earned points and be sure to apply them to your frequent flyer program. When you have enough miles to earn a free trip, always redeem your reward right away.
Airlines are notorious for going out of business, and your airline miles are usually not worth much after an airline decreases the number of available reward seats.
Airline miles are just another way credit card companies reward you, the consumer, for using their card. If you determine that a miles card can benefit you with free travel, then look for a credit card that offers the best deal for the airline you travel with most.